These are the Companies Working on a U.S. Coronavirus Treatment or Vaccine
More than a dozen Big Pharma and smaller biotech firms have begun working to develop drugs and vaccines in the fight against the novel coronavirus pandemic.
The latest milestone came Monday from Johnson & Johnson, which said it expects human testing for an experimental coronavirus vaccine to begin in September with the hopes of making the medicine available for emergency use by early next year. The company said it will be available on a not-for-profit basis.
They've teamed up with Biomedical Advanced Research and Development Authority (BARDA), a Health and Human Services agency, to co-invest $1 billion in vaccine research, develop and clinical testing. As part of that, J&J subsidiary Janssen also reportedly signed a $456 million deal last week in the sprint for a vaccine, according to Forbes. Janssen also was awarded a $150 million contract to develop an anti-viral medication.
Johnson & Johnson's announcement that it expects its vaccine to be available in 2021 comes after biotech firm Moderna administered its first dose of a vaccine to a trial patient earlier this month.
Other companies involved in the treatment or vaccine process include BioNTech SE and Pfizer, Gilead Sciences, GlaxoSmithKline, Heat Biologics, Inovio Pharmaceuticals, Novavax, Regeneron Pharmaceuticals, Regeneron Pharmaceuticals, Roche Holding, Sanofi, Takeda Pharmaceutical Company and Vaxart, Marketwatch reported.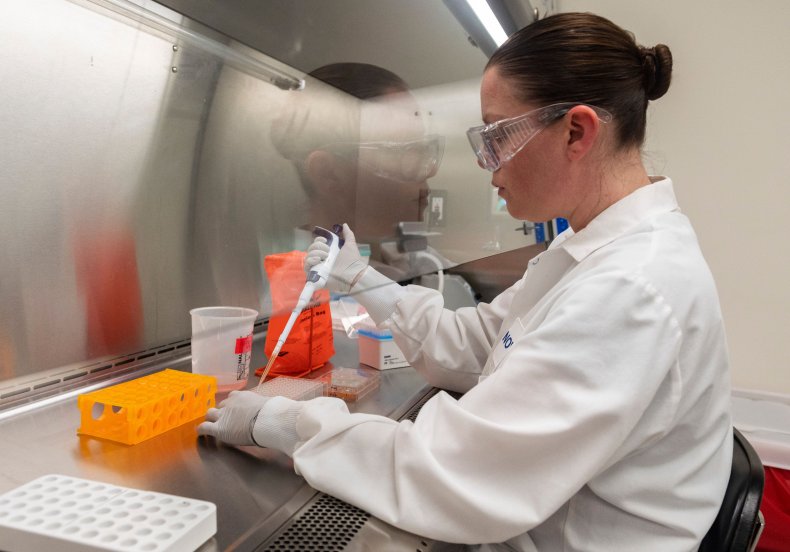 So far, only Moderna is in the clinical trial phase for a vaccine while Regeneron and Sanofi, Roche and Gilead Sciences are in the clinical trial phases for a treatment. The World Health Organization lists Moderna and China-based company CanSino Biologics, partnered with the Beijing Institute of Biotechnology, as the only two groups with a vaccine in the clinical trial phase.
DiaSorin Molecular and QIAGEN have received federal funding to develop coronavirus diagnostic tests that deliver results in an hour. And BuzzFeed News reported that Pharmaceutical Product Development was awarded money to study the use of hydrochloroquine and chloroquine—drugs used to combat malaria—as treatment for coronavirus patients.
"You're going to be hearing over the next month or more about different drugs that are going to go into these randomized controlled trials," Dr. Anthony Fauci, the country's top infectious diseases expert at the National Institute of Health, said last week at the White House. "I feel confident—knowing about what this virus is and what we can do with it—that we will have some sort of therapy that will give at least a partial, if not a very good, protection in preventing progression of disease."
Fauci has warned that it would likely be up to 18 months before a widespread vaccine would be available in mass quantities for the public.
President Donald Trump on Sunday extended the national social distancing guidelines through the end of April, meaning most businesses will continue to be shuttered as the country tries to choke off the virus.
The following chart provided by Statista shows the number of confirmed novel coronavirus cases worldwide as of Monday at 8:45 a.m.