These Are The Dozens of Obama-Era Officials Lindsey Graham Is Looking to Call in Russia Investigation
Senator Lindsey Graham is moving full steam ahead with his committee's probe of the Russia investigation as he tees up testimony from a wide net of Obama-era officials.
The Republican from South Carolina announced Monday evening that the Senate Judiciary Committee will vote June 4 on a subpoena authorization to review documents and solicit testimony from an array of senior officials from the previous administration.
There are 53 names on the list, including former FBI director James Comey, former CIA director John Brennan, Attorney General Loretta Lynch, former national intelligence director James Clapper, former FBI deputy director Andrew McCabe and Deputy Attorney General Sally Yates.
The requests are part of the panel's investigation into whether the FBI probe "Crossfire Hurricane," which looked into contacts between President Donald Trump's campaign and Russian officials during the 2016 election, was politically motivated. The FBI probe eventually spearheaded former special counsel Robert Mueller's two-year investigation into election interference, which Trump and his allies repeatedly slammed as a "witch hunt."
Graham has indicated that the Judiciary Committee will begin holding "multiple, in-depth congressional hearings regarding all things related to Crossfire Hurricane" in early June.
The hearings come as President Trump ramps up his claims that there was an illegal conspiracy to undermine his administration from the start. Trump has recently taken to calling the purported scandal "Obamagate" and the "biggest political crime in American history." But so far he's declined to offer specifics when asked to explain the charges.
Trump has also publicly pressured Graham several times to call former President Barack Obama to testify on the matter but so far the senator has refused, warning Trump to be careful what he wishes for.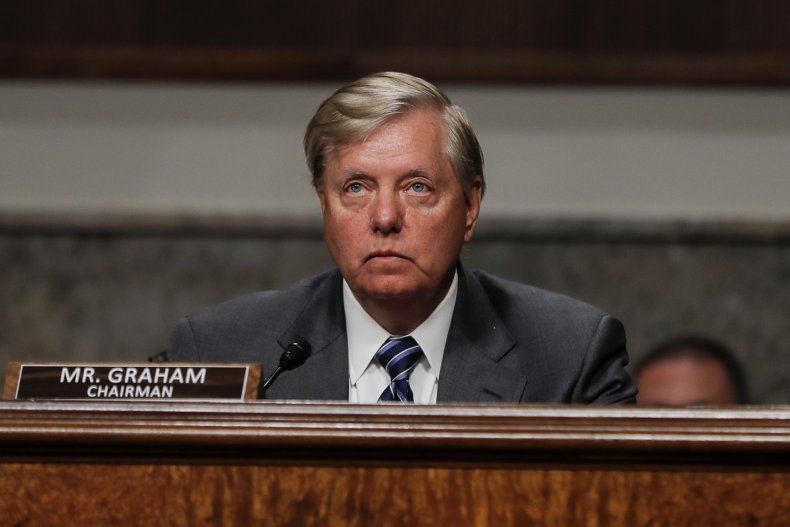 The upcoming Senate Judiciary Committee hearings will also look put a bigger microscope on the prosecution of Trump's former national security adviser Michael Flynn after some bombshell developments in his years-long legal saga.
Last week, acting Director of National Intelligence Richard Grenell sent Congress a list of Obama officials who were involved in "unmasking" Flynn from intelligence reports during the transition period between the two presidential administrations. The list, unveiled by Senate Republicans, included the presumptive Democratic nominee former Vice President Biden.
"We must determine if these requests were legitimate," Graham said.
His catalog of potential witnesses also includes some Trump-era officials: Attorney General William Barr, former Deputy Attorney General Rod Rosenstein and FBI Director Christopher Wray.
To issue a subpoena, Graham must either secure the support of ranking member Dianne Feinstein or put the issue to a vote. Graham has decided to put the matter to a vote, which is likely to work in his favor since 12 Republicans and 10 Democrats sit on the Judiciary Committee.
Here is the full list of current and former officials Graham wants to hear from:
Trisha Anderson, Brian Auten, James Baker, William Barr, Dana Boente, Jennifer Boone, John Brennan, James Clapper, Kevin Clinesmith, James Comey, Patrick Conlon, Michael Dempsey, Stuart Evans, Tashina Gauhar, Carl Ghattas, Curtis Heide, Kathleen Kavalec, David Laufman, Stephen Laycock, Jacob Lew, Loretta Lynch, Andrew McCabe, Mary McCord, Denis McDonough, Arthur McGlynn, Jonathan Moffa, Sally Moyer, Mike Neufield, Sean Newell, Victoria Nuland, Bruce Ohr, Nellie Ohr, Stephanie L. O'Sullivan, Lisa Page, Joseph Pientka, John Podesta, Samantha Power, E.W. "Bill" Priestap, Sarah Raskin, Steve Ricchetti, Susan Rice, Rod Rosenstein, Gabriel Sanz-Rexach, Nathan Sheets, Elizabeth Sherwood-Randall, Glenn Simpson, Steve Somma, Peter Strzok, Michael Sussman, Adam Szubin, Jonathan Winer, Christopher Wray, and Sally Yates.