These Are the Gifts British PM Theresa May Gave Melania and Donald Trump
Downing Street has revealed that British Prime Minister Theresa May gifted President Donald Trump an illustrated ancestral chart and first lady Melania Trump bespoke perfume during their visit the U.K.
The ancestral chart handed to the president shows the heritage line of his Scottish mother, Mary Anne Macleod, who was born in 1912 on the Isle of Lewis in the Hebrides, off the north coast of Scotland.
According to a statement from Downing Street, the chart dates Trump's family line back to his great, great, great grandfather Kenneth Macleod, who was born near Stornoway in 1776—the year of the U.S. declaration of independence.
"This gift underlines the deep historical links that many modern-day Americans have with the United Kingdom," Downing Street added.
Elsewhere, May also handed the first lady perfume by Floris London, the oldest independent family perfumer in the world. It was established in 1730 by Juan Famenias Floris and his wife Elizabeth.
Their products are believed to have been used by Princess Diana, Winston Churchill and Marilyn Monroe.
It is hoped the gifts will go some way to repair the "special relationship" between Trump and May after the president criticized her Brexit policy in a damning interview with The Sun newspaper, which took place the day he arrived for his first visit to the U.K as president.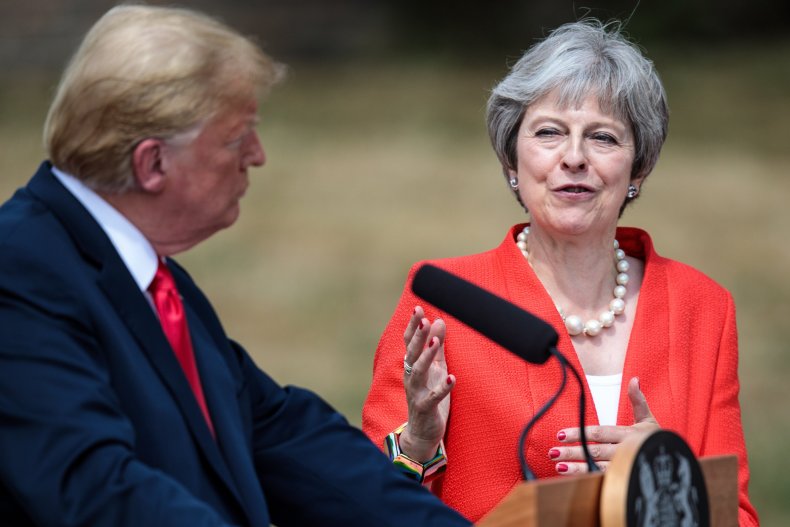 Trump said that May's plans for a soft Brexit would kill off any hope of a U.K.-U.S. trade deal.
He told the British tabloid: "If they do a deal like that, we would be dealing with the European Union instead of dealing with the U.K., so it will probably kill the deal.... I would say that that would probably end a major trade relationship with the United States."
Trump later dismissed the interview as "fake news" during a press conference with May at Chequers.
Trump reiterated the relationship between the U.K. and the U.S. remains "very strong" despite the controversial interview.
"The relationship between our two nations is indispensable to the cause of liberty, justice, and peace," he said. "The United Kingdom and the United States are bound together by a common historic heritage, language, and heroes. The traditions of freedom, sovereignty, and the true rule of law were our shared gift to the world. They're now our priceless inheritance to a civilization."
May added it is "all of our responsibility" to ensure that transatlantic unity continues.
"With U.S. leadership at its foundation, its beating heart remains our democratic values and our commitment to justice. Those values are something that we in the U.K. will always cherish—as I know the U.S. will too."