Americans across the country are reporting difficulty in finding everyday items amid shortages prompted by supply chain problems.
A new Morning Consult survey has identified the products consumers are having the most trouble finding, ranging from food to paper goods and motorcycles. The Omicron wave of the coronavirus pandemic has exacerbated bottlenecks and other supply disruptions, leading to more shortages at a time when consumers are also facing inflationary pressures and higher prices.
Most people had a hard time locating grocery and food items. Forty-seven percent of consumers reported difficulty finding such products last month, compared with 41 percent who reported a problem in November 2021.
Last week, many customers were lamenting the shortage of cream cheese. Videos posted to social media show canned goods, produce, frozen foods and other items missing from the shelves.
Housing or apartment units were the next hardest thing to find, with 41 percent of U.S. adults reporting that finding a place was difficult. Demand problems, rising mortgage rates and high prices are all putting a squeeze on homebuyers and renters.
Paper goods ranked in third place for buyers. Forty percent of Americans reported having trouble finding paper towels and other items during January.
New and used cars, exercise equipment, furniture and home appliances were affected between November and January, with more consumers reporting it's harder to find these products now than two months ago.
Supply chain bottlenecks have been experienced worldwide amid the ongoing pandemic. Last fall, President Joe Biden and his administration embarked on a "90-day sprint" to alleviate the problems, working with ports and major corporations to expand hours.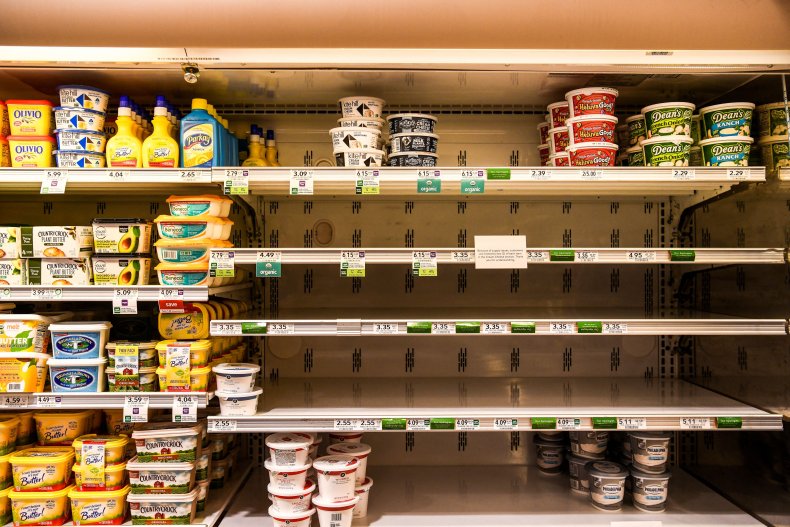 The shortages and delays have exacerbated rising prices. The U.S. ended the year with inflation at a 40-year high, as the Department of Labor reported that the Consumer Price Index rose 7 percent.
Shortages may be more negatively affecting women and adults living outside urban centers, according to Morning Consult.
Fifty-two percent of women surveyed said they had trouble finding certain items while looking for groceries in the past month, compared with 42 percent of male shoppers. When it came to location, 49 percent of suburban and rural shoppers reported difficulties finding certain goods, compared with 39 percent of city dwellers.
Women and those living outside cities also reported higher price sensitivity than men or those living in urban centers did. Women and rural or suburban respondents who said they had trouble finding a product while shopping last month were less likely to pay inflated prices for those items.
Morning Consult surveyed 2,200 U.S. adults between January 13 and 14. The poll has margins of error of up to plus or minus 5 percentage points.