These Are the Mild Coronavirus Symptoms Most People With COVID-19 Will Get
Health officials are urging people with COVID-19 to self-isolate, even if they have a mild case of the disease caused by the new coronavirus.
As indicated by the graph by Statista below, according to Johns Hopkins University, since the pandemic started in China late last year there have been more than 487,000 confirmed cases of COVID-19. Almost 118,000 people have recovered, and 22,030 people have died.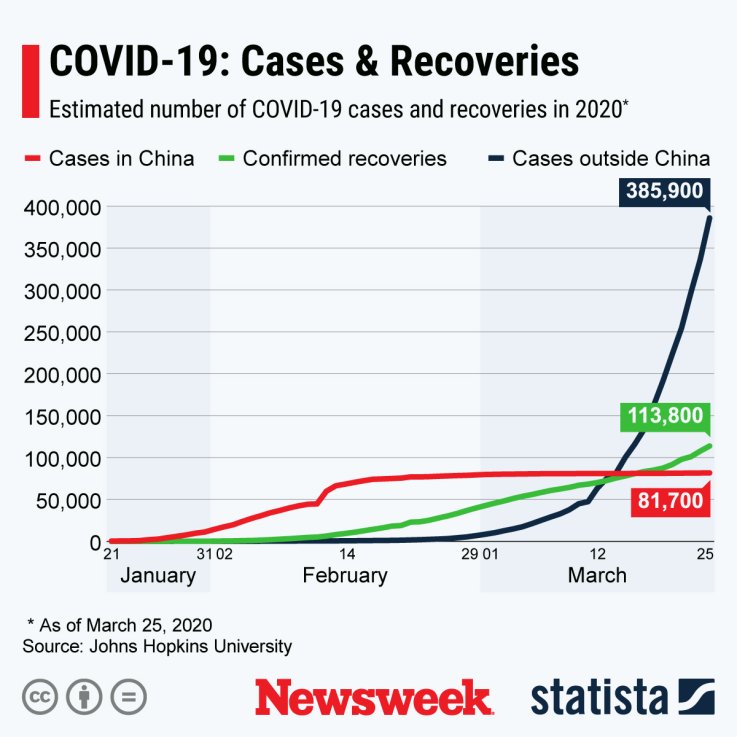 A graph by Statista showing recoveries from COVID-19.
Statista
The U.S. Centers for Disease Control and Prevention (CDC) states those who are or think they are sick with COVID-19 should stay home for at least 7 days after their symptoms first appear, and call their doctor before seeking medical care. The World Health Organization (WHO) previously asked those who have been to areas where COVID-19 is spreading to self-isolate by staying at home if they start to feel unwell, "even with mild symptoms."
According to the UN agency, around 14 percent of people who catch the new coronavirus will develop a severe case of COVID-19, for which they will need hospitalization and oxygen support, and a further 5 percent will need to be treated in an intensive care unit. The CDC urges those who develop the more serious symptoms of COVID-19 to seek medical attention immediately. These include: trouble breathing; persistent pain or pressure in the chest; new confusion or inability to arouse; and bluish lips or face.
But as many as 80 percent of COVID-19 patients will experience a mild illness they can manage themselves at home. So how can a person tell if they've fallen ill with a mild case?
A report of the WHO-China Joint Mission on COVID-19 submitted on February 28 detailed the symptoms of 55,924 people confirmed to have the disease. The patients were aged between 30 to 69-years-old, and 51 on average.
87.9 percent had a fever
67.7 percent had a dry cough
38.1 percent felt fatigued
33.4 percent produced sputum
18.6 percent had shortness of breath
13.9 percent had a sore throat
13.6 percent had a headache
14.8 percent had muscle and or joint pain
11.4 percent had chills
5 percent were sick or felt nauseous
4.8 percent experienced nasal congestion
3.7 percent had diarrhea
0.9 percent coughed up blood
0.8 percent had conjunctival congestion, or pink eye
It is important to remember that these symptoms were seen in one group of patients in one country, and experts are learning about the characteristics of the new coronavirus every day.
For instance, following reports of red eyes being a symptom of COVID-19, experts told Newsweek it's too soon to confirm this.
Another potential symptom that has gained interest in recent days is the loss of the sense of smell. Carl Philpott, professor of rhinology and olfactology at the U.K.'s Norwich Medical School, University of East Anglia, said in a statement that other members of the coronavirus family of bugs which SARS-CoV-2—the germ that causes COVID-19—is a member of have also been linked to what is known as post-viral olfactory loss.
"This is smell loss that persists after a cold. There are many respiratory viruses that can potentially cause problems with the smell receptors. So far with COVID-19, the smell loss appears to be transient but only as time elapses will we know how many people have a more permanent loss," he said.
Philpott said professor Nirmal Kumar, president of the British Association of Otorhinolaryngology, recommends that people with this symptom consider self-isolating.
Experts aren't yet aware as to whether "this symptom is common or a sign of a poor outcome but certainly recommend a warning sign to self-isolate and if heeded may help to prevent spread," said Philpott.
Dr. Joshua Barocas, assistant professor of Medicine at the Boston University School of Medicine and infectious diseases physician at Boston Medical Center, previously told Newsweek: "The best way to limit the spread of this infection is to stay home as much as possible, practice good hand hygiene, and practice social and physical distancing of at least 6 feet.
"As always, it is vital that people practice good hand hygiene, surface cleaning in their homes with household cleaners, and are washing their hands regularly. We also ask that people avoid touching their face, especially if there are symptoms or not. If people do go outside, we are asking that they exercise caution so that they limit their potential exposure."
World Health Organization advice for avoiding spread of coronavirus disease (COVID-19)
Hygiene advice
Clean hands frequently with soap and water, or alcohol-based hand rub.
Wash hands after coughing or sneezing; when caring for the sick; before, during and after food preparation; before eating; after using the toilet; when hands are visibly dirty; and after handling animals or waste.
Maintain at least 1 meter (3 feet) distance from anyone who is coughing or sneezing.
Avoid touching your hands, nose and mouth. Do not spit in public.
Cover your mouth and nose with a tissue or bent elbow when coughing or sneezing. Discard the tissue immediately and clean your hands.
Medical advice
If you feel unwell (fever, cough, difficulty breathing) seek medical care early and call local health authorities in advance.
Stay up to date on COVID-19 developments issued by health authorities and follow their guidance.
Mask usage
Healthy individuals only need to wear a mask if taking care of a sick person.
Wear a mask if you are coughing or sneezing.
Masks are effective when used in combination with frequent hand cleaning.
Do not touch the mask while wearing it. Clean hands if you touch the mask.
Learn how to properly put on, remove and dispose of masks. Clean hands after disposing of mask.
Do not reuse single-use masks.
This article has been updated with a graph.