These Are the States That Have Flattened the Coronavirus Curve
Amid the coronavirus pandemic in the U.S., a number of different states have already flattened the curve.
In these states, flattening the curve does not mean an immediate end to novel coronavirus cases, but instead a decrease in the number of new cases daily, which correlates to fewer hospitalizations and deaths. Flattening the curve helps to alleviate stress weighed on the health care system, ensuring that medical facilities across the U.S. won't become overwhelmed by the number of COVID-19 patients.
The University of Washington's Institute for Health Metrics and Evaluation (IHME) has compiled data from each state throughout the pandemic and has provided detailed graphs showing the coronavirus curves in different states across the U.S. These graphs show projections for daily coronavirus cases and the resources needed to handle these numbers.
According to the data provided by IHME, states including Alabama, Arkansas, Arizona, California, Colorado, Florida, Hawaii, Idaho, Iowa, Indiana, Kansas, Louisiana, Maine, Minnesota, Mississippi, Michigan, Missouri, Montana, Nevada, North Carolina, Ohio, Oklahoma, Oregon, Pennsylvania, South Carolina, Tennessee, Texas, Vermont, Washington, West Virginia and Wisconsin, have all flattened the coronavirus curve.
In other states such as Kentucky, Iowa, Nebraska, North Dakota, Rhode Island, South Dakota, Utah and Wyoming, they have yet to reach the peak of their resource use, but IHME data shows that they are not likely to experience a shortage.
According to the IHME website, the coronavirus data is compiled from local and national health resources as well as the World Health Organization. This data is then used to "estimate the trajectory of cumulative and daily death rate as a function of the implementation of social distancing measures."
These states have been able to flatten the curve through the different social distancing and lockdown measures taken. In all but seven states across the U.S., stay-at-home or shelter-in-place orders have been implemented as a way to slow the spread of the virus.
All 50 U.S. states have imposed social distancing orders such as placing a ban on large public gatherings and urging residents to stay at least six feet away from each other when in public.
While the graphs and data sets show the coronavirus curve in different states, IHME Director Chris Murray believes that these models should not be the only data set governors look at when thinking about reopening their states.
"If I were a governor of a state I would certainly not make a decision based just on our model," Murray said during a recent press briefing. "What we're trying to do is give some governors and their advisors and others, a sense of where the risk of resurgence is going to get lower to start considering relaxing social distancing."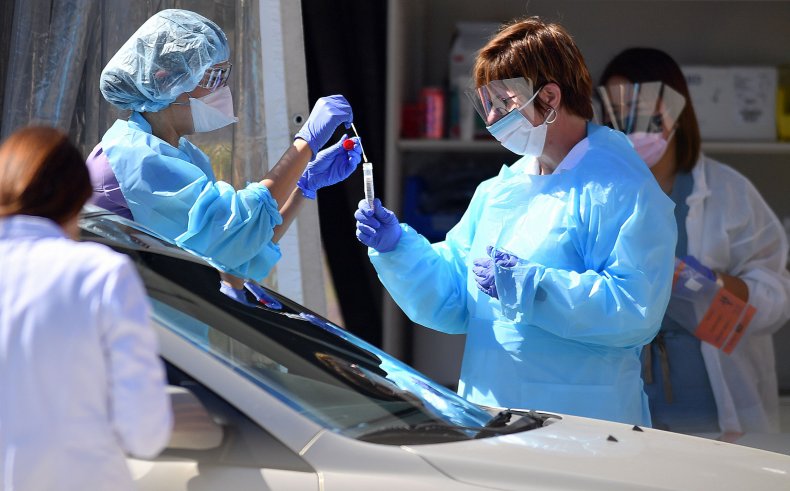 In other states that have been hit the hardest by the virus, like New York and New Jersey, the coronavirus curve has not been fully flattened, but it is on its way. These states, as well as others like Delaware, Massachusetts and Maryland, have seen a slow decline in the number of new daily cases and hospitalizations, but have experienced a shortage in different resources.
According to a tracker provided by Johns Hopkins University, there are currently over 842,000 confirmed cases of COVID-19 in the U.S., as well as at least 46,785 deaths. Despite these high numbers, the tracker shows that the U.S. as a whole has flattened the curve, as the number of new confirmed cases daily has decreased over a five-day average.
The tracker also shows that at least 76,614 people in the U.S. have recovered from the virus.