These Are the States That Have Flattened the Coronavirus Curve
States across the country continue to flatten the coronavirus cases curve.
The goal of seeing decreases in new daily cases is crucial to alleviating pressures on the health care system. Hospitals have faced an overwhelming number of patients as the U.S. surpassed more than 1 million cases. With a shortage of medical supplies, flattening the curve would mean fewer hospitalizations and enough hospital and ventilators to meet demands.
Detailed graphs from the University of Washington's Institute for Health Metrics and Evaluation (IHME) track the pandemic across each state, projecting new cases and the hospital resources available.
According to the IHME's data, six more states have begun to flatten the curve. There has been a steady decrease in cases in both New York, the epicenter of the nation's coronavirus outbreak, and New Jersey, which has also been hit particularly hard by the virus. However, New Jersey is still scrambling to have enough medical resources for incoming cases. The other four states are Maryland, Massachusetts, New Mexico and Ohio.
These states join the growing list of others that have flattened the curve: Alabama, Arkansas, Arizona, California, Colorado, Florida, Hawaii, Idaho, Iowa, Indiana, Kansas, Louisiana, Maine, Minnesota, Mississippi, Michigan, Missouri, Montana, Nevada, North Carolina, Ohio, Oklahoma, Oregon, Pennsylvania, South Carolina, Tennessee, Texas, Vermont, Washington, West Virginia and Wisconsin.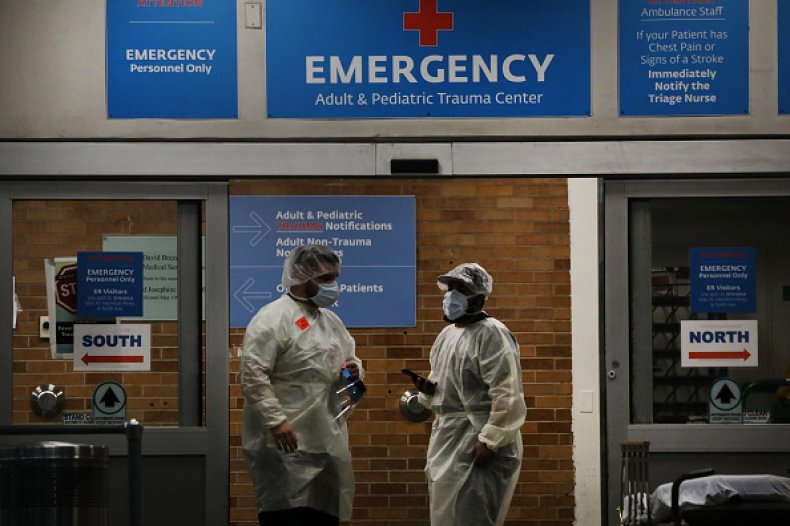 Some states, on the other hand, have not yet reached a peak. Georgia, Nebraska, South Dakota and Utah are still expected to see an increase in new cases daily.
Despite this data, Georgia Governor Brian Kemp reopened the state on May 1, while Nebraska, South Dakota and Utah did not introduce stay-at-home orders to begin with.
Daily cases in Connecticut, Delaware, Illinois, Kentucky, New Hampshire and Rhode Island have started to plateau but have not declined enough to flatten the curve.
The nation as a whole, however, has effectively flattened the curve. An analysis from Johns Hopkins University examined a five-day moving average of daily new cases for the countries with the highest reported number of COVID-19 deaths.
Although the U.S. has the highest number of deaths in the world, 73,431, it is one of the countries seeing a steady decrease in daily cases.
A tracker from Johns Hopkins University indicates the counties with the most number of confirmed cases. They are Queens County in New York, with 53,692, and Cook County in Illinois, with 46,689.