These Are the States Where Wearing a Mask Is Now Required in Public
For millions of Americans, wearing a face mask or cloth covering when leaving their home is voluntary but for residents in four states—Maryland, New York, New Jersey and Pennsylvania–it's no longer optional.
More than 639,000 people have tested positive for the virus in the United States. As America tries to curb the spread of the widest global outbreak, the Centers for Disease Control and Prevention (CDC) adjusted its advice for the use of face masks to recommend that everyone cover their nose and mouth when out in public.
States have largely echoed the CDC's advice in their own official recommendations, but governors in four bordering East Coast states have made it mandatory in varying public settings.
The strictest measures are set to go into effect in New York and will require people to wear a mask or cloth covering whenever they cannot properly socially distance from others. This includes when people are using public transportation, going into stores and passing people on the sidewalks when they can't be six feet apart, Governor Andrew Cuomo said at a Wednesday press conference.
New York, the epicenter of the outbreak, has had 213,779 cases, according to the state health department. More than 11,000 people in the state have died, but Cuomo said that hospitalizations and ICU admissions are trending downward. The "good news," according to Cuomo, is that New York has shown it can change the curve of the outbreak.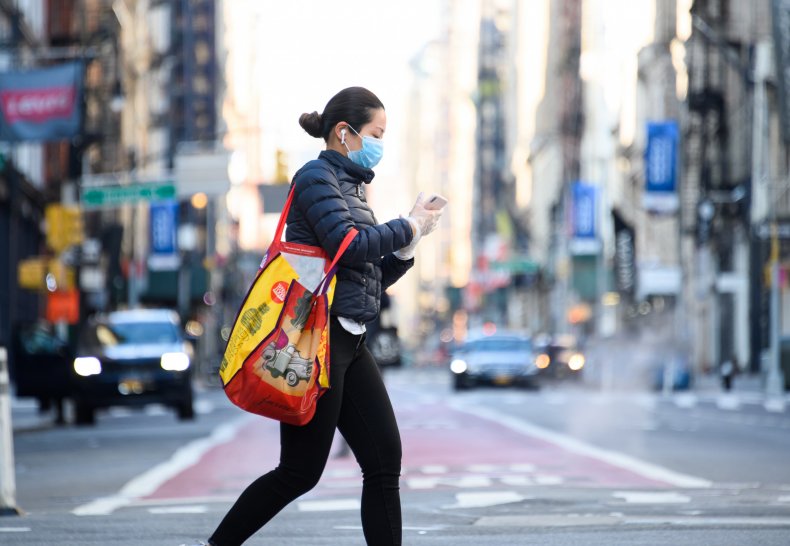 However, New York is still "in the woods," Cuomo said. He noted that reopening the economy to where the state was before the outbreak could cause a resurgence of the virus, meaning the sacrifices New Yorkers have made to curb the spread would be in vain.
New York's neighbors of New Jersey and Pennsylvania put mask requirements in place, as well, although not as stringent. Everyone over the age of 2 entering essential businesses in New Jersey and Pennsylvania, including grocery stores, must wear a mask or face covering. Businesses are required to deny entrance to those who refuse to wear a mask for any reason other than a medical condition.
In Maryland, everyone must wear a mask or face covering in grocery stores, pharmacies, retail establishments and public transportation, according to Governor Larry Hogan.
At the start of the outbreak in the U.S., officials adamantly opposed people wearing face masks unless they were exhibiting symptoms of the virus or feeling sick. However, given changes in the information known about asymptomatic cases and the potential for transmission, officials have changed their recommendations. They maintain, though, that the point of the mask isn't to protect someone from getting the virus, but to prevent a person from spreading it to someone else.
"Americans have repeatedly stepped up to make contributions to our war on the coronavirus in exceptional ways," Health and Human Services Secretary Alex Azar said in an April 3 statement. "Face coverings are a new, voluntary opportunity for a unified national effort.… Taking this step will protect our loved ones, our communities, and our country from the invisible enemy we're fighting together."