Following updated mask guidelines from the Centers for Disease Control and Prevention (CDC) as well as a surge of COVID-19 Delta variant cases, several cities and counties across the nation have revived mask mandates.
One of the most recent cities to reinstate a mask mandate is Kansas City, Missouri. In a tweet on Tuesday evening, Kansas City Mayor Quinton Lucas wrote, "I have stuck with CDC guidance throughout the pandemic and today is no different. I will return Kansas City to a mask mandate indoors based upon national and regional health guidance and discussion with other Kansas City leaders. I will provide further details in the morning."
"We cannot ignore the rapid spread of the COVID-19 Delta variant in Missouri—outpacing much of the country. We will do all we can to ensure our corner of this state is safe," Lucas wrote in a subsequent tweet.
St. Louis, Missouri, also recently reinstated a mask mandate when residents are in public places or on public transportation, regardless of vaccination status.
During a recent press conference, St. Louis County Executive Sam Page said, "While the vaccination can protect against serious illness, it can't protect you from being infected with COVID-19 and passing it onto someone else, someone who may be more vulnerable."
In Massachusetts, Provincetown recently reinstated its mask mandate, while some other localities in the state have issued mask advisories.
In a Facebook post, Provincetown Town Manager Alex Morse announced that masks will be required for indoor public places. Two other Massachusetts communities, Cape Cod and Cambridge, have recently issued mask advisories, encouraging residents to wear masks for indoor public places, regardless of vaccination status.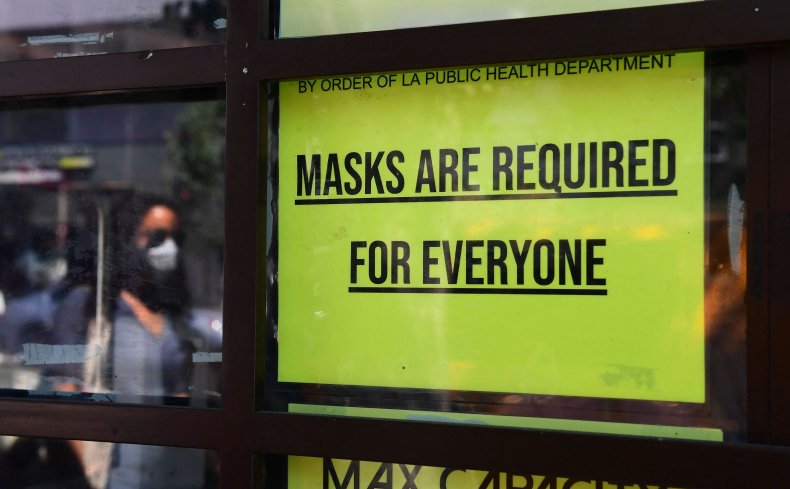 Nevada Governor Steve Sisolak recently announced an indoor mask mandate for 12 counties that are considered "high transmission" counties. The mask mandate applies to the counties of Carson, Churchill, Clark, Douglas, Elko, Esmeralda, Lincoln, Lyon, Mineral, Nye, Washoe and White Pine.
The indoor mask mandate also applies to the cities of Las Vegas, Carson City and Reno, as they are located in the 12 "high transmission" counties.
According to Sisolak's announcement, the indoor mask mandate will go into effect on June 30 and applies to all residents regardless of vaccination status.
In Florida, Governor Ron DeSantis previously signed a bill prohibiting local governments from imposing mask mandates, but on Tuesday, the town of Palm Beach announced that it was requiring masks when residents are inside town-owned buildings. According to WPTV in West Palm Beach, Council President Margaret Zeidman said on Tuesday that the town cannot impose mask mandates on private businesses.
The mask mandate in Palm Beach town-owned buildings applies to all residents whether or not they have received a COVID-19 vaccine.
Orange County Mayor Jerry Demings previously encouraged residents to wear masks when indoors amid a surge in COVID-19 cases, but stopped short of imposing a county-wide mandate.
On Wednesday, Miami-Dade County Mayor Daniella Levine Cava announced that masks will be required inside all county-owned facilities. The mandate applies to all employees and visitors to the county's buildings, with no exception for vaccination status.
During a press conference, Levine Cava also urged private businesses to consider requiring customers and employees to wear masks.
"We have come too far," she said. "We can not turn back now. Our economy is just starting to rebound."
Mask mandates were also revived in Savannah, Georgia, earlier this week amid an increase in COVID-19 cases.
"None of us want to take a backward step in our return to normalcy, but wearing a mask is the simple, easy, most inexpensive thing we can do to protect ourselves and those around us," Savannah Mayor Van Johnson said during a recent press conference.
On Monday, California's San Mateo County announced it was reinstating its mask mandate.
"The County of San Mateo, out of an abundance of caution and to protect public health, is requiring face coverings as of Monday for the public when indoors at County offices, clinics and other publicly accessible facilities," the county said in a statement.
Prior to San Mateo County, Los Angeles County was the first area in the U.S. to reinstate an indoor mask mandate and health officials in California's Bay Area previously encouraged residents to wear masks when indoors, despite if they have been vaccinated.
New Orleans also previously imposed a mask advisory and, while it is not a citywide mandate, Mayor LaToya Cantrell said that the advisory "puts the responsibility on individuals themselves," according to the Associated Press.
Some public schools districts in Ohio and Atlanta have also said that students and staff will be required to wear masks at the start of the upcoming school year.
Reviving mask mandates comes amid a surge of COVID-19 cases across the nation, as well as newly updated mask guidance from the CDC. On Tuesday, the CDC announced that people who are fully vaccinated should begin wearing masks again in public settings in areas deemed as having "substantial or high transmission" of the novel coronavirus.
Data from the CDC shows that the weekly average number of daily cases has continued to increase over the past week. As of Monday, the U.S. was averaging at least 53,772 daily new COVID-19 cases.
CDC Director Dr. Rochelle Walensky previously announced that the highly transmissible Delta variant accounts for 83 percent of all COVID-19 cases in the U.S.
While officials have continued to stress the importance of receiving a COVID-19 vaccine, a number of areas that have seen a rise in cases have some of the lowest vaccination rates. According to data from Johns Hopkins University, 29 states currently have less than 50 percent of their population vaccinated against COVID-19.
Newsweek reached out to the CDC for comment but did not receive a response in time for publication.
Updated 07/28/2021, 3:50 p.m. ET: This story was updated to include the mask mandate issued in Miami-Dade County.
Uncommon Knowledge
Newsweek is committed to challenging conventional wisdom and finding connections in the search for common ground.
Newsweek is committed to challenging conventional wisdom and finding connections in the search for common ground.
About the writer
Matthew Impelli is a Newsweek staff writer based in New York. His focus is reporting social issues and crime. In January 2023, Matthew traveled to Moscow, Idaho where he reported on the quadruple murders and arrest of Bryan Kohberger. Matthew joined Newsweek in 2019 after graduating from Syracuse University. He also received his master's degree from St. John's University in 2021. You can get in touch with Matthew by emailing m.impelli@newsweek.com. Languages: English.