These Colleges and Universities Are Going Online Only This Fall and Charging Full Tuition
Some colleges and universities are adjusting how they will be teaching students in the fall offering most of their classes online, but the financial cost of higher learning is expected to remain the same as those institutions charge full price.
Those colleges making the change to an online environment include Harvard University, the 23 campuses of California State University, and Hampton University.
On Monday, Harvard University officials announced that all classes would be taught online for the 2020-2021 school year, even if students choose to live on campus during the academic year, however, the average tuition cost will remain at $49,653 per semester.
Rachael Dane, a spokeswoman for Harvard University, said in an email to Newsweek that while average tuition costs will remain the same for students whose families have significant financial asses, but families of students who qualify for financial aid, as well as those students who are not living on campus, could pay less toward their semester expenses.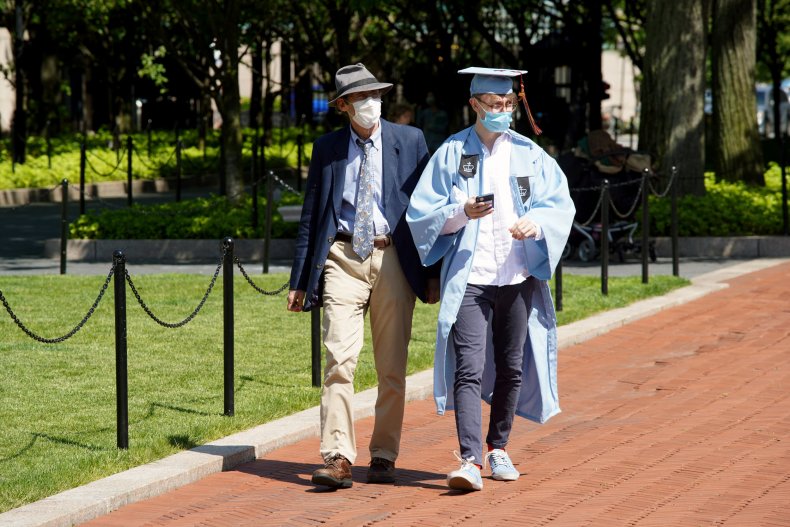 "The overwhelming reason for the decision to deliver all instruction remotely is Harvard's commitment to protecting the academic enterprise and preserving academic continuity for all of our students," Dane said. "Continued remote instruction ensures that academic continuity for all students is maintained."
According to Harvard University's financial aid department website, some families could pay $12,000 per semester. Expenses are based on family income, which if a student's family earns $65,000 or less, their tuition would amount to zero.
A student's family who earns between $65,000 and $150,000 annually would have to pay tuition based on the family salary, while families earning more than $150,000 a year would pay about 10 percent based on income.
Families who have significant financial resources or earning more than 150,000 annually would pay the full tuition amount.
Harvard officials said they plan to bring 40 percent of its undergraduate students, including incoming freshmen, to campus dormitories for the start of the fall semester.
"This will enable first-year students to benefit from a supported transition to college-level academic work and to begin to build their Harvard relationships with faculty and peers," the officials wrote. "Both online and dorm-based programs will be in place to meet these needs. Over the last few weeks, there has been frequent communication with our first-year students about their transition to Harvard and this will continue as we approach the start of the academic year."
Foreign students whose universities are going completely online this fall could be forced to leave school or leave the U.S. entirely after the Trump administration's announcement on July 7 that international college students are required to attend in-person classes at their universities, or they could face deportation, Immigration and Customs Enforcement (ICE) announced Monday.
Other universities are operating in much the same way as a means of keeping students and staff members safe during the COVID-19 pandemic.
California State University announced in May that they would be offering a virtual class schedule in the fall and will keep all of its 23 campuses closed.
"This planning approach is necessary because a course that might begin in a face-to-face modality would likely have to be switched to a virtual format during the term if a serious second wave of the pandemic occurs, as forecast," Cal State Chancellor Timothy White said in a May 12 memorandum. "Virtual planning is necessary because it might not be possible for some students, faculty, and staff to safely travel to campus."
Like Harvard, Cal State University students will be paying the same amount for online classes as for in-person classes, prompting students to launch an online petition on Change.org, asking for fees to be waived.
So far, the petition has drawn nearly 6,300 signatures.
Hampton University in Virginia said there are no plans to reopen the campus to students this fall and will offer remote learning to students while reducing the cost of tuition by 15 percent.
"Because of the financial burden that the pandemic has had on students and parents, the University will reduce tuition and comprehensive fees by 15 percent for the fall 2020 semester. This means that the total cost for the fall 2020 semester for 10 to 17 undergraduate hours will be $12,519, a savings of $2,187. The reduced rate will be reflected in each student's tuition bill," according to a statement from Hampton University.
According to a report from Inside Higher Ed other colleges and universities are shifting their focus to a hybrid format that includes a predominantly virtual learning environment as well as a mixture of some in-person instructions for the 2020-21 academic year.
Those include the University of Southern California, which announced on July 1 they were considering a hybrid of classes that would be a mixture of online and in-person classes this fall if they are allowed by Los Angeles County officials to reopen, citing the spike in new coronavirus cases.
"Los Angeles is experiencing an alarming spike in coronavirus cases, making it clear we need to dramatically reduce our on-campus density and all indoor activities for the fall semester," USC officials announced.
Florida State University will also offer virtual learning opportunities for students and allow staff members to telecommute and may still consider reopening their campus during the ongoing COVID-19 pandemic.
However, according to the Chronicle of Higher Education other major colleges and universities, are considering hybrid models that could include a mix of virtual learning and in-person learning, which plans a gradual reopening while still offering remote opportunities for students and staff.
Baylor University in Waco, Texas, which shifted to an online-only format for summer classes, announced on June 25 they will reopen the campus, and shorted the fall academic calendar that will allow students to complete studies before Thanksgiving break. Students on campus will be required to adhere to social distancing guidelines and wear face coverings.
Brigham Young University plans to have a phased return to campus for students while expanding virtual learning opportunities. Like Baylor, students on campus will have to employ social distancing and wear face coverings.
Meanwhile, Dartmouth announced in June the university plans to bring only half its undergraduate students back in the fall.
"The reality of COVID-19 means that the campus environment will be very different this fall," Dartmouth officials said in a June 26 email. "As we plan for the return of faculty, students, and staff to campus, the health and safety of our community is our top priority."