These Countries Are Predicted to Have the World's Biggest Populations by the End of the Century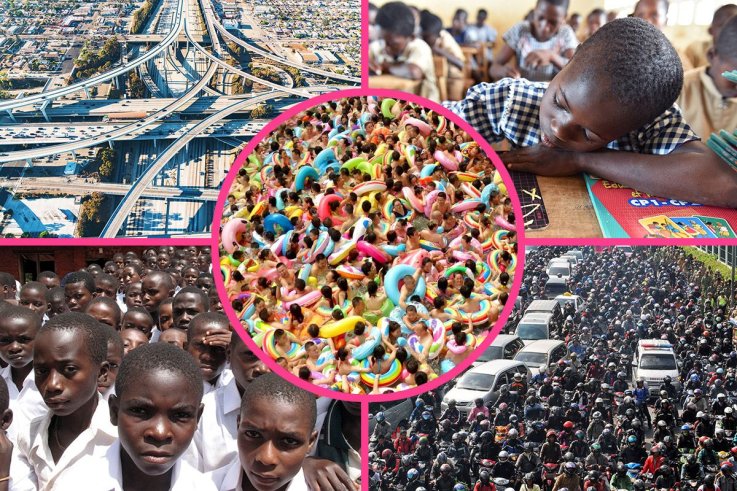 The year 2100 may still be 82 years away, but the U.N. thinks it can predict roughly what the world will look like—in terms of population, that is.
Using current population growth rates, they have predicted which countries will hold the most people at the turn of the next century. Although the world's population is currently growing at a slower rate than in the recent past, there will still be 11.2 billion people by 2100, according to the U.N., up from 7.5 billion today.
But not all countries are growing at an equal rate. Although China is currently the most populous country in the world, the legacy of its one-child policy means that it will be overtaken in roughly seven years by the nation which is predicted to hold the number one spot in 2100. In fact, China is predicted to have the second lowest growth rate of the 50 most populous nations.
Thanks to their current high birth rate and young populations, African nations will shoot up the list of populous nations, even if birth rates dramatically slow down in coming years. The 15 countries with highest growth rates are all in Africa.
Niger, whose current 20 million-strong population is fairly small by global standards, putting them outside the top 50, will shoot up to the 12th most populous country in the world thanks to an enormous projected growth rate of 761%.
On the flip side, some nations will suffer a population drain. Japan, which currently has the most populous city in the world, will shrink by a third, due to the country's extremely low birth rate and aging population.
The similar depopulation of Italy, Russia and Germany reflect the wider trend of the European shrinkage—Europe currently has eight countries in the top 50 most populous countries. By 2100, this is expected to drop to five.
Some exceptions aside, this trend is replicated in Asia. The continent currently has 20 countries in the top 50, but is predicted to have only 14 in 2100. South Korea, Malaysia, and Saudi Arabia will be pushed out of the top 50, as will Thailand, which is currently the 20th most populous nation.
This fascinating glimpse at our future world indicates where power will shift—and perhaps, if countries are unprepared for more mouths to feed, where disaster will strike. From Africa to the Americas, these are forecast to be the most populous nations by the end of the century.