These Countries Consider Whale and Seal Hunting Essential Activities During the Coronavirus Pandemic
Animal rights groups have criticized the governments of Canada, Japan and Norway for continuing to allow commercial hunting of seals and/or whales as essential activities while their populations are subjected to lockdown measures amid the COVID-19 pandemic.
Humane Society International (HSI) and Norwegian organization NOAH said it is "outrageous" that such practices should be permitted at this time, particularly given that they are often supported by public funds.
"There is dwindling demand for the products of commercial whaling and sealing operations, and these inhumane industries are only viable because of tax-payers' money, so it's extremely difficult to see how these can in any way be considered 'essential' activities during lockdown," Claire Bass, executive director of Humane Society International/U.K., said in a statement.
"It's disturbing to think that while all over the world people are making extraordinary sacrifices to stop the spread of COVID-19, whalers and sealers are carrying on with their bloody business as usual, risking infection spread amongst crews and their families. We urge the Norwegian, Canadian and Japanese governments to call an immediate stop to these cruel and unnecessary hunts," she said.
In Canada for example, the country's annual commercial seal hunt will go ahead, a process that HSI describes as the "largest slaughter of marine mammals on the planet."
During the yearly hunt, which occurs in two main areas, off the country's east coast, hundreds of thousands of seals are killed using clubs and guns. Harp seals—already at risk from climate change—are the main target, and the vast majority of the animals killed are pups below the age of three months.
Seal hunting will also be allowed to continue in Norway after the government announced a quota to kill more than 18,000 of the animals last month. In response to the COVID-19, no animal welfare inspectors will be allowed on board—as is customary—to reduce the risk of infection. However, the animal rights groups have raised concerns over why such precautions have not been applied to protect the crew members who will take place on the hunts.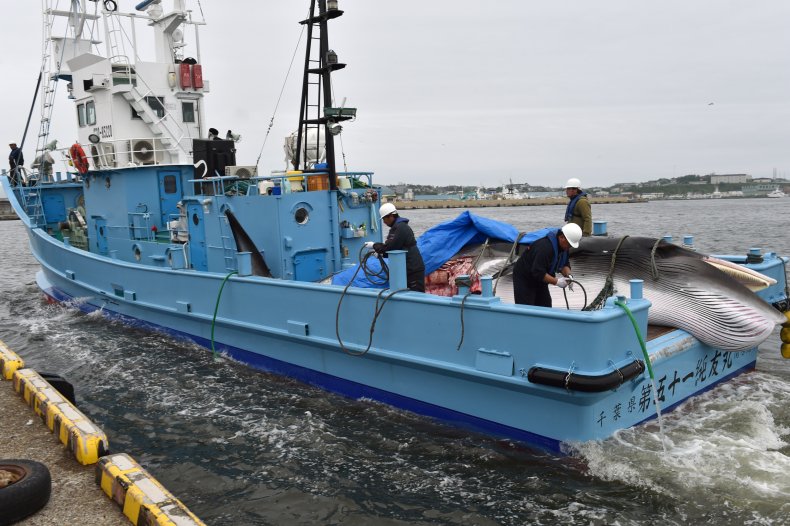 Furthermore, both Norway and Japan will allow commercial whaling operations to continue during the pandemic. Japan—which drew widespread criticism for leaving the International Whaling Commission in 2018—has awarded itself a quota of nearly 200 whales. Meanwhile, hunters in Norway will be aiming to kill more than 1,200 over the next few months.
"These ongoing and cruel persecutions of marine mammals are increasingly out of step with modern scientific thinking, which shows that healthy marine mammal populations contribute to healthy marine ecosystems and the overall health of our planet. We need to look again very carefully at our relationships with these animals and appreciate their roles and not see them simply as commodities to be harvested," Mark Simmonds, HSI's senior marine scientist, said in the statement.
Centers for Disease Control and Prevention Advice on Using Face Coverings to Slow Spread of COVID-19
CDC recommends wearing a cloth face covering in public where social distancing measures are difficult to maintain.
A simple cloth face covering can help slow the spread of the virus by those infected and by those who do not exhibit symptoms.
Cloth face coverings can be fashioned from household items. Guides are offered by the CDC. (https://www.cdc.gov/coronavirus/2019-ncov/prevent-getting-sick/diy-cloth-face-coverings.html)
Cloth face coverings should be washed regularly. A washing machine will suffice.
Practice safe removal of face coverings by not touching eyes, nose, and mouth, and wash hands immediately after removing the covering.
World Health Organization advice for avoiding spread of coronavirus disease (COVID-19)
Hygiene advice
Clean hands frequently with soap and water, or alcohol-based hand rub.
Wash hands after coughing or sneezing; when caring for the sick; before, during and after food preparation; before eating; after using the toilet; when hands are visibly dirty; and after handling animals or waste.
Maintain at least 1 meter (3 feet) distance from anyone who is coughing or sneezing.
Avoid touching your hands, nose and mouth. Do not spit in public.
Cover your mouth and nose with a tissue or bent elbow when coughing or sneezing. Discard the tissue immediately and clean your hands.
Medical advice
Avoid close contact with others if you have any symptoms.
Stay at home if you feel unwell, even with mild symptoms such as headache and runny nose, to avoid potential spread of the disease to medical facilities and other people.
If you develop serious symptoms (fever, cough, difficulty breathing) seek medical care early and contact local health authorities in advance.
Note any recent contact with others and travel details to provide to authorities who can trace and prevent spread of the disease.
Stay up to date on COVID-19 developments issued by health authorities and follow their guidance.
Mask and glove usage
Healthy individuals only need to wear a mask if taking care of a sick person.
Wear a mask if you are coughing or sneezing.
Masks are effective when used in combination with frequent hand cleaning.
Do not touch the mask while wearing it. Clean hands if you touch the mask.
Learn how to properly put on, remove and dispose of masks. Clean hands after disposing of the mask.
Do not reuse single-use masks.
Regularly washing bare hands is more effective against catching COVID-19 than wearing rubber gloves.
The COVID-19 virus can still be picked up on rubber gloves and transmitted by touching your face.