These Cute Animals Are On the Mend After Reckoning With West Coast Wildfires
It's fire season again in the Western United States with temperatures up and rainfall levels down. Massive wildfires are wreaking havoc on humans and animals alike, but nothing can keep these cute critters down. Read ahead and view five adorable animals who have faced down west coast fires, and come out the other side still looking like total sweetie pies.
Meet Tamarack the black bear cub, named for the forest fire that injured his tiny jelly bean paws. The Lake Tahoe Wildlife Care said in a series of Facebook posts that it got a call from a homeowner who saw the injured cub in their yard. Tamarack was lucky because this area was still under restriction, and rescuers had to get special permission to get him and take him into their healing facility.
He had horrible red burns on all his feet, but with skin grafts and TLC he is now doing much better, according to vets, Dr. Sheets and Dr. Peyton.
Officials believe the Tamarack fire started because of a lightning strike. As of Wednesday, it had burned about 68,400 acres.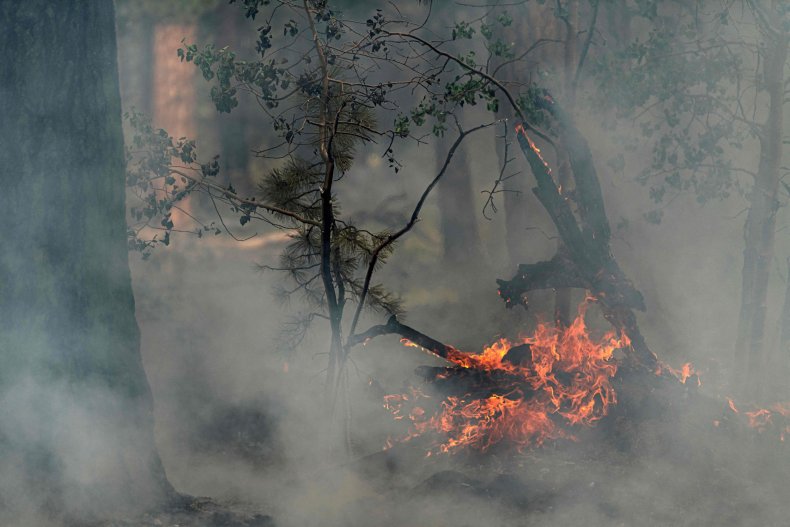 A few hundred miles to the south, in California's Sequoia National Forest, another cute bear has escaped actual burns but is still struggling from the effects of the widespread wildfires.
"This poor bear cub was spotted in a campground today looking completely defeated as its food and water sources have been ravaged by this year's devastating drought and fires," wrote a Kern River Conservancy employee on their Facebook page.
The brown bear, looking thin and wan, has been pushed into human areas and campsites of the forest, looking for food and water, since its normal sources have been stretched and depleted by fire and drought.
Up north, in the state of Oregon, the Bootleg fire has burned more than 394,000 acres. A safety officer fighting the perimeter of the fire sighted this adorable cub living in the recently scorched trees and was able to snap a few pictures. The Oregon Department of Fish and Wildlife said the cub was around seven or eight months old and looked healthy, if a little scared. Thankfully, its mother was spotted soon after, and the two are now together.
Also in the midst of the Bootleg fire, we can't forget our feathered friends. They live in trees. And when fires destroyed their homes, where will they go?
The engine boss of Pacific Oasis, a firefighting operation, found these abandoned baby nighthawks wandering around with no nest, and no parents. When mom never returned, the hawks were brought to a local wildlife rehabilitation specialist and are now under her care.
Moving on from birds and bears, we go to bobcats. This cutie was clearly once an elegant king of Mount Shasta near Weed, California. Now, thanks to the Lava fire, he's a bit out of sorts but is obviously on the mend.
According to Shasta Wildlife Rescue & Rehabilitation, who found him, "He [was] emaciated, weighing only about 50% of his normal 30-35% weight and blood work shows he is anemic." He was also found with fourth-degree burns and a puncture wound to his side.
He's now staying at Gold Country Wildlife Rescue under the care of some very good vets.
"Despite his grave condition we are optimistic about his prognosis, but it will take lots of care and support to get him back to normal so he can return to his life in the wild."
Newsweek reached out to the United States Fish and Wildlife Service for comment.