These Dads Made You a Father's Day Playlist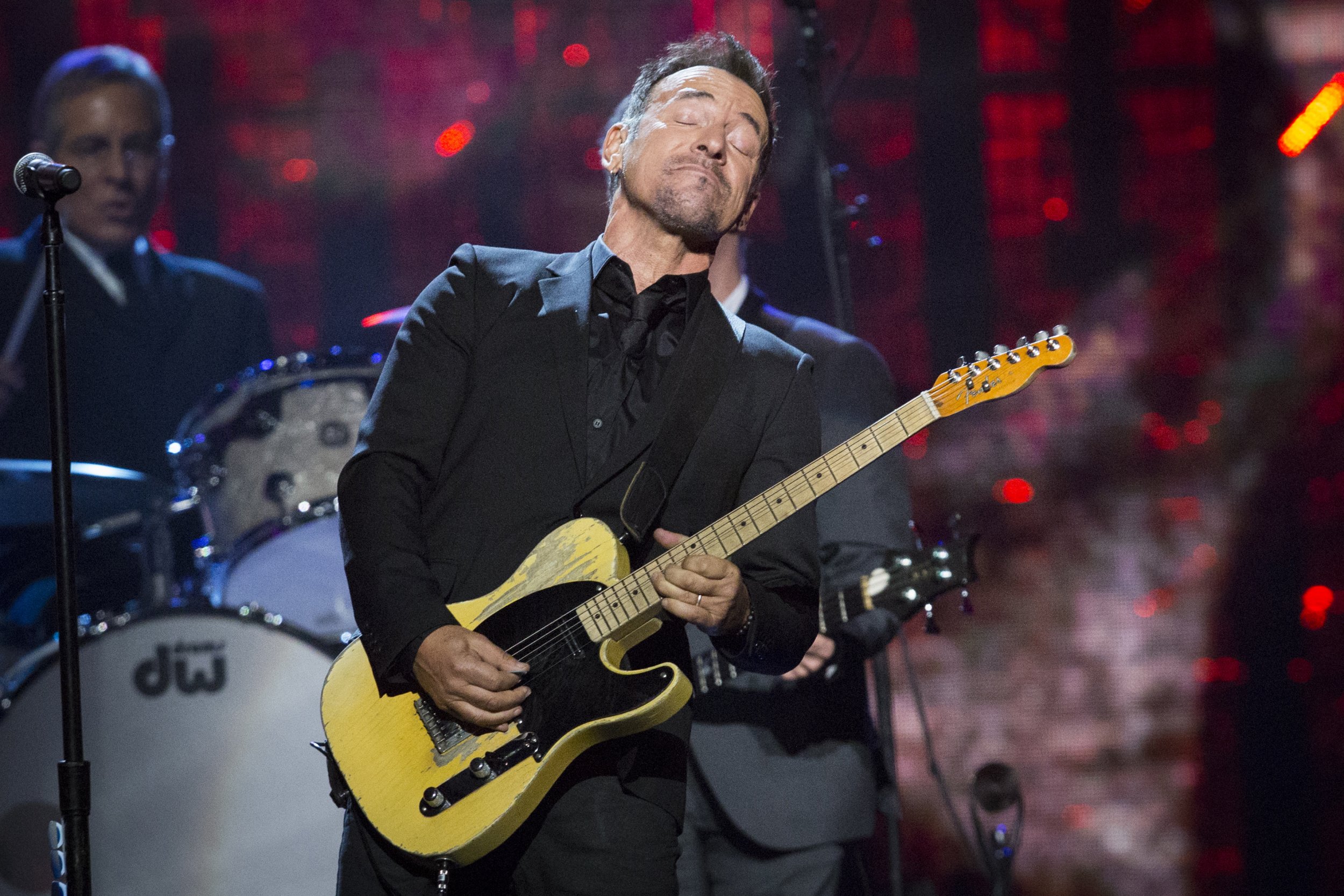 Music: It can isolate you or bring you together with your parents. Either way, most dads have been guiding the lawnmower to the sounds of prog rock, contemplating to classical and grooving to jazz since long before you were born. Which is why we asked some dads, both at Newsweek and beyond, to help curate a sensational playlist in time for Father's Day.
Grant Burningham, Newsweek homepage editor and area dad
"She Sells Sanctuary," The Cult: This is the one I thought of immediately—this is total dad rock, but I guess that's why I am here. It's really not quite '80s butt rock hair metal but kind of close. The best of the genre maybe?
"For Whom the Bell Tolls," Metallica: I feel like this is the perfect metal song, you're never going to get better than that. I like metal a lot and if I had to pick one it would be that one. I think Metallica before the The Black Album doesn't get enough credit. I think that album turned them into a different band and changed how people thought about them. But it's just a perfect metal song. Totally brings it.
"Born to Run," Bruce Springsteen: This is getting very dad. Springsteen is the great American songwriter. Him and Dylan, I'd say. That's probably the most unoriginal thing I've ever said in my life.
"All These Things That I've Done," The Killers: [Hot Fuss] was pretty much their only good album. That was a very good album. [Brandon] Flowers is from Nevada but I think of him as an honorary Utah [resident]...the four singles on that album are just incredible. I think I'd go with "All These Things That I've Done," it's the most ballady. It is really good. It's the one you hear flashes of in other albums when they're passable; that's the song that they're emulating.
"Sabotage," Beastie Boys: The Beastie Boys I probably listened to exclusively for five years of my life. Really. I don't find myself listening to them that much anymore, it just takes me back to junior high. They were my first concert. The Roots opened for them in Salt Lake, it was amazing. There was this crazy old amusement park on the Salt Lake that was built on Indian land, supposedly was cursed by the Indians and kept sinking into the lake all the time. Called Saltair. And at some point when it stopped being an amusement park they made it into a short-lived music venue, I don't know if it's still around. But it was right on the lake, and awesome. The lake is not in the city, you really have to drive to the middle of nowhere to get there. Anyway, it was a great show. Changed my life. Ninth grade.
Dr. Drell, father of Cady Drell, Newsweek Culture Editor
"Suite: Judy Blue Eyes," Crosby, Stills & Nash: It's one of the greatest songs ever written and it brings up a lot of good times I had when I was younger. It was never overplayed.
"Moondance," Van Morrison: It was the first dance my wife and I had at our wedding.
"Sweet Home Chicago," Blues Brothers: I'm in a band [Have Mercy] and I sing in it [with my best friend]. It's my best friend's favorite song.
"Impossible Dream," Man of La Mancha: I always thought that that was something to strive for, you know, it just resonated with me when I was younger. I saw the play when I was very young, and I always strive to do things that are hard to do that other people might not do. I was a doctor for most of my life, and I quit medicine to write musicals. I've had no great success with that yet, but I'm hopeful.
"Four," Miles Davis: I think this one of the greatest jazz songs ever written. I've always been a big fan of Miles Davis. In jazz bands it's done many ways with many techniques, it's held up over time. It's not dated. It's as fresh now as it was when it first came out.
Gary Schonfeld, father of Newsweek reporter Zach Schonfeld
"God Only Knows," the Beach Boys: This popped into my head first. Just about anything from Pet Sounds, other than "Sloop John B." I mean, among some of the best songs ever written in rock music. It was a transformative album when it came out, and being a young kid listening to it just...completely blew me away. And while it isn't a commercial success it always ranked as one of my favorites of all time. Each song just evokes completely different emotions; Brian Wilson poured his heart and mind into this album and it was unlike anything the Beach Boys had done. When I say transformative, it's what Paul McCartney said always spurred the Beatles on.
"You Set the Scene," Love: I'm putting this on the playlist of my life because there are lyrics there that I've always respected and admired and the music is amazing. The whole album is amazing, an entire mood album. And still doesn't sound tired. Arthur Lee and Love never got the respect they deserved, I think, it was a rock band from L.A. that did interesting things. This was during formative years for me as a teen, there's probably no twenty-something that would hear this and not identify with it. Print it out, look at the lyrics. It's amazing. It goes through three completely different iterations.
"Like a Rolling Stone," Bob Dylan: You listen to those opening chords and you can't help but let it affect you. It just does. How he talks about going from the top down, losing your place both in society and to who you are as a person. Just musically, sonically, lyrically it's just...one of the most amazing pieces of music ever written.
"Help I'm a Rock," Frank Zappa and the Mothers of Invention: I used to play it for Zach when he was very, very little, for one simple reason. I used to say to him: "Music can be anything you want it to be. There's no rules." Then I'd play it and say listen to what these people do! And I've always loved Zappa's music, through his sarcastic music right through his jazz, all his jazz albums. Brilliant mind, brilliant musician, brilliant writer. He was amazing at making fun of all of us and showing us who we are, and showing what was going on socially in the world. From his very early albums, this song sets the stage in who he is, again, that music can be anything. I've always carried that with me.
"Rose in the Garden," Karla Bonoff: This is a very personal one. She's a singer-songwriter who wrote many, many, many famous songs, you'd know them if you heard them. They were recorded by people like Linda Ronstadt and many others. And she also has recorded her albums, and "Rose in the Garden" means a lot to me because it was very important to me and my wife. We love Karla Bonoff and that song, so I thought that should be on my list.
David Walker, father of Newsweek reporter Lauren Walker
"Magic Man"/"Crazy On You," Heart: Those two pretty much are together. Back when I first went away to college, from a very sheltered childhood, the first thing that I was introduced to was rush for fraternities and they would have all these guys go to parties. It was the center of social life on campus. And at that time Heart was one of the big groups. It reminds me of exciting times and you never forget that. Back in the time was a little less defined, maybe a little more exciting, a hint of danger of what you didn't know.
"Money," Pink Floyd: Well, I just found it catchy. Frankly it was absolutely the first time in my life...when I first heard it, I was in high school and at that time I did not understand the obsession with money. It just sounded like a good song and the lyrics fit together nicely. As time went on, I began to understand the obsession with money—having it, lack of having it, everything in the middle. People's behaviors changed by it, its actual value versus its perceived value...it's one of those songs I think was the first time the concept of money was put into my head. As time went on, it meant more to me.
"Rocket Man," Elton John. The first time I ever heard it, in seventh or eighth grade, I thought it was a really nice song. But I think the reason I remember it to this day was because when I went away to summer camp, it was the first time in my life I found myself attracted to women and didn't understand why, and just remember seeing girls that were beyond my capacity to even approach. That song was almost like a embodiment of my wishes, you know? If I could see myself with her, this could be our song.
"China Grove," the Doobie Brothers: That was a group that was hot when I was in college. I think they even came and did a live show and I went and saw it.
Rodrigo Mejia, father of yours truly
"The Long and Winding Road," the Beatles: I've never been a big Beatles fan but my favorite songs of theirs are the soft ones like...oh, my Alzheimer's is acting up. Oh, "The Long and Winding Road!" McCartney's voice is tremendously sad and precious in this song. This is my favorite Beatles song by a long shot. The guitar arrangements, the interplay of the vocals and instrumentals. I like things that are melancholic. I'm kind of like your brother in my musical selections that way.
"Duchess," Genesis: I adore this song. What I like most in rock are songs that start out soft, rise, then come back down again…"Duchess" is like that. But this is Genesis with Phil Collins, not with Peter Gabriel. Your mother and I went to go see them once and there's a CD of that concert. It's called Secret World Live. Wow.
"Miami 2017 (Seen the Lights Go Out on Broadway)," Billy Joel: I used to have this tiny little car that had a sound system built for like a theater. Every day driving on the way to college we'd listen to Songs in the Attic a toda mierda (on full blast). "Miami 2017" is just brutal! Incredible.
"Landscapes," Camel: This is one of my all-time favorite bands. It's from their album Nude. This song makes you relax, meditate, think, cry...what do I know. It has a flute that's like, wow.
"Please Be With Me," Eric Clapton: I remember dancing with a girl in fourth grade named Carol to this song. A slow dance. I loved the girl and the acoustic guitar on this too. She never gave me the time of day, but oh well. It was a platonic love.
At press time, "Landscapes" could not be found on Spotify to include in the actual playlist. Sorry, dad.