These Democrats Are Running for President, but They Might Have a Better Chance Flipping Senate Seats
Democrats face an uphill battle to win back majority control in the Senate during the 2020 election, but the party might be able to find some winning candidates from the pool of 24 people running for president.
The number one priority for Democrats is to defeat President Donald Trump. But even if they are able to turn the White House blue, it will be difficult to pass a liberal agenda while Republicans control the chamber (see: Obama administration).
The GOP currently holds a three-seat majority in the Senate and they have to defend more than 20 seats in the 2020 cycle, whereas just 12 Democrats are up for re-election. But only a handful of Republican seats are considered to be truly competitive, as the rest are in red states still loyal to Trump.
Adding to the problem is the fact that many high-profile Democrats who could run for and likely win a Senate race have instead chosen to launch presidential bids. Colorado's John Hickenlooper, Montana's Steve Bullock and Texas' Beto O'Rourke are most frequently cited by strategists as candidates who are struggling in White House runs but could thrive in Senate races.
"People make their own decisions on this," Robert Shrum, a Democratic strategist and director of USC's Dornsife Center for the Political Future, told Newsweek. "Clearly they are determined to run for president. We handicap these things so early."
But some presidential candidates are starting to run out of time to decide whether to launch a Senate campaign instead. The filing deadline to run for U.S. Senate in Texas, where O'Rourke or Julián Castro could go up against a Republican incumbent, is in December.
Here are some presidential candidates who could mount a serious run for Senate:
Steve Bullock (Montana)
The governor of Montana would certainly have an easier time winning a Senate seat than winning the presidency. Bullock won re-election in the state by 4 points, which was an impressive feat as his victory came on the same day in 2016 that Trump won the state by 20 points.
A post-election poll of Montana voters in late 2018 showed that Bullock and Daines were the most favorable politicians in the state. Sixty percent of all voters either strongly approved or approved of the job he was doing. Daines was in second place with a 58 percent approval rating among voters.
But Montana is still significantly more Republican than the rest of the country as a whole. And incumbent Steve Daines is well-approved throughout the state. In his last re-election bid in 2014, Daines defeated his challenger by nearly 18 percent of the vote.
In May, amid pressure from Democrats to abandon his White House bid, a spokeswoman for Bullock told Politico that the governor was not running for Senate. But his poll numbers have not gotten any better since then. According to Real Clear Politics, Bullock is averaging 0.6 percent in nationwide polling. He also failed to make it to the first round of debates and was only included in the second round because Eric Swalwell dropped out of the race.
Julián Castro (Texas)
Before becoming the Housing Secretary under President Barack Obama, Castro was the former mayor of San Antonio and is still well-known in Texas. In his 2009 mayoral run, Castro won the nonpartisan race by 27 points over his closest challenger.
Castro is considered to be a bit of a long shot for the presidency, considering he has been consistently polling between 0 and 2 percent in both state and national surveys. Even his winning debate performance in Miami in July wasn't enough to propel him further and he has yet to qualify for the fall debates.
Shrum told Newsweek that either Castro or O'Rourke could have a good chance against incumbent John Cornyn. A recent poll by Emerson/Dallas News showed the Democratic primary race for Cornyn's seat to be wide open. At 19 percent, "someone else" was leading the field of candidates.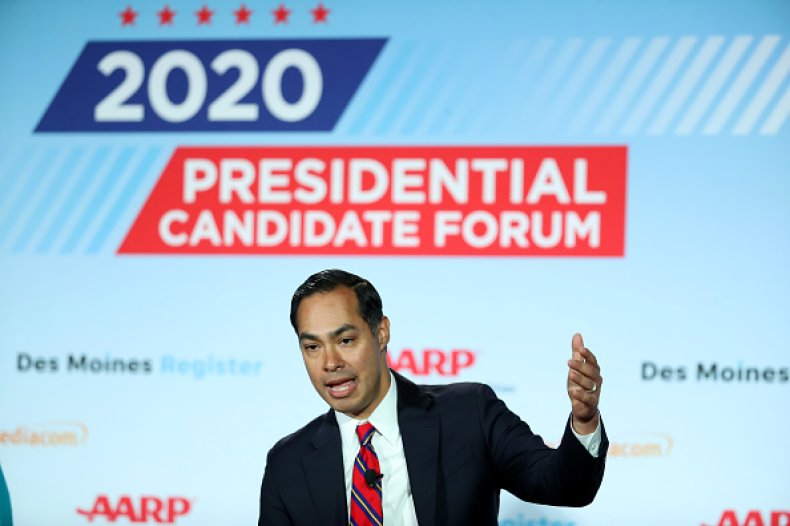 John Hickenlooper (Colorado)
Hickenlooper announced on August 15 that he was suspending his presidential bid, after months of failing to gain traction in the polls and on the campaign trail. In a video announcing his decision, the former governor said he was going to give some "serious thought" to running for Senate.
"Generally, he's quite popular," said Rick Ridder, a political strategist and co-founder of Colorado's RBI Strategies and Research firm. "He's always done very well even in difficult years."
But Ridder said the real problem for Hickenlooper is that his presidential run turned him into a politician. "In Colorado, we know him as a bartender," he said.
If he did decide to run for Senate, Hickenlooper would face off against Republican incumbent Cory Gardner. Gardner is viewed as one of the most vulnerable GOP senators in the upcoming election cycle. In 2014, he won the seat by less than 2 points.
Public Policy Polling released a survey last week that pitted Gardner against Hickenlooper. The Democrat came out 13 points ahead, with 51 percent support among voters compared to Gardner's 38 percent.
As former governor, Hickenlooper left office in early 2019 with a high approval rating. Almost half of the money he raised in his presidential campaign came from Colorado.
Beto O'Rourke (Texas)
The mass shooting in El Paso brought O'Rourke back to Texas from the campaign trail and now many are urging the Democrat to stay in the Lone Star state.
O'Rourke ran for Senate during the 2018 midterm election cycle and lost. But he was only defeated by incumbent Ted Cruz by 2 percentage points in a deep red state that overwhelmingly voted for Trump in 2016.
But the stardom from his 2018 campaign hasn't exactly carried over to 2020. According to Real Clear Politics, he's averaging just 3 percent in national polling. His presidential bid got off to such a rocky start that he was forced to reboot the entire operation in May.
If he chose to abandon his White House bid O'Rourke could challenge Senator Cornyn. An Emerson College poll conducted in early August showed that more than half of Texas Democrats thought O'Rourke should run for Senate instead of president.
But strategists aren't totally convinced O'Rourke can take down Cornyn in Texas even though the race between O'Rourke and Cruz was the closest in Texas in decades.
"Yes, he's run statewide—but can he win statewide is a big question," Ridder said. "In that way, O'Rourke is in a very different position than Hickenlooper and Bullock when it comes to running for Senate."