These Doctors and Nurses Are Crossing the Border Every Day to Help Asylum Seekers Forced to 'Remain in Mexico'
Newsweek's "Heroes of the Pandemic" series features everyday heroes showing service, sacrifice or kindness in the time of COVID-19.
It was not long after 31-year-old Dr. Andrea Gaspar arrived back home in Texas that her thoughts started to wander south of the border. Forced by the pandemic to return home early from Peru, where she had been working before the outbreak began, Gaspar started to think about the hundreds of asylum seekers who were also desperate to make it across the border into the U.S.
What would happen, she wondered, if the virus were to reach the hundreds of families forced to live in a crowded encampment in Matamoros, Mexico, just south of Brownsville, Texas, as they waited for their asylum cases to be processed in the U.S. under the Trump administration's "Remain in Mexico" policy?
"This is a particularly vulnerable group," Gaspar, a fellow with the University of Washington's global and rural health program, told Newsweek. And with overcrowding at the campsite and many asylum seekers suffering from pre-existing medical conditions, she said, "I would just imagine that when coronavirus does happen, it's going to spread really quickly."
Determined to help stop that from happening, Gaspar began researching ways to help asylum seekers stranded in Matamoros shortly after arriving back home in late March.
That is how she came across the work of Global Response Management (GRM) and became part of a team of doctors and nurses crossing the U.S.-Mexico border each day to provide care to the hundreds of asylum seekers forced to live in the encampment.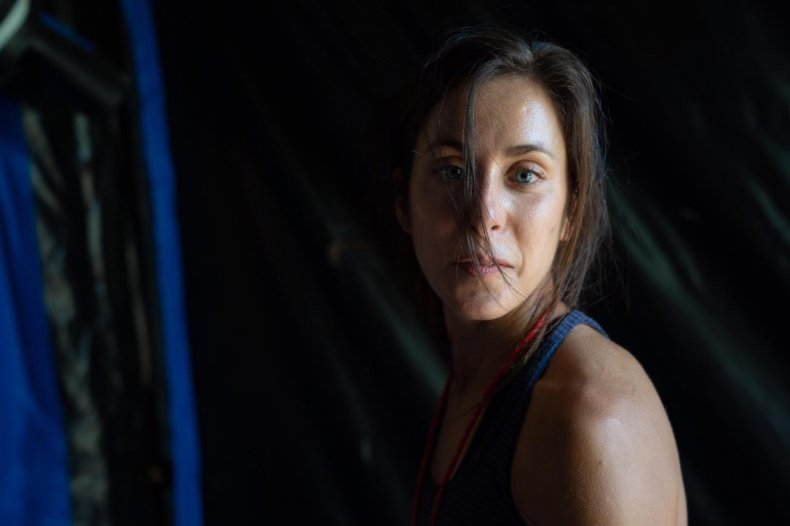 While much of the world, including the U.S. was still coming to grips with the reality of the pandemic in the early months of the year, GRM, a non-governmental organization providing emergency medical care in high-risk, low-resource areas, had gone into full swing preparing for the worst early on in February.
"We knew that preparation was all that we would have on our side, so we were aggressive," Andrea Leiner, the strategic operations director of GRM told Newsweek. "We came up with a plan with three prongs: prevention, fortification and treatment."
Since the outbreak began, Leiner said, there has not been a single confirmed case of coronavirus at the encampment, where as many as 2,500 people are living.
"We haven't had a single case of coronavirus yet," she said. "We've isolated 17 people in the last six to eight weeks, but everybody who was isolated and tested, tested negatively, and everybody got better."
Part of that, Leiner believes, could be due to the level of preparedness that GRM had, with the organization helping institute social distancing measures and providing access to sanitation and education on how to prevent the spread of coronavirus early on in the pandemic.
As the first cases of COVID-19 were being identified in the U.S., GRM was ordering the supplies it would need to care for asylum seekers in Matamoros, including face masks, sanitation tools and equipment for a small hospital to be built on-site to help treat potential cases.
"We knew that if the virus spread, it would be people who are stuck on the margins who would be low on the totem pole for getting things," Leiner said.
'It is not easy here'
For asylum seekers like Josué, a Honduran father of three living at the encampment with his wife and children, the support that volunteers from GRM and Team Brownsville, a Texas-based group coordinating food, clothes and other supplies for the encampment, are providing has been the difference between life and death.
"We have neither help nor information from any president," Josué, whose last name has been withheld over fears of persecution, told Newsweek. "I am very grateful, first of all to God and then to the Team Brownsville Team," he said, "because they have always helped a lot with food, with water, with clothes, shoes, medicine, with tents to live and with much more help for all of us immigrants."
Calling volunteers in Matamoros "angels" Josué said his family, including three children, has struggled to live at the encampment, where families have been forced to live for weeks, if not months, in tents.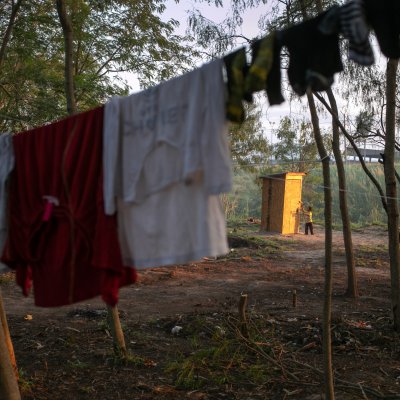 "It is very hard to be living here. It is not easy here. All of us are with our families," said the father, who has been waiting in Matamoros with his family for more than a month.
Since arriving at the camp, Josué and his wife have taken on leadership roles at the camp, helping to manage and distribute supplies to fellow asylum seekers.
However, the father, said, if it were not for the efforts of volunteers, "I do not know how we would be here."
Many of the doctors and nurses volunteering with GRM, Leiner said, could be earning money in the U.S. working at the frontlines of combating the pandemic. Instead, she said, many have chosen to volunteer their time to help support asylum seekers in Matamoros.
"There is such a need in the United States for people to be working on the frontlines of COVID and those contracts are very lucrative," Leiner said. "So, if somebody has two weeks to give, why wouldn't they give them in New York, where they're on the frontline of their home country and they're paid to do the dangerous work? Why would they consider giving that two weeks to a volunteer organization?"
'The children we're treating here could very well have been me.'
For 27-year-old pediatric nurse practitioner Isaac Bencomo, who is Mexican and studied to become a nurse in the U.S., the answer is simple.
"Obviously, I'm a Mexican national and immigrant myself in the States, so...I can certainly empathize, maybe not with their experience and how they are living, but with being a migrant."
"My experience of it was, I guess, from a place of privilege, obviously. I was educated in the States, my parents were able to help with tuition, visas," he said. But, Becomo said, "I can understand what it is to immigrate, to want to immigrate to a country with better opportunities."
"The children we're treating here could very well have been me," he said.
While Bencomo is not able to volunteer every day, he tries to make the trip to Matamoros as much as possible, making the four-hour drive there and back from San Antonio, where he works at the Children's Hospital, in order to help asylum seekers.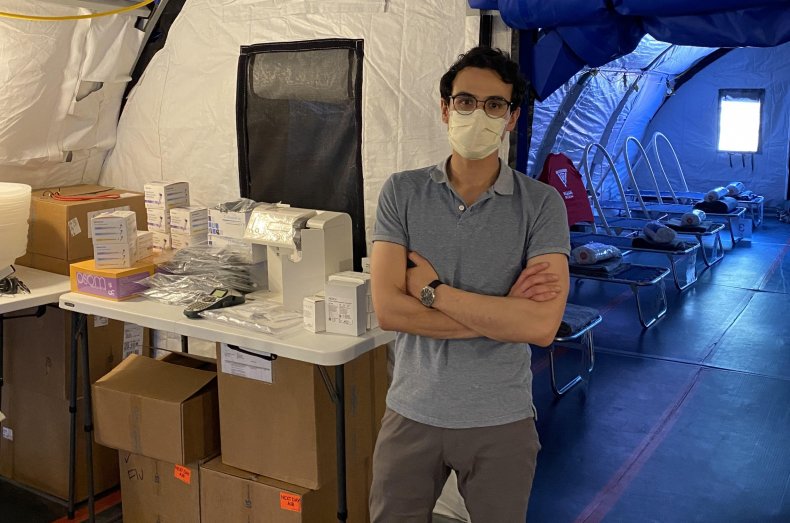 Bencomo has also become GRM's government liaison, helping the organization coordinate with the Mexican government to ensure that volunteers are able to continue operating in Matamoros.
The work that GRM is doing, Bencomo said, has largely been made possible by the efforts of volunteers, as well as by donations and support from many Americans, including people who have made face masks at home and donated them to the effort in Matamoros.
For Dr. Prahlad Sunil, a physician based in Naples, Florida, who helps coordinate GRM's operations from the U.S., volunteering time each week to support the organization's efforts in Matamoros is a logical choice.
"This virus, like any other disease, doesn't care who you are, what you believe, what you identify with, etc. It's going to try and kill you anyway," said Sunil, who is 32 and works in Naples, Florida. However, not all people get the same chance to fight the virus.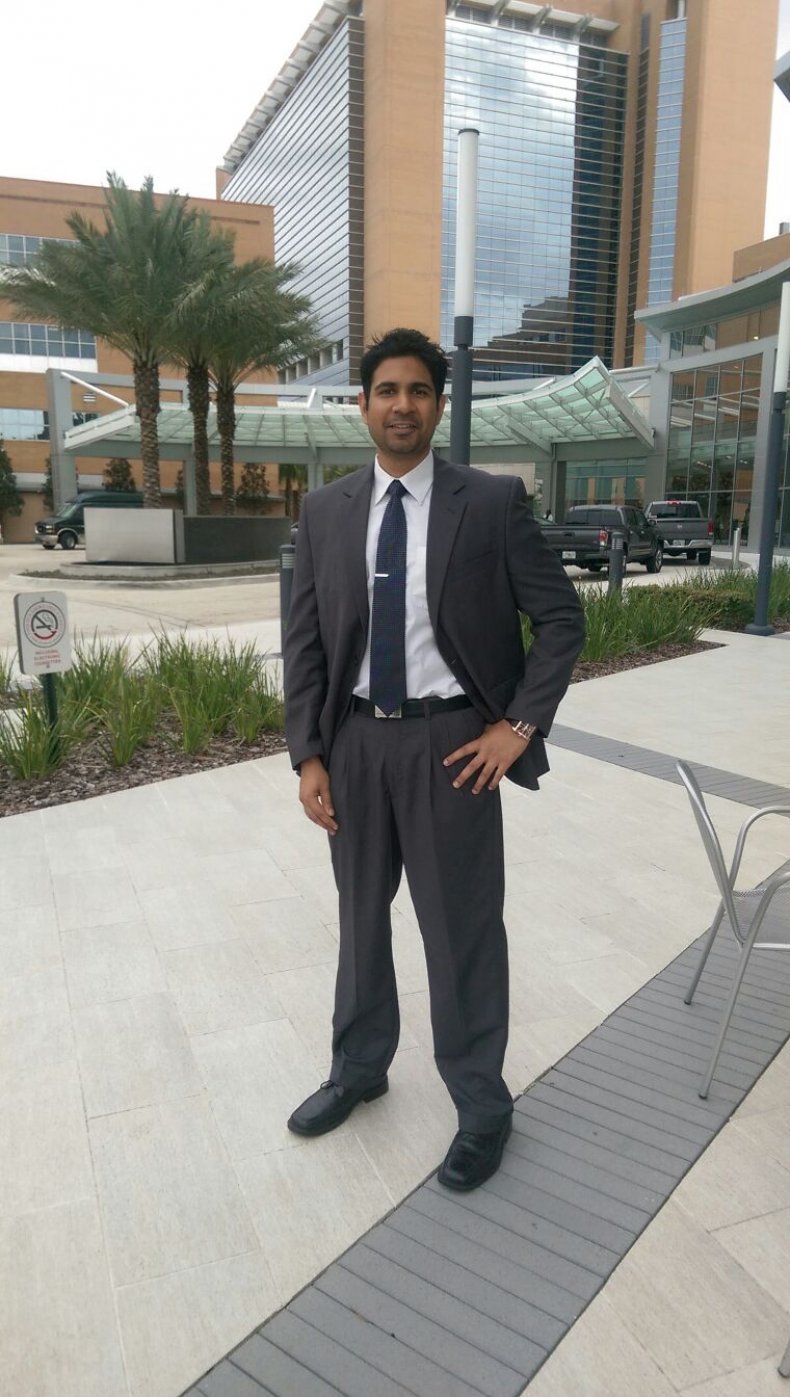 That's why it is important that "for possibly the first time in history," he said, "humans have come together all over the planet and put aside petty differences and worked together selflessly to help each other like never before against a threat none of us are safe from."
While Gaspar said the fight to combat coronavirus in the U.S. was just as important, she said: "I feel like it's also really important for people to be out here and to provide [asylum seekers] with health care."
"I don't want to say they are forgotten about, but not many people are really thinking about them," Gaspar said. "And they deserve to be thought about just as much as any other person."
Know a hero you want to nominate to be featured in our series? Drop us a line at heroes@newsweek.com.