These Dog Bones Are Deadly, FDA Warns
Update | Commercial bone treats can be hazardous to a dog's health, the Food and Drug Administration has warned—and sometimes they can even be lethal. The agency updated its website this month to include new reports of illnesses and deaths associated with these processed bone treats.
Nearly 70 dogs have gotten sick from processed and packaged bones and 15 have died, according to the FDA's website. That figure is nearly double the last reported death toll linked with the treats; a 2015 version of the page indicated that eight dogs had died. Dogs have vomited, choked and had stomach issues after chewing on them, according to the agency. Some bones have also looked moldy or have splintered when a dog began to chew.
Although no brands are listed, some of the products associated with these injuries include "Ham Bones," "Pork Femur Bones," "Rib Bones" and "Smokey Knuckle Bones." None of these particular products are listed in any past FDA recalls.
The dangers of bones—commercial or otherwise—are something that many veterinarians are aware of, Dr. John de Jong, president-elect of the American Veterinary Medical Association, told Newsweek. "Many veterinarians advise their dog-owning clients to avoid giving their dogs bones because of problems that can develop." It can happen to any dog, he said, regardless of breed or size. "There's a lot of other good, commercial products out there that can be given to your dog that can satisfy their need to chew and promote good dental health," he said, mentioning products made of nylon.
The issues associated with these bones are concerning, but they aren't the only danger out there. Concerns about jerky pet treats skyrocketed in 2013, and by the end of 2015 the agency received reports that more than 1,000 dogs had died and over 6,000 fell sick after eating the treats. At the time, the FDA linked the illnesses to treats imported from China. However, the agency noted, "Pet owners should be aware, however, that manufacturers are not required to list the country of origin for each ingredient used in their products."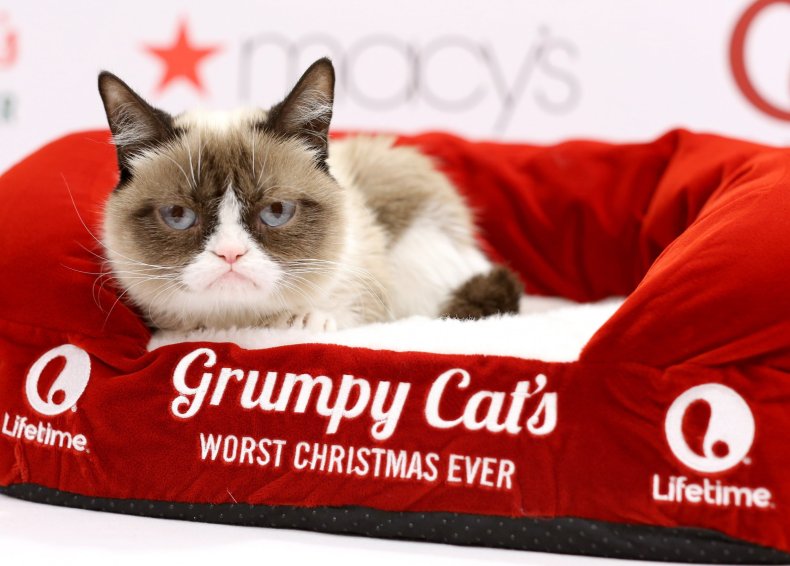 The holidays can be a dangerous time for pets, the FDA notes—and not just because of risky gifts. Tinsel and ribbons can also pose a threat, especially to cats; the materials can foul up a cat's stomach. Poinsettias—a popular flower at Christmas—can poison them. Holiday mints and other treats may have a chemical, xylitol, that can poison or even kill dogs. Then, of course, there's all that chocolate and alcohol.
Unsurprisingly, the days immediately after holidays are often busy for vets, de Jong said. "After holidays, there seem to always be a spike," he said, mostly in vomiting or diarrhea-related cases.
Thankfully, there's still time to find a safe holiday gift for the dog or cat in your life. Instead of gifting a bone from a pet store or a bone from someone's plate, the FDA recommends talking with a veterinarian to find a safe alternative. And if you believe your pet may have gotten sick from his or her pet food or treats, the agency also collects reports online.
This article has been updated to include comment from Dr. de Jong.