These Dogs Broke the Internet When They Were Reunited with Their Owners
Dogs are loving, compassionate and ridiculous. They pick up on our emotions and rarely hold a grudge, for long at least. They're always happy to see us and find joy in the little things, as shown by their wagging tails and wide smiles.
For all these reasons and more, the relationship between dogs and humans has been strong for millennia. It's the reason we welcome them into our homes, put up with them shredding our furniture and dragging mud across our floors.
As every pet owner will know, there's no greeting quite like a greeting from a dog. Whether you've been out for five minutes or five hours, dogs are always happy to see us.
According to a 2014 Swedish study, the return of a familiar human has a positive effect on dogs, by increasing oxytocin—a hormone that strengthens social bonds and trust—and reduces cortisol, a hormone linked to stress.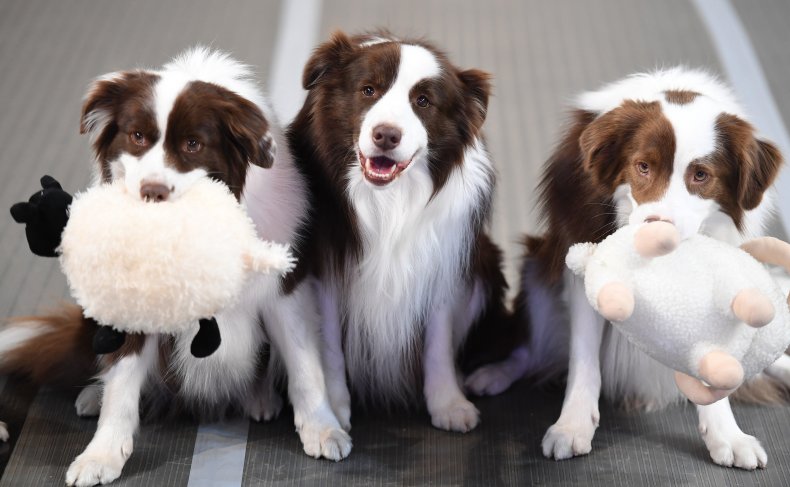 Not only do they recognise our voices, but also our smell too. So when we come home after a long day and are excitedly greeted by our dogs, it's because we are able to provide them with emotional satisfaction.
Animal lovers have shared these joyous moments online—and here are some of our favourites.
1. Dean the basset hound "plays it cool" when his owner returns home from a business trip.
2. This good girl can't quite decide which of her owners to greet first after they returned from a holiday.
3. Sometimes, dogs get so excited they can't contain themselves. This girl greeted her owner with a little dance.
4. Toby the setter is so over-excited when its grandparents visit, it can't decide whether to lick or hug first.
5. Derp and Berp thoroughly clean their human when he returns home.
6. This clever dog recognizes that their owner has brought home groceries—possibly for them.
7. A Labrador retriever welcomes home his owner who has returned from military service.
8. These labradoodles—a labrador and poodle crossbreed—are finally reunited with their owner who has been away for six months.
9. A lucky family are reunited with their beloved dog Fergus, after he ran away following a car accident.
10. Here's a lovely dog screaming with joy when finally greeting his owner, after he lost.
11. This guy greets his owner with his favorite toy—a heart pillow—every day.
12. Another dog receives a very special welcome from its owner when they return home.
13. At first, this dog doesn't recognize its owner after they return from military deployment, but when it finally does, the reaction is magical.
14. This dog dances with excitement when his owner comes home.
15. A collie dog whines with happiness as it hugs its owner, who has just arrived at an airport.
16. An owner was concerned her dog wouldn't recognize her when she came home from deployment, but she didn't need to worry.
17. Meanwhile, this dog greets his owner extremely calmly when they return home after two hours.
18. Toby the Boston terrier can't quite contain himself when his dad arrives home from a business trip.
19. This small dog tries to jump on his owner's face when she comes home.
20. Another dog can't stop wagging when its owner arrives through the door—with a guest appearance from a cat.
21. And this dog sings when his owner gets up in the morning and greets him.
22. A pug has to check his owner is his owner with a quick sniff when she comes home from abroad.
23. A cone of shame won't stop this pup from greeting its owner.
24. A cockapoo happily runs out to find his owner.
25. These two puppies wait at the front door for their human to come home.