These Five 2020 Democrats Would Tie or Beat Trump If the Election Were Held Today, Poll Shows
Joe Biden has largely campaigned under the guise that he is the lone Democratic candidate who could take down President Trump in the 2020 election. But there are four other 2020 hopefuls who would either defeat or tie the commander-in-chief in a hypothetical matchup.
Vermont Senator Bernie Sanders would beat Trump by 4 percent while it would be a toss-up for Senators Kamala Harris of California and Elizabeth Warren of Massachusetts, according to a new Emerson College poll published Tuesday. Indiana Mayor Pete Buttigieg would lose by one percentage point — within the survey's plus or minus 2.5 percent margin of error. Biden would win by 8 percent.
Other recent polls have produced similar results for Biden, Sanders and Warren. But the hypothetical outcomes are also promising for Harris and Buttigieg, a symbol that the former vice president is not the only candidate who could win over the general electorate and defeat Trump — despite his campaign continuing to make an electability argument.
"I know that not all of you are committed to my husband, and I respect that," Biden's wife, Jill, said at a New Hampshire campaign event last week. "But I want you to think about your candidate, his or her electability, and who's going to win this race."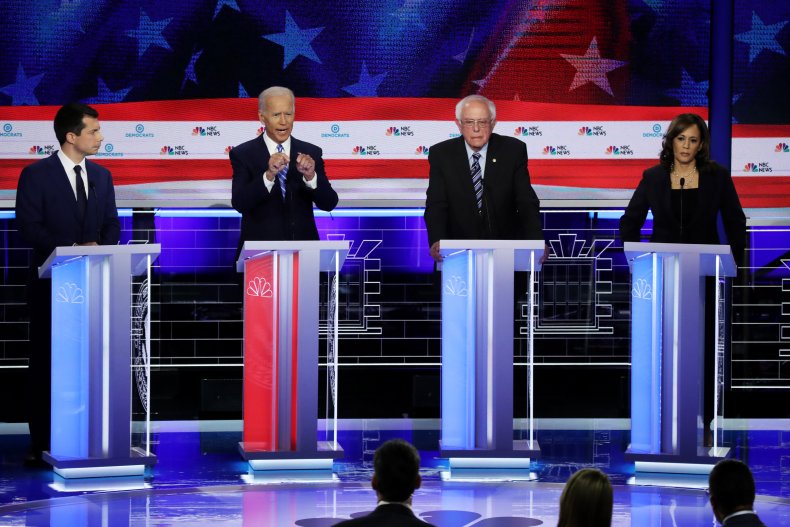 The same poll found that the five candidates are voters' top choices among the crowded primary field, with Biden leading at 31 percent support, followed by Sanders at 24, Warren at 15, Harris at 10, entrepreneur Andrew Yang at 4 and Buttigieg at 3.
A RealClearPolitics average still shows Biden with a commanding double-digit lead among Democratic voters, followed by Sanders, Warren, Harris and Buttigieg.
A Monmouth University poll published Monday suggested that Sanders, Warren and Biden were at a virtual tie, with Sanders and Warren polling at 20 percent support and Biden at 19 percent — within the higher-than-usual margin of error of plus or minus 5.7 percent. The sampling size was only 298 registered voters who identify as Democrats.
The most important issue for respondents in the Emerson poll was the economy, followed by health care, immigration and the environment. The survey was conducted from August 24-26 among 1,458 registered voters.