These Grandkids Dressed as Dinos Had A Surprise For Grandma But She Had Her Own In Store For Them
These grandkids never dinosaur this surprise coming! Reddit user GuiltyUpstairs shared a wholesome clip of two kids dressed up as dinosaurs, waiting to surprise their grandmother at the airport. However, their grandma had an even better surprise in store.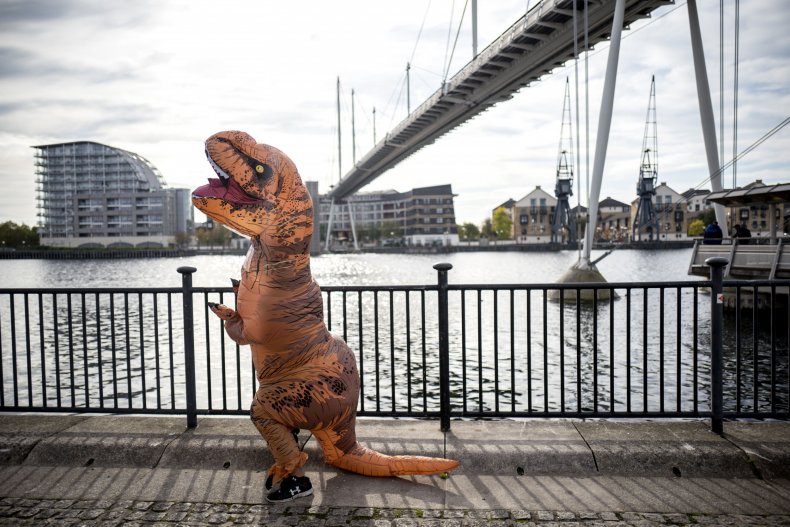 The grandkids were dressed as velociraptors, and lurked by the sliding doors to meet their grandma. According to Unilad, Owen and Ethan couldn't wait for their grandmother, Cheryl, to arrive at Victoria International Airport in Canada.
However, when she emerged, she wore a Tyrannosaurus Rex costume, which took the grandkids by surprise. Owen and Ethan were completely shocked to see another dinosaur at the airport, but were even more thrilled that it was Cheryl.
The velociraptors raced to meet the T-rex toting a pink suitcase and embraced.
The boys' mom, Tabitha, explained to Unilad that the costume idea was something Cheryl came up with. "In 2018 we flew to Toronto International Airport for a two week visit. The boys had recently watched Jurassic World and were obsessed with dinosaurs at the time," she said. "My mother thought it would be a great welcome to land and have a T-Rex pick them up."
Owen and Ethan were blown away by Cheryl's prank, and decided to do the same for meeting their grandmother at the airport.
The video originally became viral in January 2020, but seems to get sweeter as time goes on. The Reddit community loved the sweet reunion.
"I've seen this many times already, but it remains absolutely gold! I love that victory dance of the little dino in the end. Adorable af," one user gushed. "Imagine walking out of your flight to three dinosaurs just hugging each other," another quipped.
"Man, grandma's getting old, she looks like a dinosaur," a third joked.
One user, who used to work at the airport, wrote about the sweet airport reunions they would regularly witness. "The best part of the day was seeing the crazy signs and costumes people would make and wear to surprise their families," they recalled. "Best one, son and father wear trucker hats and matching thongs with a sign that read, 'Just wanted to make sure you would never forget this.'"