These House Republicans Voted to Impeach Donald Trump
President Donald Trump enjoyed total support from Republicans in the House of Representatives during his first impeachment in 2019—but that was not the case on Wednesday when the chamber charged him with incitement of insurrection.
Ten conservative members of the House backed the resolution. Its passage makes Trump the first commander-in-chief in U.S. history to be impeached twice. Trump was impeached just a week before he is due to leave office.
House Democrats quickly drafted the impeachment article after a mob of Trump supporters stormed the U.S. Capitol on January 6 to disrupt the certification of President-elect Joe Biden's win. Five people died in the riot, including one law enforcement officer.
Trump addressed his supporters, who gathered for a "Stop the Steal" rally, before the violence erupted. In his address, the president continued to make baseless accusations that the 2020 election was riddled with fraud and told the crowd that they would have to "fight much harder."
Zero Republicans supported Trump's impeachment in 2019 when he was charged with abuse of power and obstruction of Congress in relation to his dealings with Ukraine. But that changed this time around, as a handful of Republican members signaled they would support the impeachment article ahead of Wednesday's vote, including Representative Liz Cheney of Wyoming.
Cheney, the number 3 Republican in the chamber, said in a statement on Tuesday that "there has never been a greater betrayal by a President of the United States of his office and his oath to the Constitution."
Cheney was joined by nine of her colleagues on Wednesday to impeach Trump. Here's a list of all the House Republicans who voted in favor of the "incitement of insurrection" charge against the president.
Jaime Herrera Beutler of Washington
In a lengthy statement released the night before the impeachment vote, Beutler said Trump "incited a riot aiming to halt the peaceful transition of power from one administration to the next." She went on to criticize Trump for his behavior while the riot took place, his attacks on Vice President Mike Pence and for his "pathetic denunciation of the violence."
"The President's offenses, in my reading of the Constitution, were impeachable based on the indisputable evidence we already have," she wrote. "I understand the argument that the best course is not to further inflame the country or alienate Republican voters. But I am also a Republican voter. I believe in our Constitution, individual liberty, free markets, charity, life, justice, peace and this exceptional country. I see that my own party will be best served when those among us choose truth."
In a floor speech on Wednesday, Beutler added: "My vote to impeach our sitting president is not a fear-based decision. I am not choosing a side. I'm choosing truth. It's the only way to defeat fear."
Liz Cheney of Wyoming
The daughter of former Vice President Dick Cheney explained her decision to impeach Trump on Tuesday, writing that what members of Congress know now "is enough" to move forward with the charge.
"The President of the United States summoned this mob, assembled the mob, and lit the flame of this attack," she wrote. "Everything that followed was his doing. None of this would have happened without the President. The President could have immediately and forcefully intervened to stop the violence. He did not. There has never been a greater betrayal by a President of the United States of his office and his oath to the Constitution."
Anthony Gonzalez of Ohio
Gonzalez said in a statement he came to the decision to impeach Trump after consulting with law enforcement, watching footage of the riot and "rehashing" the events as he experienced it.
"When I consider the full scope of events leading up to January 6th including the President's lack of response as the United States Capitol was under attack, I am compelled to support impeachment," the statement read.
John Katko of New York
Katko was the first Republican member to express he would vote in favor of impeachment. He said he was drawing on his experience as a former federal prosecutor as he laid out the facts of Trump's wrongdoing.
"By deliberately promoting baseless theories suggesting the election was somehow stolen, the president created a combustible environment of misinformation, disenfranchisement, and division," he wrote.
Katko added: "The divide in our country is more clear than ever before. I hear my Republican colleagues in their argument that impeachment only further divides our country at a time when we must move forward. I agree. There must be a continuance of government and a peaceful transition of power. But I also believe firmly that I must follow the law and the facts and hold this President accountable for his actions."
Adam Kinzinger of Illinois
In a statement on Tuesday, Kinzinger said there was "no doubt in my mind that the President of the United States broke his oath of office and incited this insurrection" and used his position "to attack the Legislative."
"So in assessing the articles of impeachment brought before the House, I must consider: if these actions—the Article II branch inciting a deadly insurrection against the Article I branch—are not worthy of impeachment, then what is an impeachable offense?" he wrote.
Peter Meijer of Michigan
The freshman congressman said in a statement Wednesday that he wrestled with the decision to vote in favor of Trump's impeachment but that he believes the charge against him is "accurate."
"This vote is not a victory," Meijer said. "It isn't a victory for my party, and it isn't the victory the Democrats might think it is. I'm not sure it is a victory for our country. But it is a call to action for us to reflect on these events and seek ways to correct them."
Dan Newhouse of Washington
Newhouse announced his decision to vote in favor of Trump's impeachment during a floor speech on Wednesday. In his remarks, Newhouse told his colleagues in the chamber: "We are all responsible."
"These articles of impeachment are flawed but I will not use process as an excuse. There is no excuse for President Trump's actions. The president took an oath to defend the Constitution against all enemies foreign and domestic. Last week, there was a domestic threat at the door of the Capitol and he did nothing to stop it. That is why with a heavy heart and clear resolve I will vote yes," Newhouse said. His remarks were met with applause.
Tom Rice of South Carolina
The South Carolina Republican didn't indicate ahead of Wednesday's vote that he would support impeachment. Newsweek contacted Rice's office for comment but didn't immediately receive a response.
Rice later explained in a statement, "I have backed this President through thick and thin for four years. I campaigned for him and voted for him twice. But this utter failure is inexcusable."
Fred Upton of Michigan
Upton, who has served in Congress since 1993, announced in a statement Tuesday that he would also be supporting impeachment.
"Today the President characterized his inflammatory rhetoric at last Wednesday's rally as 'totally appropriate,' and he expressed no regrets for last week's violent insurrection at the U.S. Capitol," Upton said.
"This sends exactly the wrong signal to those of us who support the very core of our democratic principles and took a solemn oath to the Constitution," he said. "I would have preferred a bipartisan, formal censure rather than a drawn-out impeachment process. I fear this will now interfere with important legislative business and a new Biden Administration. But it is time to say: Enough is enough."
David Valadao of California
Valadao didn't indicate ahead of Wednesday's vote that he would support impeachment. Newsweek contacted Valadao's office for comment but didn't immediately receive a response.
In a series of Twitter posts, Valadao said that while the process was rushed, he had to "go with my gut and vote my conscience."
"I voted to impeach President Trump. His inciting rhetoric was un-American, abhorrent, and absolutely an impeachable offense. It's time to put country over politics," he wrote.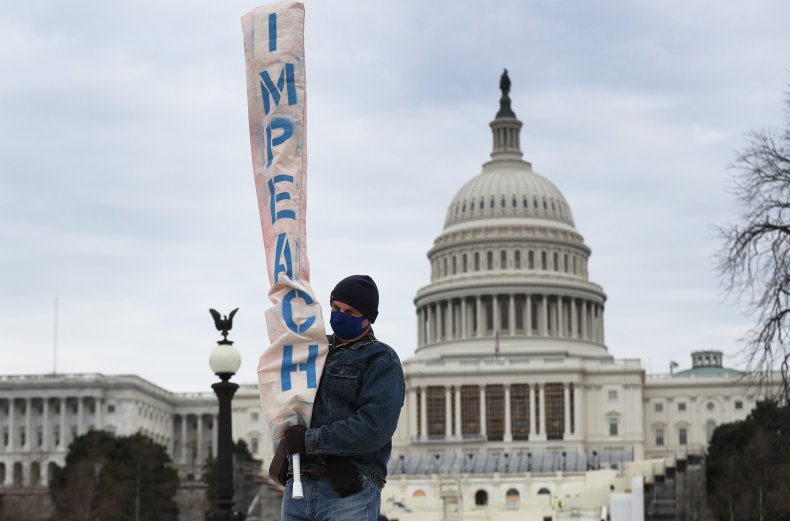 This story has been updated to include comments from Representatives David Valadao and Tom Rice on their votes to impeach Trump.