These Hyundai Vehicles Are Among the 390K Under Recall for Potential Engine Fires
Hyundai is issuing recalls on about 390,000 vehicles in the U.S. and Canada for potential engine fires, Hyundai Motor America announced Tuesday morning.
The recall is for the Santa Fe Sport from 2013 through 2015, Elantra from 2019 and 2020, and Kona and Veloster from 2019 through 2021.
"Nothing is more important than the safety and security of Hyundai customers," Hyundai spokesman Michael Stewart said in a statement to Newsweek. "Hyundai actively monitors and evaluates potential safety concerns with all of our vehicles. When a safety-related defect is identified, we act swiftly and efficiently to recall the vehicle and fix the problem at no cost to affected customers."
The Santa Fe Sport recall is due to an issue with the Anti-Lock Brake System (ABS) "that could leak brake fluid internally and cause an electrical short over time," according to a Hyundai statement.
"An electrical short in the ABS module could increase the risk of an engine compartment fire while parked or driving," the U.S. National Highway Traffic Safety Administration (NHTSA) said in documents posted Tuesday.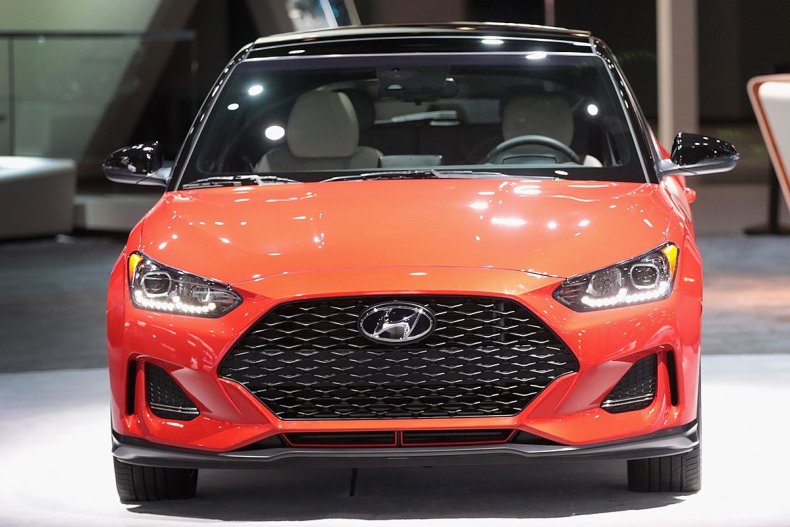 There have been 18 engine compartment fires related to the issue so far, according to the documents.
Owners may bring their car to their local Hyundai dealership for inspection and a fuse replacement. If necessary, the entire ABS module will be replaced.
Hyundai recommended that owners park the recalled Sante Fe Sports outside and away from any nearby structures until they complete the recall process.
"Hyundai is not aware of any crashes or injuries related to this condition," the company said.
The Elantra, Kona and Veloster models are being recalled so Hyundai can address an issue with the piston oil rings.
These engines "may have been assembled using piston oil rings that were produced with inconsistent nitride heat treating by the supplier," Hyundai said in the statement. The issue could lead to engine failure.
In limited instances, NHTSA documents said, the risk of an engine fire could increase due to issues caused by the oil rings.
There have been five fires caused by issues with the oil rings, according to documents.
Hyundai said it was unaware of any injuries or crashes related to recall of the Elantras, Konas and Velosters.
"Owners will bring their vehicles to the nearest Hyundai dealership for an engine inspection test, and if necessary, an engine replacement," Hyundai said, adding that there would be no cost to the vehicle owners.
Owners of the recalled Hyundais will receive notification letters in June about the recall. Until then, owners can input their vehicle identification number (VIN) on Hyundai's recall page online to see if their vehicle has been recalled.