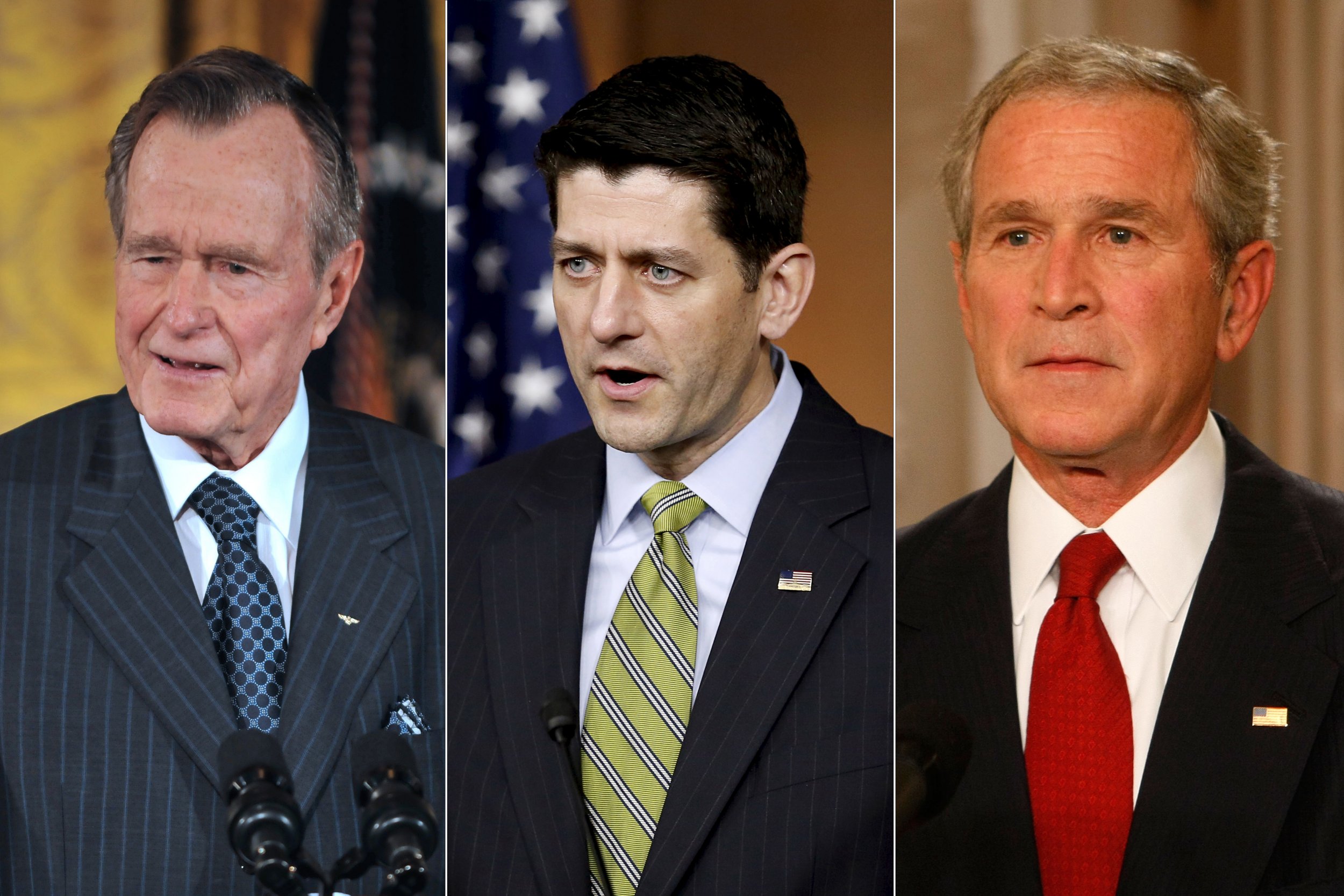 Updated | We've been hearing it for months: Many established Republicans won't support Donald Trump, who now is the party's 2016 presidential nominee.
Since May 3, when Republican National Committee Chairman Reince Priebus urged the party to unite behind the real estate tycoon, several prominent Republicans have publicly said they won't back the New York billionaire in the general election. And some have said they will skip the Republican National Convention, scheduled for July 18 through 21 in Cleveland.
Trump's inflammatory remarks toward immigrants and women have given pause to some members of the party, while others differ on his policy stances (or lack thereof) on issues including the economy, foreign affairs and international trade, to name just a few. Meanwhile, a small number of established members of the party have publicly supported the presumptive nominee.
Below is a look at who has said what...so far.
Not Boarding the Trump Train
Mitt Romney, Former Governor of Massachusetts and 2012 Republican Presidential Nominee
Arguably the loudest and one of the earliest opposing voices against Trump, Romney in March called him a "fraud" and "phony" in a speech ahead of Utah's caucuses. At an awards gala in Washington on May 5, the former Massachusetts governor and ex–GOP nominee said he has no intention of supporting the mogul and won't attend the party's summer convention.
"I happen to think that the person who is leading the nation has an enormous and disproportionate impact on the course of the world, so I am dismayed at where we are now. I wish we had better choices, and I keep hoping that somehow things will get better, and I just don't see an easy answer from where we are," he said.
Former President George H. W. Bush
The 41st president briefly entered this year's election cycle to support the dismal campaign of his son, former Florida Governor Jeb Bush.
Now, Bush Sr. has said he won't attend the summer convention. "At age 91, President Bush is retired from politics," spokesman Jim McGrath told The Texas Tribune on May 4. "He came out of retirement to do a few things for Jeb, but those were the exceptions that proved the rule."
Former President George W. Bush
Similar to his dad, the 43rd president "does not plan to participate in or comment on the presidential campaign," including not attending the national convention, said his personal aide, Freddy Ford, according to the Tribune.
John Kasich, Ohio Governor and Former 2016 Republican Presidential Candidate
In an interview with MSNBC that aired June 16, Kasich said he hasn't made a final decision about whether he will support Trump. But, he added, "At this point, I just can't do it," though he doesn't have plans to challenge Trump at the RNC.
Shortly after Kasich dropped out of the race in May, Trump called to ask if the Ohio governor would support him.
"I said, 'We're like two companies, we have different values, different visions. Kind of hard to put that together. Either there's going to be dramatic change, or I can't find my way there,'" Kasich said in the interview. He said he's currently not supporting Trump because of "a number of things," including the candidate's proposal to ban Muslims from entering the United States.
"Unless it changes, you know," Kasich said, "I'm not gonna be able to get there."
Toward the end of Kasich's campaign, some polls indicated he had the best odds for a Republican to defeat Hillary Clinton, who is now the Democratic presumptive nominee. When the Ohio governor was matched up hypothetically with the former secretary of state, 45 percent of registered voters nationwide said they would vote for Kasich, compared to 39 percent who said they would support Clinton, according to a Monmouth University poll released on March 24.
Jeb Bush, Former Florida Governor and Former 2016 Republican Presidential Candidate
In a May 6 Facebook post, Bush congratulated Trump on his victories, acknowledging the businessman tapped into Americans' widespread feelings of anger and frustration. "Trump has not demonstrated that temperament or strength of character," he said. "He has not displayed a respect for the Constitution. And, he is not a consistent conservative. These are all reasons why I cannot support his candidacy."
Once a rising GOP star, Bush early in the race was considered the party's front-runner. But Trump repeatedly laid into him during debates and on the campaign trail, famously calling him "low energy." With anemic poll numbers, Bush dropped out of the race in February.
Ted Cruz, Junior U.S. Senator From Texas and Former 2016 Republican Presidential Candidate
Cruz, who was Trump's main rival for months before dropping out of the race on May 3, said his decision on whether to back the billionaire wasn't imminent.
"This is a choice every voter is going to have to make, and I would note, it's not a choice that we the voters have to make today," he said a week after suspending his campaign. Cruz hinted at rejoining the race if he sees a viable path to victory.
Cruz and Trump had engaged in a war of words that escalated in recent weeks. Trump referred to the senator as "Lyin' Ted," and Cruz often deemed the mogul a "bully," "narcissist" and "pathological liar."
Lindsey Graham, U.S. Senator From South Carolina and Former 2016 Republican Presidential Candidate
Graham has been vehemently anti-Trump for months now, and the South Carolina senator sent a series of tweets on May 6 reaffirming this, expressing his discontent for both Trump and Democratic front-runner Hillary Clinton, her party's likely nominee. Graham said it's difficult to believe that Trump could be a presidential choice in a country as large as the United States. He also vowed not to attend his party's convention.
"I also cannot in good conscience support Donald Trump because I do not believe he is a reliable Republican conservative, do not believe he is a reliable GOP conservative nor has he displayed the judgment and temperament to serve as commander-in-chief," he said. "I will enthusiastically support Republicans for other offices in South Carolina and throughout the country."
John McCain, U.S. Senator From Arizona and 2008 Republican Presidential Nominee
Although he disagrees with Trump's views on immigration, the Arizona senator has told the media he will back the billionaire because the voters have chosen him as the party's nominee.
"I want to emphasize, I have taken every election with the utmost seriousness. I take this one with the utmost seriousness," he said, according to CNN. Earlier in his campaign, Trump said McCain, a former prisoner of war in North Vietnam, was considered a hero only because he was captured.
Still, McCain doesn't plan to attend the RNC this summer, saying he must focus on his campaign for Senate re-election. His true thoughts seem to have been revealed in audio leaked to Politico and published May 5 in which McCain said he fears Trump could damage his hopes for re-election. Speaking on the recording with donors in April, the senator acknowledged the frustration among Hispanic voters, many of whom are anti-Trump because of his previous comments that Mexican immigrants are "rapists" and "criminals." Hispanics comprise 30 percent of the vote in Arizona.
Fred Upton, U.S. Representative From Michigan
Upton isn't planning to endorse the party's presumptive nominee. Speaking with the radio station WHTC-AM on June 16, he said he would "stay in my lane."
Also, in a separate interview with The Detroit News, Upton implied he won't support Trump nor Clinton.
"There's a lot of things that folks are not happy about with either of these two candidates. We're running our own race, and don't look for me to endorse anyone in this race probably the rest of the year," he said.
Ben Sasse, U.S. Senator From Nebraska
Sasse, who took office in 2015, first spoke out against the mogul in a February 28 Facebook post, saying he "can't support Donald Trump." He again took to Facebook in a widely covered post to emphasize the country needs an "adult" leader.
"Although I'm one of the most conservative members of the Senate, I'm not interested in an ideological purity test, because even a genuine consensus candidate would almost certainly be more conservative than either of the two dishonest liberals now leading the two national parties," he said.
Larry Hogan, Governor of Maryland
Hogan said he doesn't plan to endorse, nor vote, for Trump. Instead, he said he will consider writing in someone's name on the ballot in November.
"I guess when I get behind the curtain I'll have to figure it out. Maybe write someone in. I'm not sure," Hogan told The Washington Post on June 15.
Hogan previously had supported New Jersey Governor Chris Christie, who ended his campaign in February and quickly threw his support behind Trump.
Charlie Baker, Governor of Massachusetts
Massachusetts' Republican governor congratulated Trump and acknowledged that he seemingly has clinched the party's nomination "fair and square." Still, he says he won't vote for the mogul or attend the convention.
"Some of the things he said about women and about Muslims and about religious freedom, I just can't support. At the same time, I do believe Secretary Clinton has a huge believability problem," he said on May 4. "This makes this a very difficult election, I don't think just for me, but I think for a lot of people."
All Aboard the Trump Train
Paul Ryan, Speaker of the House
The country's top Republican and the party's 2012 vice presidential nominee said on June 2 that he would support Trump. His change of mind came after he previously acknowledged the pair had "work to do" before he could back him.
On May 5, Ryan said he wasn't ready to back the mogul, signaling Trump's uphill battle in uniting the party in the months leading up to the general election.
"What a lot of Republicans want to see is that we have a standard bearer that bears our standards," he told CNN. "We want somebody who takes these conservative principles, applies them to the problems and offers solutions to the country that a vast majority of Americans can vote for, that they want to be enthusiastic about."
Trump responded with a snarky comment, saying, "I am not ready to support Speaker Ryan's agenda."
But it all changed on June 2, when Ryan penned an op-ed for his hometown paper and said he will "be voting for him this fall."
Rick Santorum, Former Pennsylvania Senator and 2016 Republican Presidential Candidate
One of Trump's early rivals for the GOP nomination endorsed the candidate on May 24, citing his wish for the businessman to choose the replacement for the late Justice Antonin Scalia's seat on the U.S. Supreme Court. In a message to his supporters, Santorum criticized Clinton for likely appointing a justice who "will target" the Constitution, specifically the First and Second Amendments. But Trump, Santorum said, included several of his recommendations for potential candidates, in his list of possible choices.
"I am committed to working with Donald and his administration to ensure that conservative priorities are advanced," he added, "not simply judicial nominees, but nominees to key administration positions."
Orrin Hatch, Longest Serving Republican in the Senate
Although the Utah senator said Trump needs to soften his rhetoric, he has agreed to support him, according to the Associated Press.
Before meeting with him on May 12 in D.C., Hatch said Trump needs to "always act in a manner worthy" of a nominee. He says he will "do what I can" to help the candidate run a successful campaign.
Mitch McConnell, Senate Majority Leader
In a tepid endorsement of Trump, the Kentucky Republican cautioned the candidate about his obligations to unite the party.
"I have committed to supporting the nominee chosen by Republican voters, and Donald Trump, the presumptive nominee, is now on the verge of clinching that nomination," he said on May 4. "Republicans are committed to preventing what would be a third term of Barack Obama and restoring economic and national security after eight years of a Democrat in the White House."
Marco Rubio, Junior U.S. Senator From Florida and Former 2016 Republican Presidential Candidate
Rubio, who has implied he's leaving politics when his term ends in January, said he stands by the Trump criticisms he uttered while on the campaign trail. He refused to offer Trump a formal endorsement, but said he will support the eventual GOP nominee, per the pledge he signed as a contender last fall.
"I'm not going to sit here right now and become his chief critic over the next six months, because he deserves the opportunity to go forward and make his argument and try to win," he said about Trump.
Rubio has reiterated that he is not interested in becoming a possible vice presidential candidate.
Rick Perry, Former Governor of Texas and 2016 Republican Presidential Candidate
Perry, who was a candidate for president in 2012 and the first contender to drop out in the current election, once called Trump's campaign "cancer on conservatism" that threatened to metastasize into a movement of mean-spirited politics. But lo and behold: The former governor now supports Trump and is even open to being his running mate.
"He is not a perfect man. But what I do believe is that he loves this country, and he will surround himself with capable, experienced people, and he will listen to them," Perry told CNN. "He wasn't my first choice, wasn't my second choice, but he is the people's choice."
Dr. Ben Carson, Former 2016 Republican Presidential Candidate
The retired neurosurgeon, who for a moment in the fall pulled ahead of Trump in some polls, formally backed the front-runner in March. After the mogul's win in Indiana, Carson said he thinks Trump would consider a Democratic vice president (even though the candidate has said otherwise). He's helping to lead Trump's process in selecting a running mate.
"If there was a Democrat who strongly upheld the Constitution, believed in personal responsibility, a hand up rather than a hand out, fiscal responsibility, strong military. We'd be willing to talk to them. If you know of any such Democrats let me know," he told MSNBC May 6. "But clearly you need people who are consistent with the views that the president has."
In an interview with NewsmaxTV in March, Carson said Trump has promised him a role in his potential administration. He said the candidate "will surround himself with very good people." When asked whether he would be one of those individuals, Carson said, "I will be doing things as well, yes...certainly in an advisory capacity."
Chris Christie, Governor of New Jersey and Former 2016 Republican Presidential Candidate
No, Christie isn't being "held hostage" by his longtime friend, Trump. He even said so. The New Jersey governor also isn't a "full-time surrogate" for the former reality TV star. Christie was one of Trump's former 16 GOP presidential rivals, but like Carson, shortly after he ended his campaign, he endorsed Trump for the presidency. Widespread criticism followed from his constituents about spending too much time out of his home state campaigning for the candidate, and a group of six New Jersey newspapers called for his resignation in a joint editorial.
During a May 5 press conference, Christie vowed to reach out to Speaker Ryan and find out his specific concerns about Trump becoming president.
"Donald's my friend. He's been my friend for 14 years," said Christie, whose name has been tossed around as a potential Trump vice presidential choice. "If he picks up the phone and calls and asks me to do something that I can do, to help his cause to be elected president, I'll do it. But it has to be consistent with my responsibilities here."
This story has been updated to include additional Republicans who have voiced their opinions.