These Six States Are Seeing Surges in Delta Variant Coronavirus Cases
Six states are seeing spikes in coronavirus cases as the Delta variant continues to cause a nationwide surge in infections.
Louisiana, Mississippi, Oklahoma, Alaska, South Carolina and Florida have all seen a significant rise in new cases in the past week, according to data from John Hopkins University.
On Sunday, Florida reported a seven-day average of 14,633 new cases per day, more than double the average a week earlier, which was 6,493 new cases per day.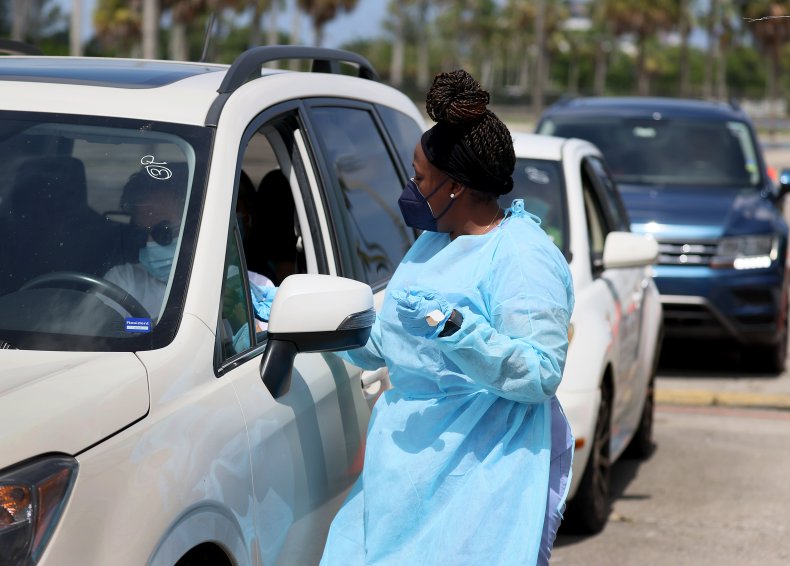 Other states in the South saw similar trends, but none reported that their seven-day average had more than doubled.
South Carolina's seven-day average nearly doubled, from about 623 cases on July 19 to about 1,222 cases on Monday.
Louisiana's seven-day average for new cases was about 2,680, an increase from July 19's average of 2,197. Mississippi reported a seven-day average of 1,231.25 new cases Monday, compared with 799 on July 19.
Outside of the South, Oklahoma and Alaska saw significant increases in their seven-day averages. Oklahoma's average grew to 1,216, an increase from 875 the week before. Alaska's average continued to increase, from 174 on July 19 to 252.
These states also report relatively low vaccination rates. About 36 percent of people in Louisiana have been fully vaccinated. Mississippi reported the second-lowest vaccination rate in the country, at 34.4 percent. About 40 percent of people in Oklahoma are fully vaccinated and 41 percent in South Carolina.
Alaska and Florida reported higher vaccination rates. Nearly half of Florida residents are fully vaccinated, while just over 45 percent of Alaskans have the same status.
The increases come as every state reports an increase in coronavirus cases due to the Delta variant. The variant is highly transmissible and reportedly can infect fully vaccinated people at a greater rate than earlier strains. Amid the surge in cases, health officials are pushing for more Americans to receive the vaccine.
The U.S. Centers for Disease Control and Prevention (CDC) calls COVID-19 "a preventable disease."
"The best way to slow the emergence of new variants is to reduce the spread of infection by taking measures to protect yourself, including getting a vaccine when it's available to you," the CDC said.
On Tuesday, the CDC issued new guidance for fully vaccinated people to begin wearing face masks when indoors in some places, revising guidance from May that said such individuals do not need to wear masks indoors.