These 'Star Wars' Fans Hope the New Holiday Special Will Be Better Than the Last One
Get ready to celebrate Wookie Life Day with a new Star Wars Holiday Special this November.
On Thursday, Disney+ announced that a new Star Wars-themed holiday special will hit the streaming service on November 17. The upcoming animated program—dubbed the LEGO Star Wars Holiday Special—is set to arrive just in time for Wookie Life Day, which originated from the franchise's original holiday special, 1978's much-mocked Star Wars Holiday Special.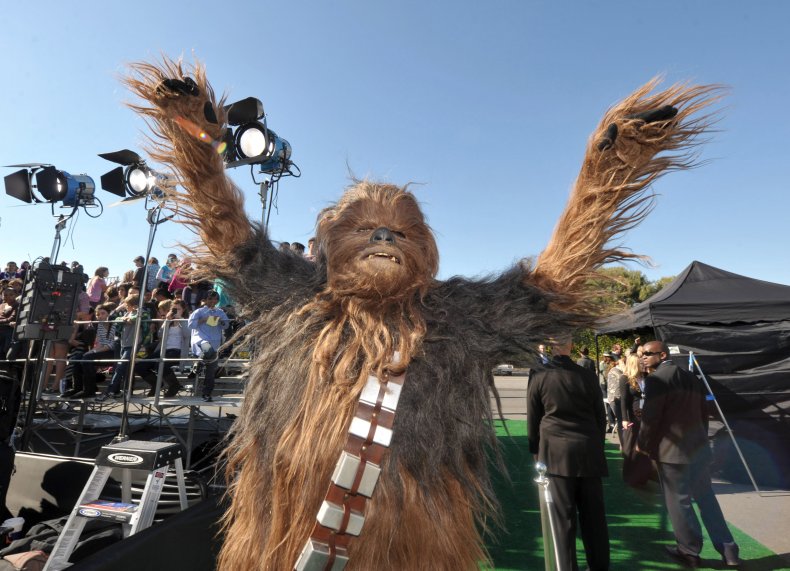 The new animated special is set after the events of Star Wars: The Rise of Skywalker, according to The Hollywood Reporter. Rey prepares to leave her friends to get ready for Kashyyyk's holiday, but "thanks to a mishap at a mysterious Jedi Temple, Rey will find herself thrown through time, meeting characters from elsewhere (and elsewhen) in the Skywalker Saga, including Yoda, Darth Vader and Obi-Wan Kenobi," THR added. Other iconic heroes and villains from all nine Skywalker saga films will be featured in the special as well—in LEGO form, of course.
Fans are hopeful that this Star Wars holiday special will be much better than its predecessor, which included original songs (one sung by Carrie Fisher), bits from comedian Harvey Korman, and an animated segment called "The Faithful Wookie." It was slammed by fans and critics, but George Lucas maintains that it is part of the Star Wars universe, situated between episodes IV and V.
Over on Twitter, folks were mixed in their reactions to the upcoming holiday special. "Can't be much worse than the Star Wars Holiday Special from 1978...I hope," one fan posted. "I'm okay with this," another added. "Lego animated stuff is more often funny than not. And what are they gonna do....ruin the star wars holiday special?"
One fan said they would only watch this special if it was a "shot for shot remake of the original." (Personally, we can't imagine why that would interest anyone, but hey! To each their own!)
Another wrote that they're hopeful the LEGO special will pay homage to the kitschy 1978 one; they also said they'd be "severely disappointed" if it doesn't.
Other fans are not excited about this news, and were not afraid to make their feelings known. "Because the other Star Wars Holiday Special went so well!" one person chided on Twitter.
"Please tell me this is a joke... right? You guys remember the last time Star Wars did a holiday special right??" another fan tweeted. "Finally! Something that will suck harder than the original Star Wars Holiday Special!" a third wrote.
Despite the bad reputation of the 1978 special, some fanatics are just genuinely excited for more Star Wars content. "I'm not ashamed to admit it...I'm unnaturally excited for the upcoming Lego Star Wars Holiday Special," one person wrote.
"Super excited for this! If anyone should be doing a Star Wars Holiday Special, it's Lego!" a second chimed in. "The more Star Wars the better! & this seems like it could be a lot of fun!" another tweeted.
One brazen fan has even asked for Disney+ to add the 1978 Star Wars Holiday Special to its library. Whether or not this holiday wish will be granted remains to be seen.
This writer grew up watching the 1978 version during the holidays, so I'll admit it: I'll be tuning in this November for the LEGO Star Wars Holiday Special, when it premieres on Disney+ on November 17.