These States Are Already Having Problems With Mail-In Voting
States across the U.S. are ramping up their vote-by-mail programs before the November election to provide Americans with safe voting options during the coronavirus pandemic, but several states are already reporting problems with receiving and counting ballots on time.
Pennsylvania is the latest state in which problems with mail-in ballots have been made public. According to a Thursday report by The Philadelphia Inquirer, the general counsel and executive vice president of the U.S. Postal Service sent a letter to Pennsylvania Secretary of State Kathy Boockvar in late July outlining his concerns about the tight delivery deadlines the USPS is facing to deliver mail-in ballots on time.
"This mismatch creates a risk that ballots requested near the deadline under state law will not be returned by mail in time to be counted under your laws as we understand them," Thomas Marshall wrote in the letter obtained by the Inquirer.
Marshall sent a similar letter to Washington's secretary of state last month. That letter said that while most voters should have plenty of time to complete their ballots and mail them, the delivery timeline for those who register to vote or update their voter registration information in the three weeks before Election Day could be more problematic.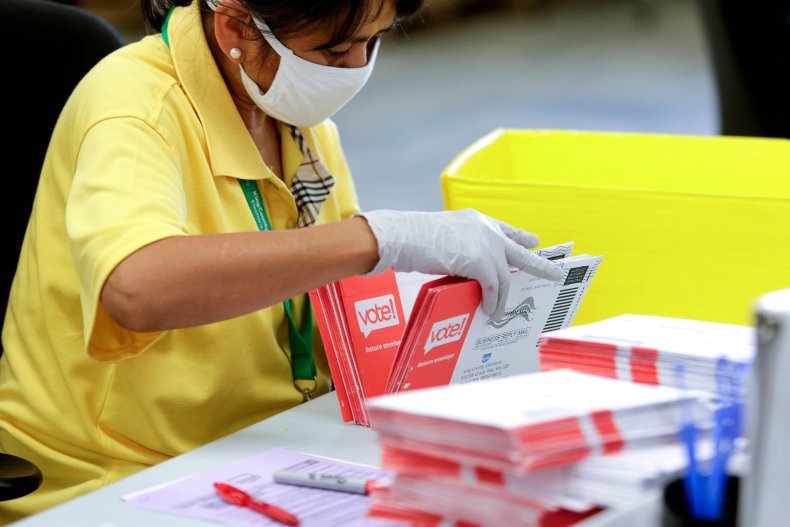 "There is a risk that, at least in certain circumstances, ballots may be sent to voters in a manner that is consistent with your election rules and returned promptly, and yet not be returned in time to be counted," the letter said.
Newsweek reached out to the USPS for comment but did not receive a response in time for publication.
Pennsylvania and Washington aren't the only states that have reported problems with mail-in voting this year. In California, Governor Gavin Newsom announced earlier this year that the state will mail ballots to all registered voters for the general election. But the Associated Press reported that state election officials rejected more than 102,000 mail-in ballots from the state's March 3 primary because of missed deadlines or other problems with the ballots, such as missing or mismatched voter signatures. Those discarded ballots represented about 1.5 percent of the mail-in ballots that voters submitted during the primary, according to the AP.
Similar problems occurred with mail-in voting in Florida, Ohio and Wisconsin, with state election officials rejecting between 1.2 and 1.8 percent of the mail-in ballots sent in, according to a report by NBC News. Kentucky also reported thousands of rejected ballots that were either not sealed properly, were missing the voter's signature or did not have a signature that matched the one on record, according to Louisville's Courier-Journal. Election officials told the paper they are not required to contact the voter whose ballot has been rejected unless they have to confirm a signature.
In addition to problems that election officials have with verifying ballots and receiving them on time, the USPS is in the midst of a funding crisis that congressional Democrats have pushed to address this summer. Though a Pew Research Center poll published earlier this year found that the USPS is one of Americans' favorite federal agencies, the solution to its financial problems remain uncertain.
President Donald Trump has repeatedly questioned the validity of mail-in ballots and suggested during a Thursday interview with Fox Business that he would resist funding to the agency in order to target the voting practice, which he said is "fraudulent."