States are requiring travelers to quarantine for 14 days, and in some areas of the country failing to do so can land you in jail.
To limit the virus's spread within their states, at least 19 governors implemented isolation policies for incoming travelers. Although the outbreak appears to be subsiding in some areas, governors have kept the quarantine policy in place, giving law enforcement the authority to ensure it's being followed.
America has confirmed more than 1.3 million cases, and only 1,462 of those were in Maine. With one of the lowest outbreaks in the country, Governor Janet Mills said the state has seen enough progress that some businesses were able to reopen May 1. But to help ensure the state continues that positive trajectory, she also extended the stay-at-home order through May 31.
With exceptions for essential services, anyone, including residents, traveling into Maine must self-quarantine for 14 days. Violating the order can be considered a Class E crime and bring up to six months in jail and a $1,000 fine.
Maine's scenic coastline and other picturesque areas make it a desirable destination for summer tourists as well as seasonal residents. Mills' plan to reopen the state keeps the 14-day quarantine for visitors in place through August, raising concerns it'll dissuade people from visiting and negatively affect the state's economy.
State Economist Amanda Rector told the Portland Press Herald 17 percent of the state's housing units are considered seasonal. An "important part" of Maine's economy, seasonal residents can have an even larger impact in areas where seasonal housing is more prevalent, she said. However, she added that it was "nearly impossible" to determine contributions from out-of-state seasonal residents and Maine residents who own seasonal homes and wouldn't be affected by the 14-day quarantine.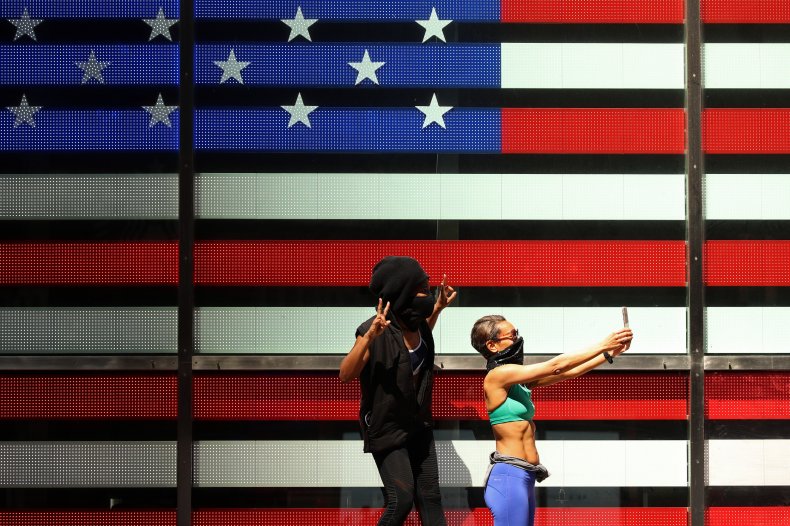 While Maine is toward one end of the spectrum, Florida is hovering at the other end, with one of the top 10 largest outbreaks in the nation. The state has reported 41,923 cases, and Governor Ron DeSantis allowed restaurants and shops to open at 25 percent capacity on May 4, citing statewide improvements in the numbers.
That reopening isn't intended for people immediately arriving in the state from New York, Connecticut or New Jersey, though. Upon disembarking flights at the airport, those travelers must quarantine for 14 days or the duration of their stay, whichever is shorter. Failure to do so can cost a person $500, a 60-day imprisonment or both.
A number of other states have similar policies in place, and in Alaska violating a quarantine order could come with a $25,000 fine and a year in jail. As of Monday, no one had been fined, cited or prosecuted, officials told the Anchorage Daily News.
"We really need people to voluntarily abide by these mandates, not because the government is telling them to do it," Jeremy Zidek of the state Department of Homeland Security and Emergency Management told the Daily News, adding that officers can't "police every person in the state."
For the most part, states have taken the same approach as Alaska and relied on people voluntarily complying with the order. However, in Hawaii, law enforcement is not messing around.
At least 20 people in Hawaii have been arrested for violating quarantine orders, according to the Associated Press. Nonresidents are confined to their hotel rooms or rented lodgings and are prohibited from leaving for any reason other than to seek medical care. Failing to comply is publishable by imprisonment up to one year, a $5,000 fine or both.
Hawaii has only reported 634 cases, according to Johns Hopkins University's tracker, making it the state with the smallest outbreak aside from Alaska. Officials have attributed the lack of growth in cases to the state's strict lockdown measures, but preventing the virus from spreading has taken a toll on tourism, its largest economic driver.
At a time when people are losing their jobs and hotels have had to suspend operations, Honolulu City Council member Kym Pine told the AP tourists breaking quarantine rules was a slap in the face.
"They're coming to Hawaii on the cheap, and they obviously could care less whether they get the virus or not," Pine said. "So they obviously could care less about that mom and dad who have no job and no food."