These Three Retrievers Work Full-Time to Help Sick Children Feel Better
Kaia, Becky and Pilot are three retrievers that help comfort children undergoing treatment at Penn State Health Children's Hospital in Hershey, Pennsylvania. Together, they help lower children's stress and provide diversions and comfort during their stay.
During the first 14 to 24 months of their lives, the dogs were educated at a Georgia-based facility called Canine Assistants Incorporated. There, they learned how to communicate with their handlers, provide non-threatening comfort to sick children and navigate around medical devices like IV poles and wheelchairs, the hospital said.
Now, each dog works about 40 hours a week, with time set aside for walks, naps and relaxation.
Kaia demonstrates to children how to lay still on CT scan tables. Becky drinks juice from a syringe to help kids feel more comfortable with taking medication the same way. Pilot gently nuzzles and performs tricks for kids in the Pediatric Surgical Care Unit and the Pediatric Intensive Care Unit.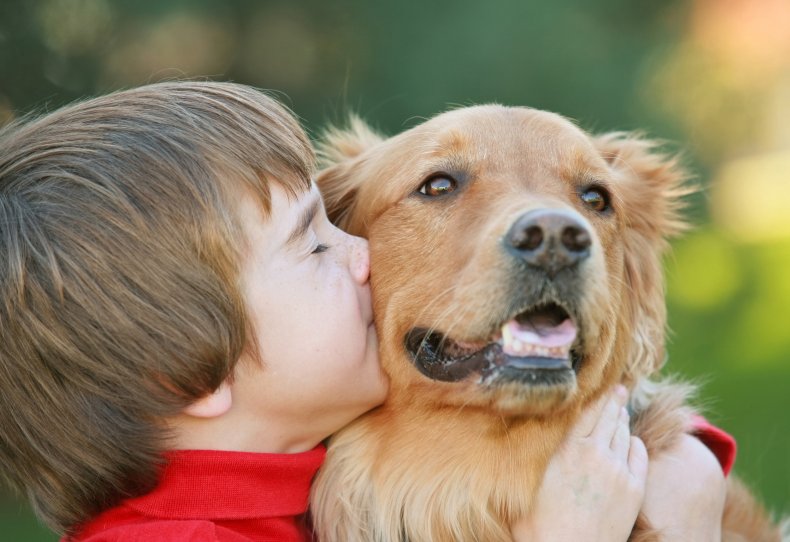 On evenings and weekends, the dogs go home with their handlers, who are also pediatric medical workers. Together, they enjoy walks, play games and rest.
"We'll see patients [after an operation]," Pilot's primary handler Stacy Gloudemans told WTAJ. "They are maybe hesitant to start walking again or if they're in pain, he's a good motivator and it doesn't feel like work.... If I have them moving to brush him or if we pretend to brush his teeth, or being able to hold the leash and walk the dog themselves—versus their mom making them walk down the hallway—it's not work to them. It's fun."
Usually, it costs over $22,000 to educate a facility dog like Kaia, Becky and Pilot. The cost includes their schooling, vaccinations, vet care and food for the dog's lifetime. However, an anonymous donor helped established the Kelso Facility Dog Endowment to pay for the three dogs' education and help the hospital secure them.
"Dogs don't have to overlook illness or disability, they don't notice it," Jennifer Arnold, a spokesperson with Canine Assistants, told Newsweek. "If you are kind, you are perfect in their eyes. Being prized rather than pitied is tremendously therapeutic for many patients."
Arnold added that dogs can increase a patient's positive feelings which can improve their healthcare outcomes. The dogs can be present when a child's parents are unable. Even when a child's doctors, nurses, and therapists regularly change with each hospital visit, their favorite dog can remain the same and ever-present, she said.
The hospital is the first children's facility in Pennsylvania to employ the facility dogs full-time. The program began in 2016 when the hospital hired Kaia, a golden retriever. Becky, another golden retriever, came on in 2018. Pilot, a male black retriever, began working in the program in April of this year.
Last September, the hospital also released an illustrated children's book showing how the dogs assist kids receiving care.
Approximately 30 other children's hospitals nationwide also have facility dogs.
Additionally, Penn State Health Children's Hospital also has a pet therapy program. The program also involves dogs that visit designated units in the hospital to help calm child patients.
Update (5/7/2020, 12:10 a.m.): This article has been updated to include comments from Canine Assistants Incorporated.