These Truckers Are With Trump for the Long Haul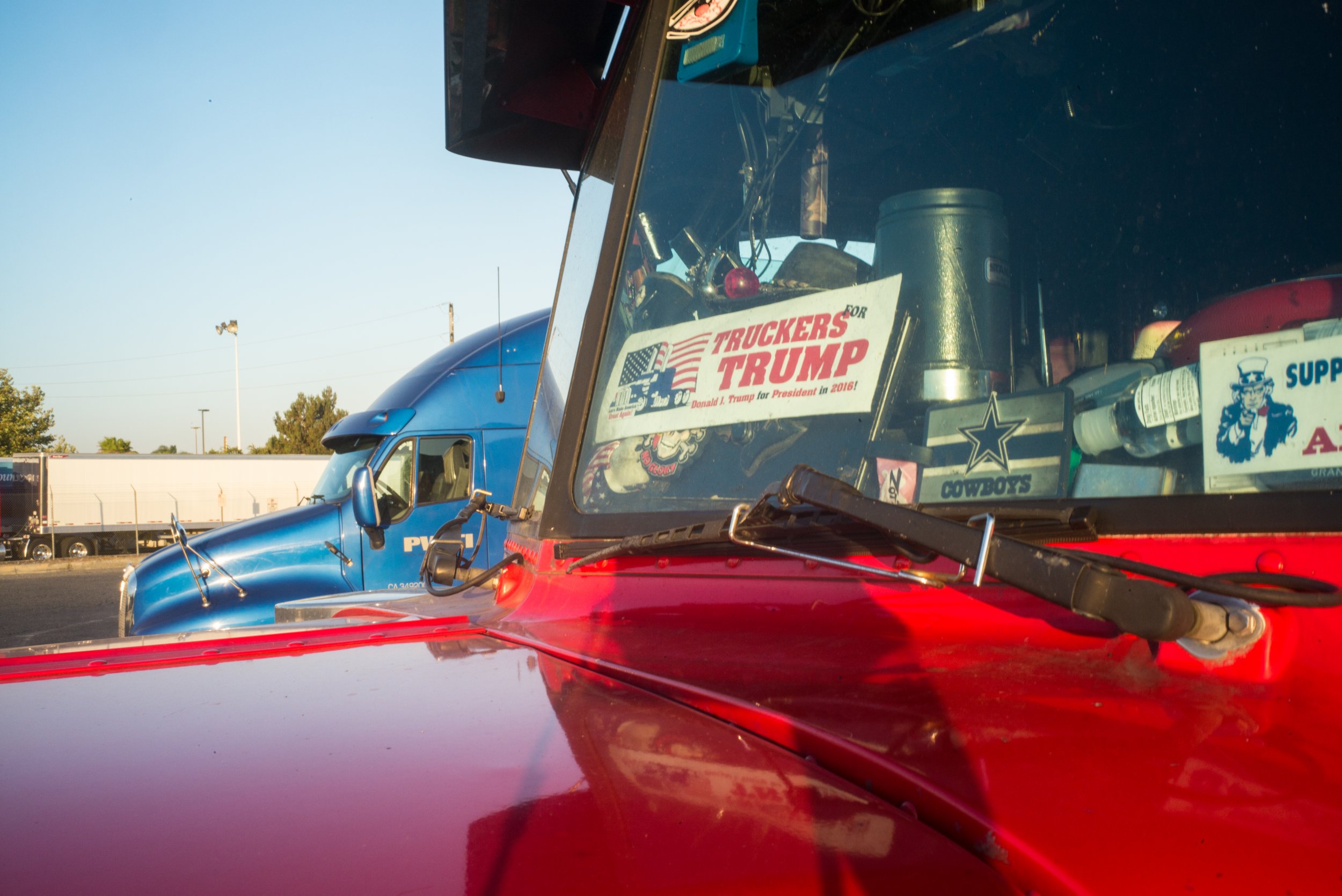 Truckers Jim and Lorraine Morrison started out from Southern California last week, hauling a load of tires to drop off at different points across the West and Midwest. They got a picture taken in front of the Trump casino in Las Vegas before heading off to Utah, Colorado and Nebraska and then up into Minnesota, where they did their last drop. They then turned south and east, planning to reach Cleveland in time for Monday's Citizens for Trump rally.
The Morrisons are founders of Truckers for Trump, which has 18,000 Facebook likes and a Go Fund Me site that states: "We campaign for Trump in all 48 States as we truck drive across this Great nation of ours. We would like to have 1 million truckers with Truckers for Trump bumper stickers T shirts and signage to Unite all Truckers to support Trump for President. Please help us to go to all the possible rallies to show the protesters we will stand strong for America."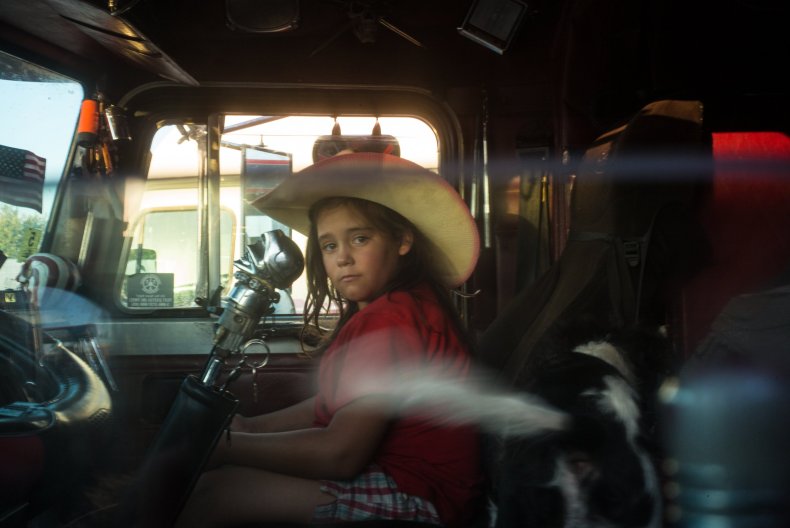 In Focus
Jim and Lorraine Morrison campaigned for Donald Trump as they drove their rig to Cleveland from Southern California.
Launch Slideshow

18 PHOTOS
They had hoped to organize a convoy of truckers to the Republican National Convention this week, and at one point were talking about a thousand truckers converging at Cleveland. But they say the city put a kibosh on that idea, banning an influx of large rigs. So they set off themselves, stopping in towns and at truck stops along the way, handing out red and white Truckers for Trump bumper stickers and hats and campaigning for their candidate.
Lorraine Morrison, 47, a mother of six (five with a previous husband who died), was born in Mexico. Her mother brought her up into the El Norte of Southern California on a visa when she was 3. She isn't bothered by Trump's call for a Mexico wall.
"I know about people coming over and leaving their families behind. But I do feel we need to close our borders. There has to be a stopping point, in order to make America great again.... You used to work and be able to get a car and a house and go on vacation. Now you can bust your ass and not get anywhere."
The former executive assistant forgives Trump's impolite comments about Mexican criminality, too. "I grew up Hispanic, I understand their heritage and struggles and I understand their concerns,' she says. "I speak to people differently. But I know that he's not hateful and not racist. He's just like all other Americans—he's fed up."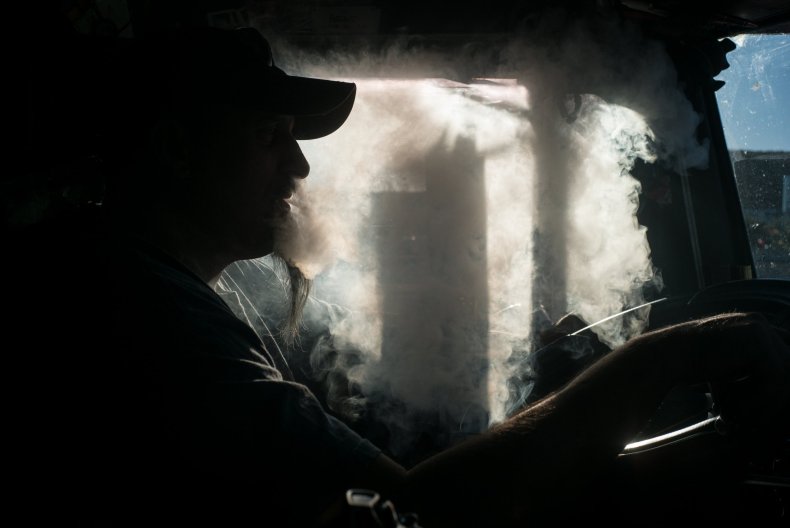 Jim Morrison, 48, was born in El Paso, Texas, and spent the last three decades driving a truck. "Why do I support Donald Trump?" he says. "It's real simple: You gotta look at a man, look in his eyes, eyes are windows to the soul. I was a sheriff once and I've got some experience in looking into eyes. The guy is not gaining anything from this. He already has power and money and you can see the care in his eyes."
Lorraine and Jim have an 8-year-old daughter together, and for the last few years they have been home-schooling the child on the road, in the truck. Lorraine says she made the decision to take her child out of school and move into the truck after hearing a theory that President Obama could institute martial law and send people like her or her husband to Federal Emergency Management Agency (FEMA) camps. What would happen, she thought, if her husband was across the country and her child in school when they came for her or them? "I don't want to sound like a conspiracy theorist," she said, "But then again, I don't want to be stupid when it happens either."
Jim shares Lorraine's expectation that Obama still has time to install martial law: "You look at Barack Hussein Obama, look at what he's done what he stands for and what he protects. First, let me say not all Muslims are terrorists, but isn't it funny that all terrorists are Muslims? Every time there's a mass shooting he comes on tv and scolds us and doesn't even say the words 'radical islam.'"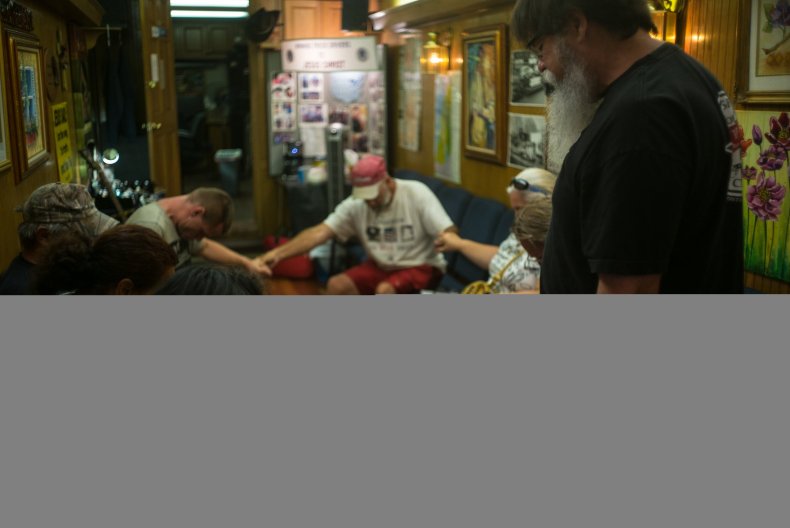 Morrison also says he's heard Obama talk about a third term, although a fact-check doesn't come up with any source for the claim. "Add that to the things he's defended and I believe if he could impose martial law, he would. All he needs is two of his generals to sign off, and some kind of big problem to happen," he says.
Whatever Obama does and whatever comes down the pike in these uncertain times, Lorraine Morrison reckons Trump will take care of them. "I've admired him since I was 23," she says. "I believe in him and the words he's saying and he does love America, he does want to save America. And I am going to feel safe with him. I look at the way he takes care of his household and takes care of his children. He will run us like that. He will keep us safe and self-sufficient and prosperous. I want that, the way he takes care of his family."