These U.S. States Might Reach Herd Immunity First as Vaccine Distribution Expands
As COVID-19 vaccinations continue across the U.S., several states are moving closer to herd immunity and soon could reach a point where a majority of their population is inoculated.
New Mexico is one state that could reach herd immunity faster than others, as it already has inoculated about 18.1 percent of its population, according to data from the Centers for Disease Control and Prevention (CDC).
According to CDC data, New Mexico is administering 47,844 doses per 100,000 residents. As New Mexico already has administered about 1,004,050 vaccine doses, it will reach herd immunity levels after roughly 463,000 more residents are inoculated.
New Mexico expanded vaccine eligibility to teachers and early childhood instructors this month. A spokesperson for the state's department of health told Newsweek that New Mexico's ability to administer so many doses stems from their "equity plan"--a statewide effort to ensure that residents who are considered most exposed and vulnerable receive doses first--as well as its online registration system that matches patients with vaccine providers in real time.
South Dakota, Hawaii, North Dakota, Connecticut and West Virginia follow New Mexico, as all have inoculated at least 15 percent of their population.
West Virginia is administering about 39,604 vaccine doses per 100,000 residents, while the other four states are administering 40,000 or more.
As Connecticut and West Virginia have much higher populations than the other states listed, they will need to inoculate about 1.9 million and 985,000 more people, respectively, to reach the 70 percent herd immunity benchmark. Hawaii will need to administer about 771,000 more doses, while North and South Dakota will need to vaccinate about 416,000 and 473,000 doses, respectively.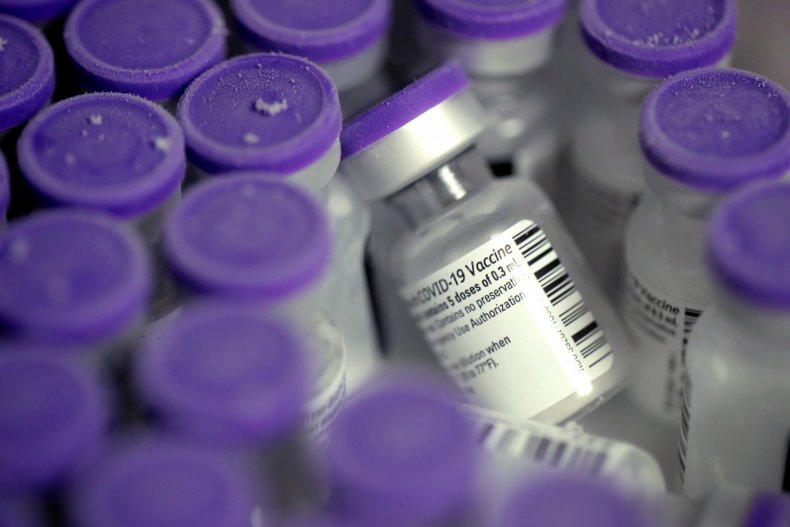 The increasing number of vaccinations comes as several states have expanded vaccine eligibility, allowing more residents to receive a shot.
Alaska was one of the first states to expand its vaccine eligibility, and now allows anyone over age 16 in the state to receive a vaccine. While Alaska has a much smaller population than other states, it has been able to vaccinate about 19 percent of its population, the highest percentage in the U.S.
South Dakota, Hawaii and West Virginia also have expanded their vaccine eligibility. In South Dakota, teachers, childcare workers, college employees and students are now eligible to receive a vaccine, while Hawaii expanded its eligibility to residents age 65 or older.
Similar to Alaska, West Virginia Governor Jim Justice also recently announced that residents over age 16 with certain medical conditions and essential workers, regardless of age, are now eligible to be inoculated.
Several other states already have expanded eligibility or announced plans to do so in the near future. Mississippi Governor Tate Reeves removed all eligibility restrictions, allowing any resident 16 or older to receive a vaccine, while Michigan, Connecticut and Wisconsin have announced they will remove eligibility restrictions earlier than expected.
Across the U.S. 75,495,716 individuals have received at least one vaccine dose while more than 40 million Americans are now fully vaccinated.
Newsweek, in partnership with NewsGuard, is dedicated to providing accurate and verifiable vaccine and health information. With NewsGuard's HealthGuard browser extension, users can verify if a website is a trustworthy source of health information. Visit the Newsweek VaxFacts website to learn more and to download the HealthGuard browser extension.