'They Do It All the Time In Sports,' Kellyanne Conway Defends 'Doctored' Jim Acosta Video
Kellyanne Conway has defended White House Press Secretary Sarah Huckabee Sanders's decision to share a an altered video of CNN reporter Jim Acosta refusing to give up the microphone during a press conference with President Donald Trump last week.
Speaking to Fox News Sunday host Chris Wallace, the Trump counselor brushed aside criticism of the press secretary.
"Well, Chris, first of all, what do you mean by 'edited' or, as others are saying, 'doctored' video?" Conway asked, after Wallace, who has also criticized Acosta for his actions, gave her a chance to respond to White House critics.
"He either put his hands on her and grabbed the mic [from] her or he did not and he clearly did," she argued.
Wallace then interrupted to push his question, "No, he clearly did. But the video was altered. "
"By that do you mean sped up?" Conway responded. "Well that's not altered. That's sped up. They do it all the time in sports to see if there's actually a first down or a touchdown." (Conway seemed to be conflating sped-up footage with slow-motion replays.)
Last Wednesday, Trump gave a press conference to hail the "tremendous success" of Republicans in Tuesday's midterm elections. During the appearance, the president took issue with Acosta, calling him "a rude, terrible person." The reporter had asked about Trump's use of the word "invasion" in regards to the Central American migrant caravan heading through Mexico to the U.S. border and the ongoing investigation into alleged Russian collusion with the president's 2016 election campaign team.
Acosta's press credentials were later revoked by the White House, with Press Secretary Sanders blasting the correspondent for allegedly "placing hands" on an intern who tried to take his mic away.
"We will, however, never tolerate a reporter placing his hands on a young woman just trying to do her job as a White House intern," she said, calling Acosta's actions "absolutely unacceptable." Sanders later shared the edited clip of the incident to Twitter.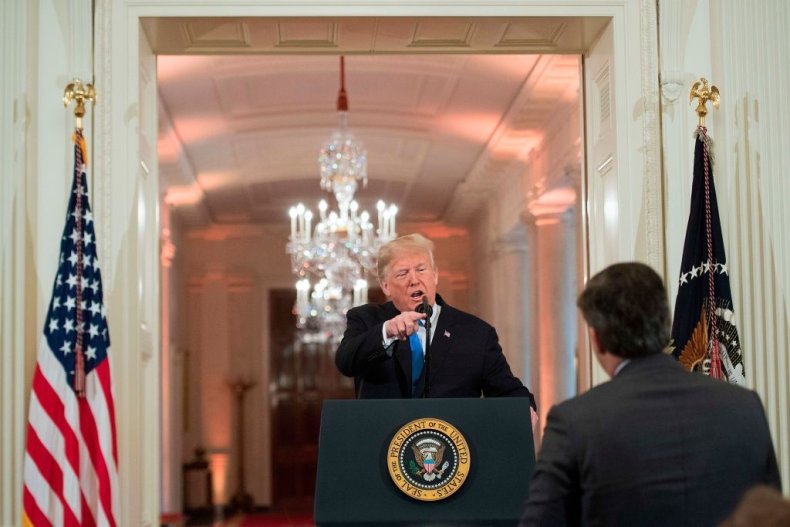 Numerous experts have asserted that the footage had been sped up, making it appear as if Acosta forced the intern's arm down as she moved to grab the mic. The clip also removed audio of Acosta saying "Pardon me, ma'am," during the interaction. It also appeared to be the same footage that was posted on Infowars.com by contributor Paul Joseph Watson.
"This President's ongoing attacks on the press have gone too far," CNN said in a statement about the incident. "They are not only dangerous, they are disturbingly un-American."
The news network has been a frequent target of Trump's attacks, with the president regularly referring to its reports and journalists as "Fake News CNN."