They Got Beaned! How the A's Flunked Moneyball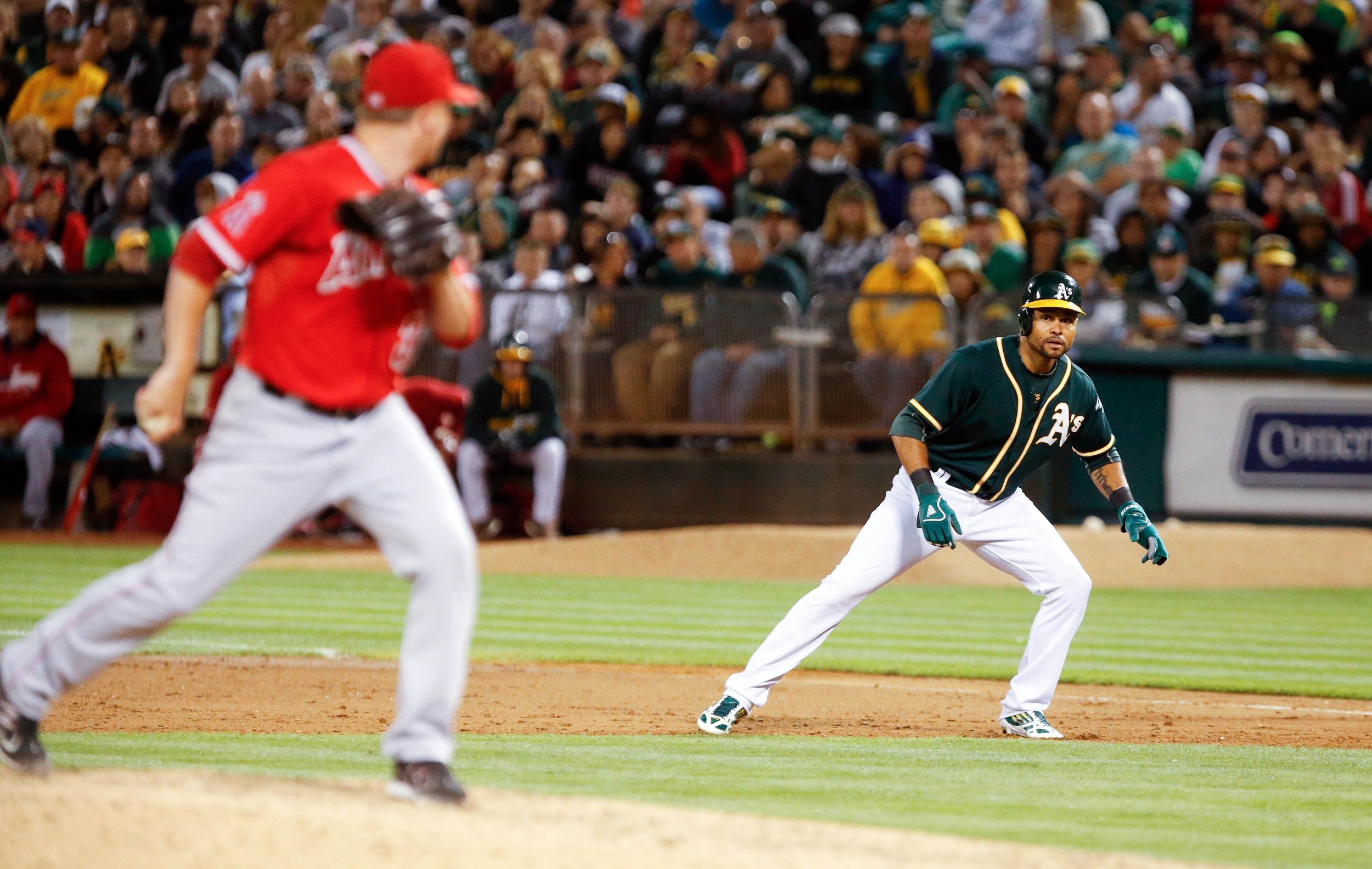 "No matter how successful you are, change is always good."
—Oakland Athletics general manager Billy Beane to author Michael Lewis, Moneyball
Except when it's not. On July 31, the Oakland Athletics had baseball's best record (66-41) and by far its most explosive offensive lineup. The A's led the big leagues in runs scored (535) and run differential (+162), the latter by an astounding margin. Baseball's next-best club in that category, Oakland's American League West and intrastate neighbors, the Los Angeles Angels, were at +90.
The A's were by no means a perfect team, but no such ideal exists in baseball, where 13 years have passed since a franchise won even two-thirds of its games (the 2001 Seattle Mariners finished 116-46… and failed to advance to the World Series). On that final day of July, the Oakland Athletics were a frisky bunch of outlaws and overachievers whose clean-up hitter, Cuban refugee Yoenis Cespedes, played with a smile almost as wide as his Herculean chest and had a knack for gunning down home-bound base runners by launching missiles (pardon the metaphor, President Kennedy) from the left field warning track.
The Oakland A's were fun. A team possessed of both a clear identity and a robust personality, all of which was embodied by their charismatic All-Star left fielder Cespedes. Put sabermetrics aside for a moment. Like Mickey Mantle or Willie Mays from an earlier era, Cespedes was a "Wow!" player, albeit not as gifted.
And then Billy Beane, the guru whose paradigm-shifting style inspired both a best-selling book, Moneyball, and an Oscar-nominated film of the same title, traded him. Beane dealt Cespedes to the Boston Red Sox for pitcher Jon Lester, an acknowledged ace, especially come October, and prodigal son left fielder Johnny Gomes.
Since that deal was made, the A's have become the Zzz's, or at least their bats have. From a team that hit .253 and averaged five runs per game to one that is hitting .229 and averaging 3.71 runs. From a squad that played .616 baseball over the season's first four months to one that has played .405 ball (a 17-25 record) since. From being two games up on the Angels to being 10 games back (admittedly, the Angels are now baseball's best and hottest club). This past weekend the A's won the final two games of a three-game series in Seattle, and it was the first time they'd won back-to-back games in three weeks.
Let me make three things clear: The Athletics, who play seven of their final 13 games against the American League's worst club, the Texas Rangers, will almost certainly make the playoffs as one of two wild cards. The collapse has been brutal, but it will not end in abject failure. Second, the A's have been beset by other problems, such as injuries to closer Sean Doolittle and power hitter Jed Lowrie, that have also played a role in their steep and swift decline. Third, Lester has been as good as advertised.
And yet, the question remains: How could a man so smart, one who has been as publicly lauded for his baseball ken as any general manager could possibly be (or is there still a Moneyball musical in the offing?), be so oblivious to a maxim that Yogi Berra might have uttered: "If it ain't broke, don't break it"?
"There can never be a status quo. When you have no money you can't afford long-term solutions, only short-term ones. You have to always be upgrading. Otherwise, you're [bleeped]."
—Billy Beane, Moneyball
The Oakland A's may be richer in history than in they are in capital. The A's of Charlie O. Finley won three straight World Series titles in the early 1970s. In the following decade they made three consecutive fall classic appearances (1988–1990), culminating in a fourth championship in 1989. In that one, a four-game sweep of their cross-bay rivals, the San Francisco Giants, an earthquake caused a 12-day interregnum between Games 2 and 3.
As late as 1991, Oakland had baseball's highest payroll.
Recently, though, the A's, who have been under Beane's stewardship since 1998, have fashioned themselves the coupon-clippers of Major League Baseball. Their stadium, O.co Coliseum, is a charmless dual-purpose venue that also hosts the Oakland Raiders—no other major league team still has an NFL co-tenant—and is 48 years old. Only Fenway Park, Wrigley Field and Dodger Stadium (the first of those two veritable shrines) are older.
Sewage occasionally floods into both dugouts—if only that were tobacco juice you just stepped in—meaning that the A's had both Cespedes and cesspools for parts of the previous three seasons. And it was almost a point of pride that the A's, whose majority owner, John J. Fisher, is the son of the founders of The Gap (which originated in San Francisco), have baseball's sixth-lowest payroll this season ($83.4 million). As the 2011 film starring Brad Pitt illustrated, Beane was forced to find trash-heap bargains in order to fill out his roster and in so doing he revolutionized how teams were built.
And so the defense for trading Cespedes, 28 and in the third season of a four-year contract, goes thusly. First, by acquiring Lester, who has a filthy 0.43 ERA in three World Series starts, and adding him to a rotation that already boasts Sonny Gray, Scott Kazmir and Jeff Samardzija, the A's now have a staff that can compete with the Detroit Tigers. It has been the Tigers, who now have three former Cy Young winners, who have ousted Oakland in the American League Divisional Series each of the past two seasons and held them to two or fewer runs in six of those 10 games.
Second, Lester is a rental. His $13 million per year contract expires at the end of this season. Once his mercenary role is finished, both he and the A's will move on without one another.
Third, Cespedes is slated to earn $10.5 million this season and next. If the two-time Home Run Derby champion continues playing at an All-Star caliber level, his next payday, following the 2015 season, will render him unaffordable for the Athletics. He had been Oakland's highest-paid player; now Lester is.
But here's the thing: In games that Cespedes played this season in a green-and-yellow uniform, the A's were 63-35. Without him, they are 20-31. I don't understand how the wins above replacement (WAR) stat is tabulated, but the aforementioned numbers would appear to suffice.
Increasingly, we live in a Nate Silver-ized world, in which things that can be quantified are overemphasized and things that cannot are underemphasized. Baseball swears by this fallacy. Hence, some sabermetrician will downplay the presence and the enthusiasm that Cespedes brings to a ballclub (read this), as if what you see with your own eyes is illusory.
Oh, and Cespedes was a fan favorite. In fact, the A's had scheduled a promotional T-shirt giveaway for the Saturday after the trading deadline, distributing 10,000 "La Potencia" (The Power) shirts in honor of Cespedes's baseball nom de guerre. Beane, who obviously was aware of the promotion before pulling off the trade, did not care. Perhaps he should have.
"In my opinion, that trade…losing Cespedes put a lot of guys in uncomfortable spots," said former A's pitcher Mark Mulder on ESPN's Baseball Tonight recently. "They had role players having outstanding seasons. And I don't mean role players that couldn't be that everyday guy, but there weren't those expectations. And then all of a sudden you have Brandon Moss move into the four hole where all of a sudden, 'Hey, you need to go hit home runs,' and he struggles."
Before the trade, the A's were a brash team that bashed baseballs. They were the one club in this post-Biogenesis scandal landscape that still preferred to outscore you than out pitch you. It was what made them different. It was what made them baseball's best team. Now they just resemble everyone else, albeit without an MVP candidate such as Mike Trout (Angels) or Miguel Cabrera (Tigers) in the lineup.
"Every form of strength is also a form of weakness."
—Billy Beane, Moneyball
They don't write books or screenplays about general managers who buy their teams championships. No one is writing a treatment on the New York Yankees' aptly named G.M., Brian Cashman, because no one would pay to see it. They do write scripts about iconoclasts, however, whatever the theater of operations may be. Billy Beane is certainly one of those.
There's a scene, late in the movie, when Beane's trusted vassal, Peter Brand (Jonah Hill), reminds him that the A's have just won 20 consecutive games, baseball's longest winning streak since World War II, and the longest of the modern era in the American League. "Listen, man," Beane tells him, "I've been in this game for a long time. I'm not in it for a record, I'll tell you that. I'm not in it for a ring.
"Any other team wins the World Series, good for them," Beane says. "They're drinking Champagne, they get a ring. But if we win, on our budget, with this team...we'll have changed the game. And that's what I want. I want it to mean something."
At some point last spring, or earlier this summer, Beane decided it was more important to win a World Series his way than it was to simply win a World Series. That he would rather have a less potent ("non La Potencia") team that was better positioned financially for the years beyond than it was to have the best team in baseball this season. And, perhaps subconsciously, he persuaded himself that pitching always trumps hitting, no matter the price you have to pay for it, which in this case was the soul of his team.
It almost feels as if Beane is that investor who would rather die a poor man while constantly upgrading his stock portfolio than cash out at some point and enjoy the riches he had devoted so much energy to accruing. As if the never-ending game of team-building in a cost-effective way is more important than the actual game itself. It's as if he has forgotten what the ultimate goal of this entire endeavor is: to win a World Series.
At some point along the way, Beane took his eye off the ball. In the game of baseball, that's how you strike out.