'They Lied': Lauren Boebert Denies Involvement in 'Planning or Execution' of Jan. 6
A Republican congresswoman accused in a Rolling Stone article of helping organize the January 6 Capitol insurrection said she's been lied about from the beginning.
Colorado Representative Lauren Boebert is the latest member of the GOP to respond to an October 24 Rolling Stone story that claims two organizers of the riot participated in dozens of planning meetings with elected officials, including Boebert's office.
"Once again, the media is acting as a messaging tool for the radical left. The left falsely accused me of giving a reconnaissance tour. In reality, I was visiting the Capitol with my family," the congresswoman said in a statement.
She continued, "They lied claiming my mother was the 'bull horn lady.' She was not. They filed an ethics complaint against me for alleged involvement in January 6th activities, but the complaint was dismissed because it simply was not true." Now grasping at straws, Rolling Stone is using anonymous sources and shoddy reporting to attack me. Thank you, next."
The magazine's article is based on extensive interviews with two unnamed sources who helped organize aspects of the events that unfolded on January 6 and who described "participating in 'dozens' of planning briefings ahead of that day when Trump supporters broke into the Capitol as his election loss to President Joe Biden was being certified," it states.
One organizer told Rolling Stone that they "would talk to Boebert's team, [Madison] Cawthorn's team, [Paul] Gosar's team like back to back to back to back." The magazine also reported they obtained documentary evidence that their sources had been in contact with Gosar and Boebert on January 6.
Both sources alleged that Representative Gosar of Arizona encouraged them to plan protests by offering a "blanket pardon" in an unrelated investigation.
However, Boebert has denied involvement.
"Let me be clear. I had no role in the planning or execution of any event that took place at the Capitol or anywhere in Washington, DC on January 6th. With the help of my staff, I accepted an invitation to speak at one event but ultimately I did not speak at any event on January 6th," Boebert's statement said.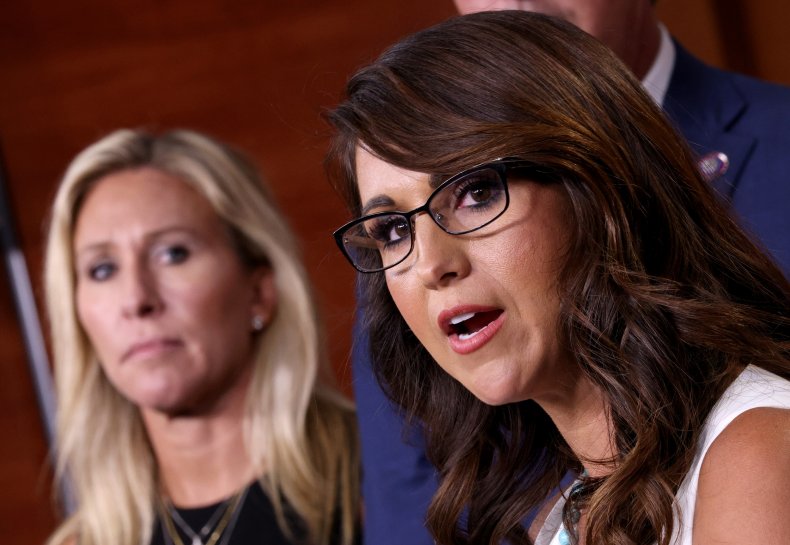 Boebert, Gosar and Marjorie Taylor Greene were listed as speakers at the "Wild Protest" event, which took place January 6 at the Capitol. The event was to encourage Congress not to certify the presidential election results.
Several House Democrats have called for any Congress members involved in the planning of the January 6 riot to be expelled.
Democratic State Representative Donald Valdez, who's running to unseat Boebert next year, called the congresswoman a "traitor" in reference to the article.
"This explosive report reveals that Jan. 6 rioters coordinated directly with Lauren Boebert and her staff. If true, the only word for this is 'sedition.' Lauren Boebert is a traitor to the United States and is unfit to serve in Congress," he tweeted.
Boebert has been criticized for her involvement with the Capitol riot since the day it occurred. That morning, the congresswoman tweeted, "Today is 1776" and later gave out information regarding the locations of members of Congress including House Speaker Nancy Pelosi just minutes after the Capitol was breached.
U.S. House Committee on Ethics in June declined to investigate Boebert in connection to the insurrection.
In an October 22 interview on The Rubin Report, the congresswoman said, "Look, they have lied about me from the beginning. They said that I led a reconnaissance tour January 5, OK, I don't even think I was in the Capitol January 5. And January 2, I brought my family into the Capitol as a member-elect with a Capitol Hill police officer."
Newsweek reached out to the Colorado Republican Party for comment.