'They Locked Us Away': Billboard Campaign Protests ICE Family Detention During Pandemic
A billboard campaign that Amnesty International USA launched this week is calling upon the Department of Homeland Security (DHS) to release immigrant children held in U.S. Immigration and Customs Enforcement (ICE) custody.
Amnesty International USA announced its latest human rights campaign on Tuesday as it erected a handful of billboards near ICE offices and detention centers in Pennsylvania, Texas, Virginia and Washington, D.C. The billboards will remain in place for the next four weeks, the organization said.
"We were searching for safety and they locked us away: demand ICE free the families," some of the billboards read. "We came here for protection and they took away our freedom: demand ICE free the families," others said. The messages appeared on a black and white background that shows a child's hands gripping a chain-link fence.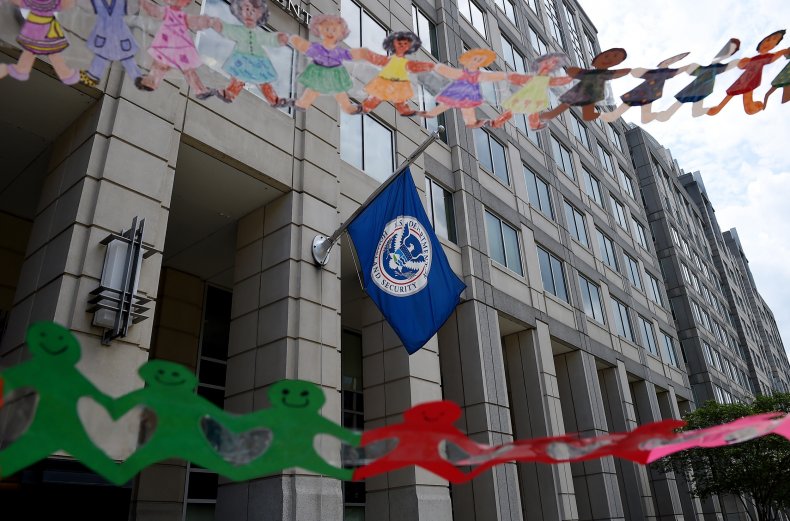 Trucks outfitted with similar messages were also deployed to travel around the nation's capital on Monday. The trucks will travel routes that take them past the White House, as well as the ICE and DHS headquarters, through Wednesday and will have music playing as they circulate to draw attention, a spokesperson for Amnesty International USA told Newsweek.
The organization said in its news release that ICE has for years held children in detention facilities "longer than is permissible by international law." Since the start of the pandemic, the U.S. has also sent several migrants back to their countries of origin who later tested positive for COVID-19, raising concerns that the deportations were enabling the virus to spread into other countries, according to Reuters.
"The agency has gone completely rogue; it has not responded to calls for more transparency," Amnesty International USA's senior press officer, Mariya Parodi, told Newsweek.
The campaign push comes as the U.S. remains the country with the greatest number of COVID-19 cases, with more than 6.5 million cases and more than 194,000 deaths reported nationwide by Tuesday, September 15, according to a Johns Hopkins University data tracker. According to a recent Amnesty International USA report, at least 5,300 migrants and asylum seekers of the estimated 21,066 in ICE custody tested positive for COVID-19 by August 28.
Though the pandemic introduced new concerns for those in ICE custody, Parodi told Newsweek that the current problems with detention policies have been exacerbated under President Donald Trump's administration. Regardless of who wins the 2020 presidential election in November, Parodi said changes must be made to immigration policies in order to improve the conditions for immigrants and asylum seekers.
"There's a few recommendations we have for any kind of administration that comes in, whether it's the incumbent's administration or the Biden/Harris administration: The use of for-profit immigration detention is eliminated, that immigrant detention is used only in limited and exceptional situations and that it meets human rights standards," Parodi told Newsweek.
The organization also hopes that the next administration will eliminate controversial policies like "Remain in Mexico" and create a reception process for incoming migrants to train and fully staff asylum offices and match migrants with government-appointed lawyers, Parodi said.
In a statement shared with Newsweek, ICE said that one of the family detention centers the billboard campaign targets, the Berks Family Residential Center in Berks County, Pennsylvania, is "safe and humane" for migrant families:
The Berks Family Residential Center (BFRC) provides a safe and humane environment for families as they move through the immigration process," the ICE official's statement said. "The center is subject to frequent inspections by the Pennsylvania Department of Human Services and is regularly found to be fully in compliance with state regulations and mandates, and is frequently commended for the exceptional manner in which the health, safety, and treatment of its residents are maintained. The BFRC is also in compliance with federal statutes, regulations and mandates, to include the Family Residential Standards, and adheres to federal and state issued court orders.

Additionally, the high quality of care afforded the BFRC residents has not wavered during the recent COVID-19 pandemic. Significantly, the Commonwealth Court of Pennsylvania recently issued a decision in C.N., et al. v. Pennsylvania Dep't of Human Servs., No. 268 M.D. 2020, July 7, 2020, wherein it denied an emergency motion seeking the immediate release of the families at the BFRC after detailing all the health and safety efforts the BFRC has implemented to mitigate the risk of residents being exposed to or contracting COVID-19. As a result of these efforts, to date, there has been no resident or staff member at the BFRC who has tested positive for COVID-19.

The BFRC has neither a jail- nor prison-like setting. Rather, the BFRC is set up in a dormitory style, where children are able to sleep with a parent in the same private room. The BFRC also operates in an open environment where residents may freely move about within the programmatic areas and utilize, among other things, the TV lounges, playroom, library and gym. The BFRC also offers a range of amenities for all residents, including comprehensive medical and dental care, educational services that are in compliance with the Pennsylvania Board of Education mandates; religious services, and a range of on and off-site activities.