Mayim Bialik stayed behind the camera of her new movie As They Made Us, but we see plenty of her on the screen in a different way.
The actress and Jeopardy! host makes her directorial feature film debut with As They Made Us, a family drama she wrote based loosely on elements of her own life. She recruited her The Big Bang Theory co-star Simon Helberg and former Glee actress Dianna Agron to join the cast, while Dustin Hoffman and Candice Bergen star too.
As They Made Us opens in theaters and on VOD on Friday, April 8, 2022. Ahead of its launch, Newsweek spoke to Bialik, Agron and Helberg to get their take on the movie.
The Story Behind As They Made Us
Divorced mom Abigail, played by Agron, tries to make peace with her dysfunctional family in As They Made Us. Those family members include estranged brother Nathan (Helberg), her own judgmental mother Barbara (Bergen) and the reformed father Eugene (Hoffman).
While she acknowledges that not everything within the movie is autobiographical, there is an element of truth to parts of the story, according to the writer. Bialik told Newsweek, "My father passed away seven years ago, and there's a very traditional year of mourning in the Jewish tradition.
"After that I started a very different kind of processing, which happens, and things started coming to me that I had to start writing down. I started writing some thoughts, some images, music that all went into those memories, and it evolved from there," she said.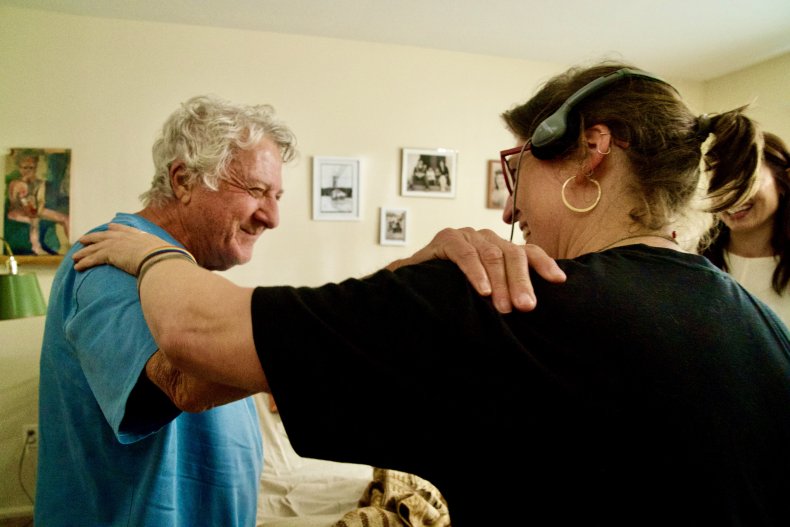 She spoke to Oscar winning writer Jim Rash (Community), Don Reo (Two and a Half Men), Eddie Gorodetsky (The Big Bang Theory) and Eric Kaplan (The Big Bang Theory) who helped her shape her ideas into a script. When it came to who could direct the movie, Bialik determined that her vision was so specific, she was best placed to take on that role too.
"I decided I wouldn't go scene by scene and say, this happened, this didn't happen, but there are things in the film that absolutely never happened, likely never will."
Bialik continued: "There's a tremendous amount of vulnerability, however, that's really only revealed to the people that I reveal it too" — like her cinematographer David Feeney-Mosier and members of the cast.
Discussing the themes touched on in the movie, Bialik said: "There's a definite fear about talking about mental illness at all. There's a fear about talking about children who grow up with addiction and struggles around addiction. That's very painful, but also like, it's that pain and fear and secrecy that makes so many of us have to hide and start overcompensating. And so I guess it was also a cathartic process, not just for my story, but to show that it's important to talk about these things."
Bialik's lead actress in As They Made Us, Agron found painfully relatable aspects to the story — specifically that of an unwell father.
"There are so many personal truths in this film that made me absolutely want to dive in," Agron told Newsweek. "My father has been sick for more years of my life than not."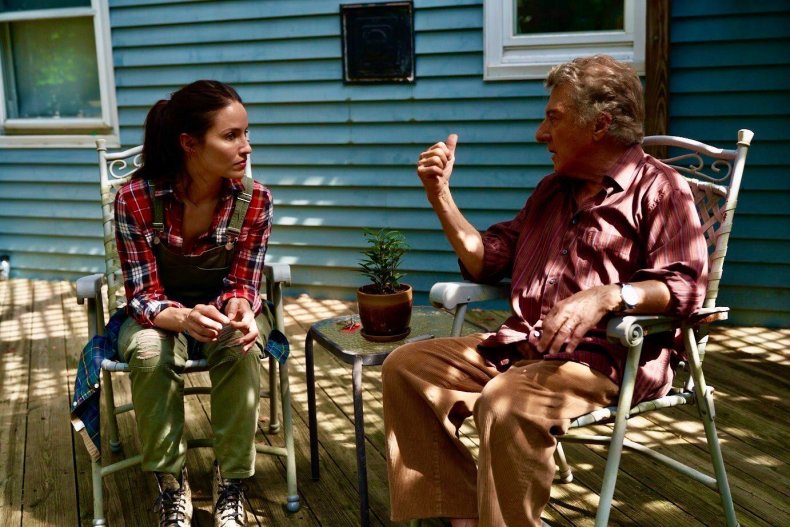 "Themes like coming to terms with the fact that there might be new versions of them because of the deterioration of physical health or cognition, and being ok to accept that new version of them," she said. "So it's just a lot of experience that has peppered my life and left a real lasting impact. It's very painful."
During a pivotal scene, Hoffman's character's health is visibly deteriorating, and as his onscreen daughter, Agron had to be there for him. "I went outside when we were done filming that scene and I just had the biggest cry, like, for 10 minutes. Like wailing to myself, like rocking myself. That was more about my personal truth."
Helberg approached Bialik's story from a unique perspective since he had spent so much time with her over the past decade. "As I heard about her real life journey with her family and her father, as it was happening in real time, I found the story to be very compelling."
Helberg continued, "I was blown away, I think by the vulnerability and the bravery that it takes to put yourself out there to put your story out there. She had managed to do the impossible, which is to turn something very personal into a piece of art."
Helberg's Howard Wolowitz spent years with Bialik's Amy Farrah Fowler in the gargantuan sitcom hit The Big Bang Theory. He says that strong bond is reflected offscreen too: "She's fantastic and brutally honest, in the way that she talks to people and in way that she tells stories. I love working with Mayim."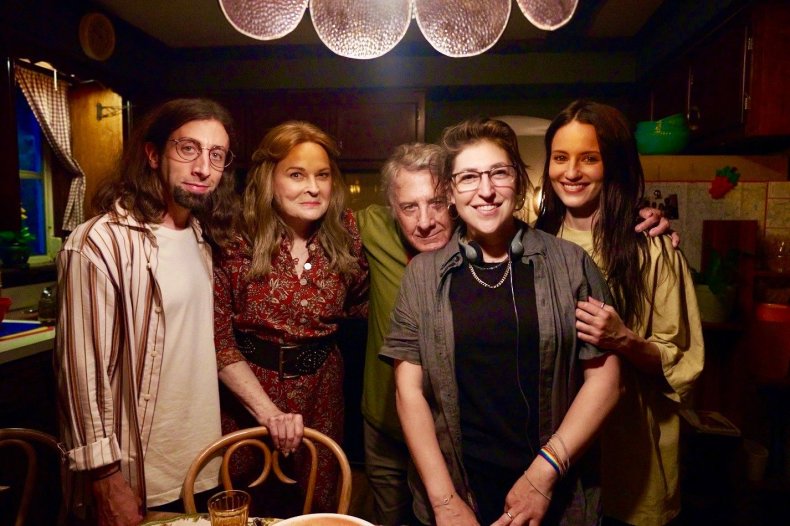 Agron echoes Helberg's praise for Bialik, and thinks she did a stellar job as a first-time writer and director. "She's incredible," Agron said. "I knew she would be from the first conversation that we had together."
"What felt fantastic about the long takes that Mayim used, it feels much more like theater, where you perhaps feel even more brave to stand in your choices and feel how your character feels. I loved that element." Agron continued, "Quite a few of my scenes with Simon were like that. And I just loved her confidence in every aspect of our storytelling. It was just a real joy to work with her and to have her be guiding us."
Bialik is spinning a lot of plates career-wise at the moment. Between promoting As They Made Us, hosting Jeopardy! and starring in her own new sitcom, Call Me Kat, she thinks her next project will be closer to home.
"My kids are 13 and 16. And will be turning 14 and 17 by the end of the summer, so I'm gearing towards that," she said. "We're finishing the second season of Call Me Kat, we don't know if we'll be picked up for a third season but we've got some pretty exciting stuff in our last episodes."
Thinking about the prospect of taking on a second movie to write and direct, she joked: "I mean, I think I'm still recovering. Having not gone to film school and not had a lot of experience in this space, I definitely don't think that I had enough money, time and resources to make the movie that I wanted.
"So I think if I do go again, I need to own the production company, like own everything, own the color correcting so that everything happens exactly the way I want when I want because my bossiness is obviously what pays off as a director."
As They Made Us opens in theaters and will be available on VOD on Friday, April 8, 2022.