Last Chance To Watch 'They Shall Not Grow Old': How to Get Tickets for Final Showtimes
Rather than a traditional release, the World War I documentary They Shall Not Grow Old was only available in theaters on select dates. Originally showtimes were planned for just December 17 and December 27, but the film has been a theatrical hit so one last date has been announced: Monday, January 21. Tickets to the final showtimes for They Shall Not Grow Old are available now.
They Shall Not Grow Old Documentary Tickets
Tickets for the final screenings of They Shall Not Grow Old on January 21 are available now through Fathom Events. Since museums and schools have been organizing screenings, it's also possible to buy discounted tickets in bulk if you plan to purchase 25 or more.
They Shall Not Grow Old is a collaboration between London's Imperial War Museum and Peter Jackson, director of Dead Alive and the Lord of the Rings movies. In 2014, the museum offered the director 100 hours of damaged WWI era footage as plans were drawn up to create a documentary for the hundredth anniversary of the armistice between the Allies and Germany that ended WWI.
"The clarity was such that these soldiers on the film came alive," Jackson told the New York Times . "Their humanity just jumped out at you. This footage has been around for 100 years and these men had been buried behind a fog of damage, a mask of grain and jerkiness and sped-up film. Once restored, it's the human aspect that you gain the most."
But Jackson did much more than simply clean up and restore the old footage. With the team at New Zealand's Park Road Post Production, Jackson colorized, stabilized and even added dialogue using forensic lip readers and voice actors to recreate everyday gossip between soldiers. One of the trickier fixes involved updating the frame rate found in the footage so it would project at normal speeds without the too-fast feel common to silent film, made even worse in the original footage thanks to WWI-era film cameras which were cranked by hand, leading to wildly variable frame rates.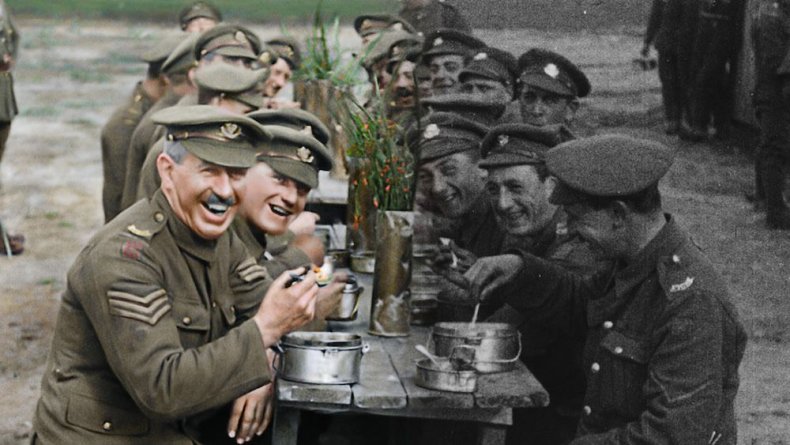 They Shall Not Grow Old combines this remarkably modernized footage with audio interviews of WWI veterans conducted by the Imperial War Museum in the 1960s. The resulting documentary has been hailed by critics and now there's only one more opportunity to see it in theaters (and in 3D!). Go to Fathom Events to pick up your tickets to They Shall Not Grow Old 's final showtimes on January 21.