'They Took It Away': Fox & Friends Hosts on Trump's CPAC Claim He Won 2020 Election
While discussing former President Donald Trump's repeatedly disproven claim that the 2020 presidential election was "stolen" from him, Fox & Friends' co-host Steve Doocy repeated the claim, stating, "He won last time—they just took it away from him."
The Quote
Speaking on the Monday installment of the Fox News talk program Fox & Friends, co-host Pete Hegseth noted that during Trump's Sunday speech at the Conservative Political Action Conference (CPAC), Trump said, "We may just have to beat them for the third time."
Trump's CPAC line alluded to the former president's belief that he won the 2016 and 2020 presidential elections, Hegseth noted.
"Because he won last time," Doocy interjected, "they just took it away from him."
"There you go, exactly," Hegseth replied. "Everyone in the crowd got it right away."
Trump lost the 2020 election by over 7 million popular votes and 74 electoral votes.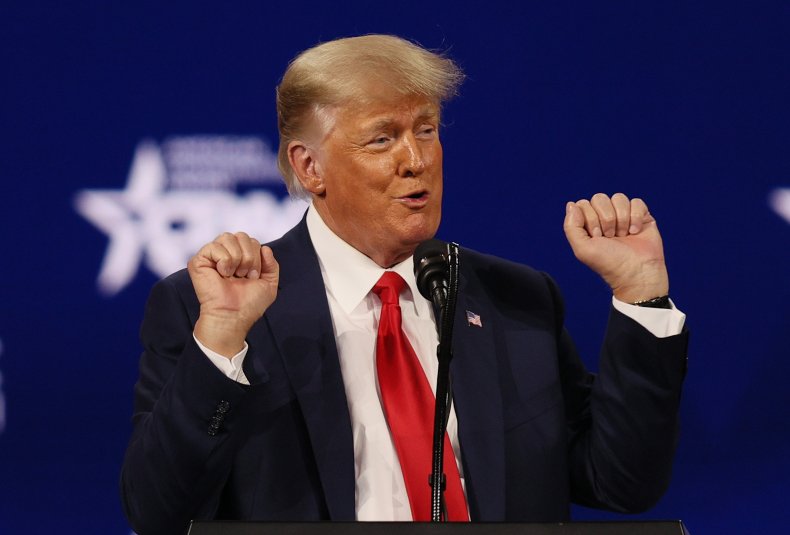 Why it Matters
A Fox News spokesperson told Newsweek that Doocy was paraphrasing Trump's claim rather than repeating it as fact. Earlier in the broadcast, Doocy referred to Trump's line of wanting to win "a third time" as a "joke."
"Apparently, he thinks that he won," Doocy said in an earlier segment of the March 1 broadcast. "He said it was all rigged, but the Electoral College and also Mike Pence have made it clear in the last couple of months, he did not win according to the rules."
Doocy and Hegseth's comment still raised eyebrows because it appeared to repeat a baseless claim that Trump began stating months before the 2020 election. Trump's claims of fraud inspired some of the rioters, according to court documents, who participated in the January 6 insurrection to invade the Capitol in hopes of overturning President Joe Biden's Electoral College victory.
Over 60 court cases alleging that fraud stole the election, filed by the Trump campaign and Republican officials, were dismissed or withdrawn from courts due to lack of evidence.
Two former Trump Administration heads have also said that there's no evidence that the election was stolen. Both former Attorney General William Barr, the head of the Department of Justice and the Department of Homeland Security, and Chris Krebs, the former head of the Cybersecurity and Infrastructure Security Agency (CISA), the federal agency in charge of maintaining election security, said so.
The Counterpoint
Republican Ohio Representative Jim Jordan told Doocey on March 1 that the claims of a "stolen" election actually refer to "unconstitutional" changes made by state voting officials during the pandemic.
Before the 2020 election, various states expanded ballot drop-off locations, prolonged their early voting periods and made mail-in ballots more widely available. Jordan and other Republicans have claimed that these changes were illegal because they were instated without legislative approval, as required by the Constitution.
However, opponents say that the changes were legal because they were enacted by state election boards. These boards were created by state legislatures and empowered by state law to change voting rules without seeking further legislative approval, they say.
Nevertheless, in mid-February, the national Republican Party set up a Committee on Election Integrity to examine state election laws and suggest changes.
Worries of "fraud" have also compelled Republican legislators in 43 states to introduce at least 253 bills tightening voting requirements, according to the Brennan Center for Justice, a liberal-leaning legal institute at New York University.
Georgia's new laws, for instance, would require photo identification for absentee ballots and limit the number and hours of ballot drop-off boxes. One Arizona legislator introduced a bill that would allow state lawmakers, rather than the popular vote, to determine an election's winner.
Numerous studies have shown that voter fraud in the U.S. is extremely rare. Democratic voting rights activists say Republican efforts to change voting rules are merely an "anti-democratic" scheme to prevent more people from voting.
Some Republicans say that increased voter turnout in recent elections proves that new voting laws don't discourage voting.
Trump's claim of a stolen election continues to be believed by 75 percent of Republican voters.