'They Took My Mom and Dad': ACLU's Mother's Day Ad Urges Biden Admin to Reunite Migrant Families
The American Civil Liberties Union (ACLU) will run a two-page ad in The New York Times on Mother's Day, in an emotional plea urging President Joe Biden to reunite migrant families who were separated at the border under Donald Trump's administration.
The ad, which was seen on Saturday by Newsweek, shows handwritten notes from migrant children against the backdrop of a childhood growth chart.
The heart-wrenching statements from children include: "They took my mom and dad," "I don't know if I'll ever be home again," and "Will my mom remember me?"—while showcasing that every day that a child is stuck at the border, they will continue to grow without their families.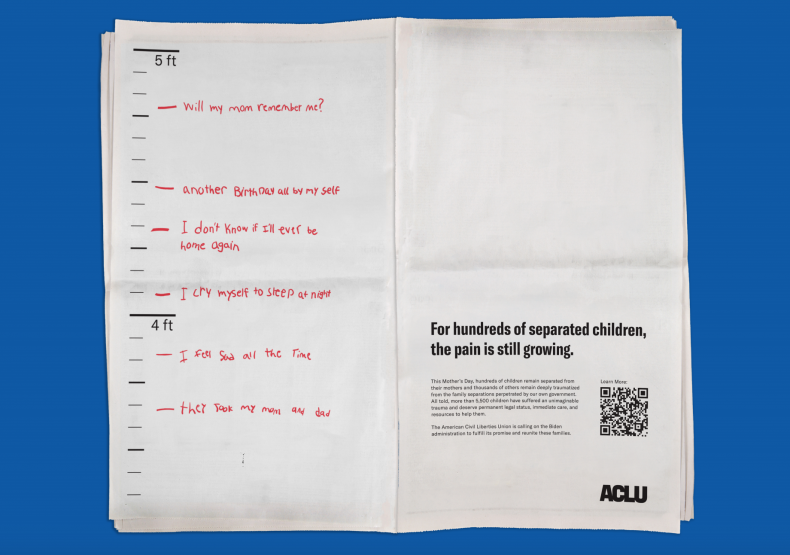 Furthermore, the ACLU is calling on Biden to guarantee protections and U.S. citizenship for families that have been separated.
"This Mother's Day, hundreds of children remain separated from their mothers and thousands of others are suffering from the trauma Trump's family separation practice inflicted," Anthony Romero, ACLU executive director said in a statement.
"We know the Biden administration and the Family Reunification Task Force are working hard on this issue, but four families out of thousands is only the beginning – thousands more remain separated or suffering," he added.
The ad, which will run on Sunday, May 9, comes after the Biden administration worked to reunite its first four families that were separated at the border this week, according to Axios.
However, Biden warned last week that the situation remains grim and that his administration is still struggling to locate many of the hundreds of migrant children that were affected by Trump's border policies. From April 2018 until June 2018, Trump implemented a highly controversial "zero tolerance" family separation policy that resulted in thousands of children being taken from their parents or guardians upon arrival in the U.S.
"What we have done is we have united children with their families as they've come across the border," Biden told NBC News on April 30 while discussing how his border policies differ from Trump's.
"But one of the things is, we don't know yet where those kids are. We're trying like hell to figure out what happened. It's almost like being a sleuth, and we're still continuing to try like hell to find out where they are," the president added.
On Saturday, the ACLU said the Trump administration's family separation practice affected approximately 5,500 children.
"The [Biden] administration understands it needs to pick up the pace, and we can't hang the 'mission accomplished' sign just yet. All total, more than 5,500 families have suffered unimaginable trauma and deserve a path to citizenship, immediate care, and resources to help them," the organization added.
The Mother's Day ad comes a month before Biden's Family Reunification Task Force is expected to issue a new report on the issue on June 2.
"We are calling the Biden administration to work urgently to fulfill its promise to reunite these families and provide them with resources for care, permanent legal status, and a commitment that such an atrocity will never happen again," the ACLU added Saturday.