They'll 'Blame' Us: Black Man Scolds White BLM Activist for Using Bat on 'Nazis' at Portland Protest
A Black man was filmed scolding a white Black Lives Matter activist for hitting a counterprotester with a bat during a protest in Portland, Oregon, over the weekend.
The confrontation was captured on video and shared on Twitter early Sunday morning by Jorge Ventura, a reporter for conservative website The Daily Caller.
In the video, the Black man said that he had a gun but added, "I don't bring that sh** down here."
The man continued, "I realize what's going to happen if that sh** happens: Black people are going to get blamed for that." He said that even if the counterprotester was not seriously injured by a physical assault, a fall immediately following one could result in injury or death.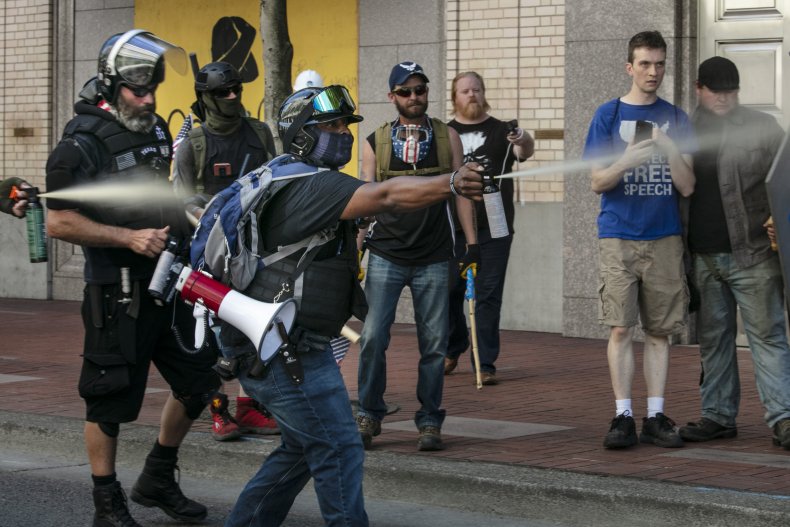 The man went on to say that acts of violence would "change the narrative" of the protests.
In another video, which Ventura posted on Twitter about an hour earlier, the same white man whom the Black protester reprimanded was filmed hitting an individual in a small group of counterprotesters multiple times with a bat and spitting at them. At least four counterprotesters were fleeing the man and the group of activists surrounding him, some of whom were shoving and cursing at the counterprotesters.
"You came to the wrong party," one activist can be heard yelling at the counterprotesters as others repeatedly called them "Nazis."
The Portland Police Bureau said in a news release that officers were aware of multiple videos like the ones Ventura shared on social media that captured some of the violence that took place during the protests. In the release, police encouraged anyone who has been the victim of violence during the demonstrations to speak up and file a police report.
By Sunday afternoon, police said, they had arrested at least 11 people in connection with the protests Saturday night, which the police officially declared a riot. Those individuals face charges ranging from disorderly conduct to assaulting an officer and resisting arrest, police said.
Saturday's protest followed a night of demonstrations in the city's downtown area on Friday that also turned violent. Four people were arrested on similar charges that night, police said.
Newsweek reached out to the Portland police for comment but did not receive a response in time for publication.
Protests have been ongoing in Portland since the death of George Floyd, a Black man who died while in Minneapolis police custody in late May. The city gained widespread media attention for its protests last month as the federal government sent in troops to help keep the demonstrations under control, despite calls from the governor, Portland's mayor and other local politicians for the troops to let state and local officers handle the situation on their own.