'They're Unbelievable': Jeanine Pirro Slams Fox News, Admits Being Suspended, Says She's Worried About Being Fired
Fox News host Jeanine Pirro called the network "unbelievable" on Tuesday as she publicly discussed her suspension from the channel for the first time and admitted that she's worried about being fired.
During Tuesday's edition of America First with Sebastian Gorka on the Salem Radio Network, 68-year-old Pirro phoned in for an interview with the former White House aide.
"Hey Jeanine, we're still live, the mics are live on Youtube," the host said, before asking the controversial Fox News personality whether she is doing "any events in D.C. again? In the near future?"
"I don't know yet. In fact I'm going in tonight, I'm doing Hannity tonight and I gotta find out. They just send me my schedule every day. But if I am, believe me, you're in it...," Pirro replied.
Newsweek subscription offers >
After Gorka told Pirro he'd "love to have you in the studio," the Fox News host said: "I would love it. We'll see if they let me. You know Fox reviews everything. They're unbelievable."
"Yeah but you have got a window because you've got a new book. You should have a carve out right?" Gorka then asked.
"No. They're still saying you cannot do Bill O'Reilly, you cannot do Newsmax, you cannot do...," Pirro responded, before then admitting for the first time publicly that Fox News had "suspended" her.
"And I'm not going to get fired. You know I'm worried that that suspension was the basis to tee up for anything I do wrong, they'll fire me," she added.
Newsweek subscription offers >
A clip of the interview was first shared by Media Matters, a progressive media watchdog, on Tuesday afternoon. It unclear whether Pirro knew her remarks, reportedly made during a commercial break, were being broadcast on a YouTube live stream.
Despite being suspended for roughly two weeks in March for suggesting that congresswoman Ilhan Omar wearing a hijab means she opposes the U.S. Constitution, Pirro has not shied away from making further controversial statements.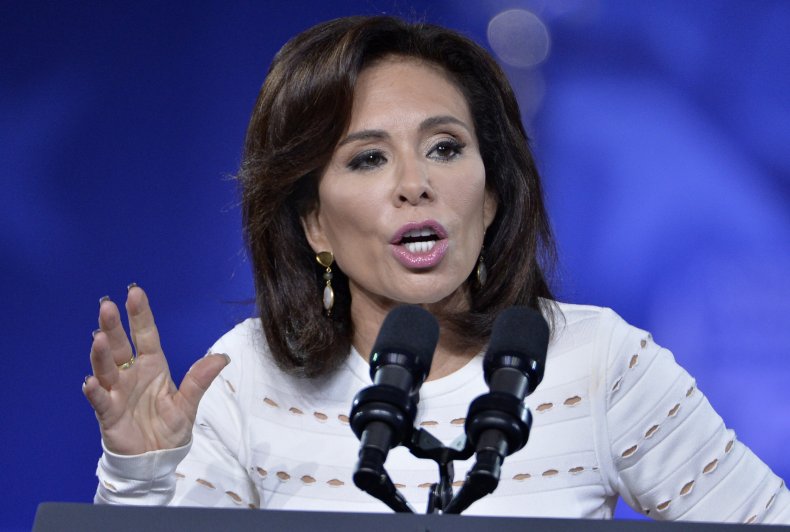 Late last month, the Fox News host peddled a white supremacy conspiracy theory, accusing Democrats and liberals of plotting to "replace American citizens with illegals" during a radio appearance with Fox Nation's Todd Starnes.
"They hate Donald Trump," Pirro said, referring to Democrats. "He's the one they want to get rid of."
"Their plan and their plot to remake America is to bring in the illegals, change the way the voting occurs in this country, give them licenses, they get to vote maybe once, maybe twice, maybe three times," she continued. "You've got motor voter registration on the day of the election, we've got voter rolls that haven't been purged of dead people in years, where the Democrats have resisted that."
Pirro added: "Think about that, it is a plot to remake America. To replace American citizens with illegals who will vote for the Democrats."
Newsweek reached out to Fox News for comment but did not receive a response in time for publication.
'They're Unbelievable': Jeanine Pirro Slams Fox News, Admits Being Suspended, Says She's Worried About Being Fired | U.S.