Armed Robbery Staged in Front of FBI Headquarters in Washington, D.C.
A brazen thief carried out an armed robbery right under the FBI's nose, with an audacious hold-up not far from the agency's headquarters.
Two victims, who had been held-up at gunpoint in a terrifying street robbery, fled to the FBI's HQ seeking help after the gunman made off with their possessions, cash and a bank card. The man and the woman had stopped to help the suspect after he asked to borrow a cell phone; they even waited as he made and finished a phone call.
An FBI spokesman told Newsweek: "The victims came to the FBI seeking help and an FBI Police officer provided assistance in calling the Washington Metropolitan Police."
Police were called to the scene in Washington D.C. near the imposing building at 935 Pennsylvania Avenue, after receiving reports of a suspect with a gun at around 6:48 p.m on Tuesday.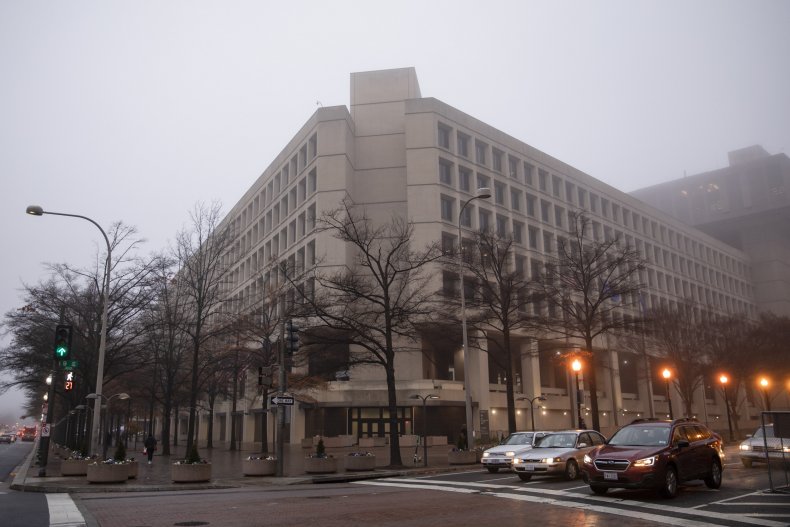 The armed robber did not harm the victims, but stole several possessions during the robbery, which took place in the area of 1200 Pennsylvania Avenue in Northwest Washington, the Metropolitan Police Department (MPD) told Newsweek.
A Public Incident Report compiled by the police, and seen by Newsweek, reveals the 6-minute robbery lasted from 6:41 p.m until 6:47 p.m.
The victims were approached by a man who asked if he could borrow a cell phone to make a call. One of the victims, a woman, lent him her phone, which he used for a few minutes while they waited. But after the suspect returned the phone, he then brandished a handgun and pointed it them as he forced them to hand over all their possessions.
The suspect ran away, eastbound down Pennsylvania Avenue, and made off with $250 in cash, a pink backpack, three cell phones including a Samsung A13 and a Motorola Metro G, a Cannon camera, an Android Tablet, and a Wells Fargo bank card, the report added.
Police are investigating, but have not yet released a description of the suspect. There have been no arrests.
The Federal Bureau of Investigation headquarters in Washington D.C. is in charge of the agents and civilian workers based out of field offices dotted across the country.
Update 4/27/22, 3:32 a.m. EDT: This article has been updated to include more details and a comment from an FBI spokesman.