California Thief Paused to Make Pizza During Burglary at Pizzeria
A thief who was burglarizing a pizzeria in California stopped to make himself a pizza from scratch, police said.
The Fullerton Police Department shared surveillance footage captured of the suspect in a break-in at Big Slice Pizza in Fullerton earlier this month.
The man is seen wearing gloves and a Los Angeles Dodgers cap while stretching dough at a counter in the restaurant's kitchen.
It wasn't immediately clear if the thief later cooked or ate the pizza, but police said he stole cash and several tablets before fleeing in the restaurant's delivery car.
The suspect, who was later identified as 25-year-old Oscar Alexander Sanchez, was arrested on Wednesday, The Orange County Register reported.
Prosecutors charged him on Friday on suspicion of grand theft, grand theft auto, second degree burglary, the possession of burglary tools and other offenses, according to the newspaper.
The Fullerton Police Department posted Sanchez's booking photo, alongside the security video where he is allegedly seen making pizza, on its social media accounts on Friday.
"You've heard of the Hamburglar? Well, meet the Pizza Burglar!" the department captioned the post on Instagram.
"On Sunday morning a local pizza shop was broken into. This guy had the audacity to not only break in, but also steal their tablets and cash! Before he stole their delivery car to leave, he couldn't resist his craving and helped himself to making a pizza pie!"
The department said its officers identified, located and arrested the suspect, adding: "Needless to say, jail doesn't serve his favorite meal."
Social media users took to the comments of the post to share their amusement about the incident.
One person noted the suspect seen the video was "not the best pizza maker," but others commended him for wearing gloves.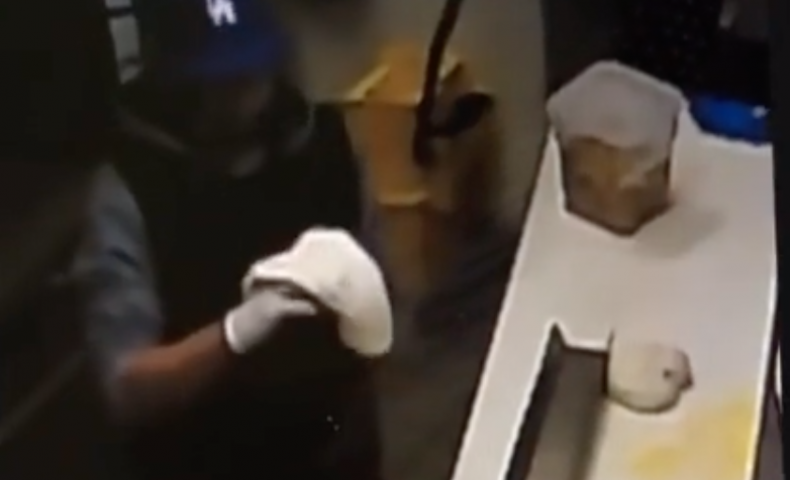 "At least he wore gloves," one person said. Another added: "I love the fact he wore gloves. Hygiene is VERY important when cooking. Priorities."
Others took the opportunity to make pizza puns. "He kneads to change his ways," one person joked.
Another added to police: "Did you book the evidence, or eat it?"
According to The Register, Sanchez is also a suspect in another theft case filed last month and was out on bail when the Big Slice Pizza burglary occurred. He also has a previous felony conviction for grand theft auto.
The Fullerton Police Department and Big Slice Pizza have been contacted for additional comment.