Thief Returns Stolen Bag After Realizing It Contained 1,700 COVID Vaccines
A thief in northern India returned hundreds of doses of COVID-19 vaccines stolen on Thursday from a hospital along with a note saying he had not realized the vials were to be used in the battle against coronavirus.
The unnamed suspect left a note with the returned items, stating in Hindi: "Sorry, I didn't know it was medicines for corona," according to India's NDTV.
More than 1,700 doses were taken from the government-run hospital in Haryana's Jind district.
The haul, which included 1,270 doses of Covishield (the Oxford-AstraZeneca jab) and 440 doses of Covaxin (developed by Indian pharmaceutical company Bharat Biotech), was taken from a hospital storeroom, local police chief Rajender Singh said, according to The Hindu.
"The accused did not touch any other vaccine, medicine, cash, etc. in the store," Singh said.
An investigation has been launched to find the suspect.
India's NDTV reported that the thief returned the doses in a bag to a café close to a police station near the hospital, telling staff he was dropping off food for officers.
Police said they believed the suspect may have stolen the jabs having mistaken them to for the anti-viral drug, remdesivir.
"It is possible that he wanted to steal some other vaccine or drug and returned what he had stolen after learning that it wasn't that," Singh said.
"We have got some clues and hope to make an arrest soon."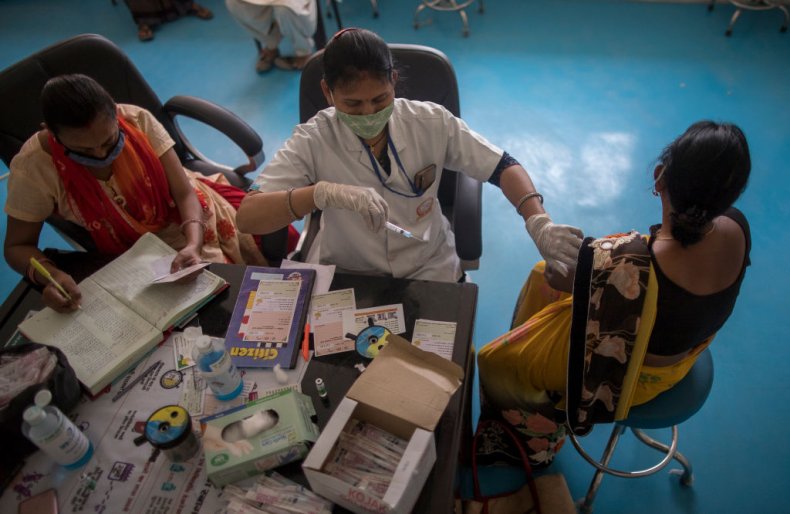 Earlier this week police in Indore, in the central Indian state of Madhya Pradesh, launched an investigation after 130 vials of remdesivir were stolen from a private hospital.
Several people have been arrested across the state for selling remdesivir on the black market, according to NDTV.
Last week, police launched a probe into the theft of 860 vials of remdesivir from a government-run hospital in Bhopal.
India is in the midst of a devastating second wave of the virus with rising numbers of cases and deaths.
The country has confirmed over 16 million cases so far, second only to the U.S., with 2,263 deaths in the past 24 hours, taking the total to 186,920.
Supplies of oxygen and medicine are running low and many hospitals have reported a shortage of beds with patients spending hours waiting in ambulances.
The prime minister, Narendra Modi, on Friday chaired a meeting to discuss the worsening COVID-19 situation with chief ministers of the worst-affected states.
He urged states to check that there be no hoarding or black market sales of oxygen and medicine.