Thieves Attempting to Rob Amazon Truck Stopped by Witness Who Blocked Them In
Two thieves attempting to rob an Amazon delivery truck were stopped by a witness that blocked them from leaving a driveway in Houston, Texas.
A video of the incident was posted on Twitter by the Houston Police Department's Robbery Division.
"Suspects rob delivery driver of his van in North Houston and as the suspects were about to drive off, a neighbor witnessed the incident and used his own vehicle to block the suspects from leaving," the department said in the tweet.
The incident occurred on June 9 at around 12:45 p.m. local time at a home located on the 200 block of Garrotsville, in Houston, according to authorities.
As the video begins, the two thieves can be seen running toward the Amazon delivery truck that was parked in a driveway. The video then shows the suspects, who are both wearing protective face masks, inside the delivery truck.
The Houston Police Department said in a press release that the delivery driver "stated that as he exited his van to deliver a package, two males ran up to him." One of the male suspects had his hands in his pockets and told the delivery driver that he had a gun, forcing "him to back away from his vehicle."
As the video continues, another angle shows a witness moving their vehicle behind the delivery truck in an effort to block them from leaving.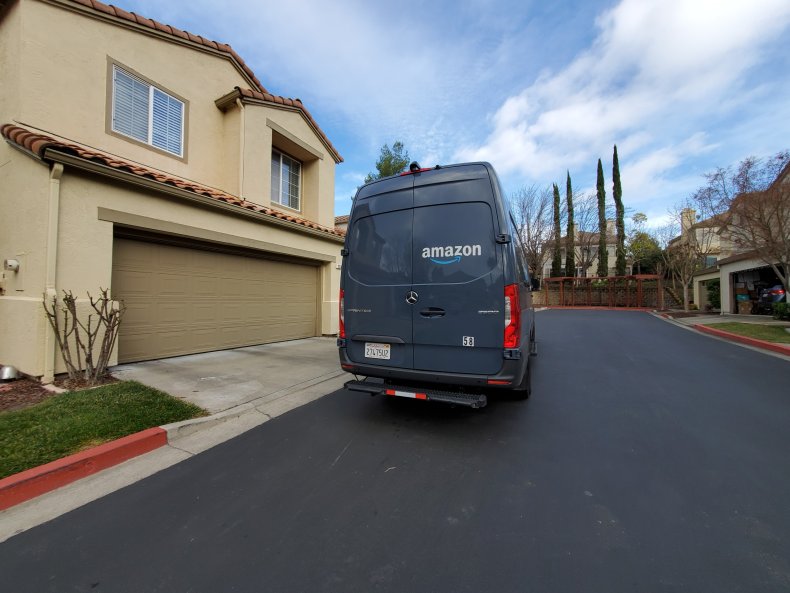 "The suspects got into the van and began to back the vehicle up," the press release said. "As this was happening, a neighbor witnessed the robbery and blocked the van in the driveway, preventing it from leaving."
Towards the end of the video, one of the thieves exits the vehicle and runs toward the driver's side door. While the video does not include sound, it appears to show one of the thieves trying to pull the other out of the delivery truck after they realize that they are being blocked in by the witness.
The video ends with the two thieves running away from the Amazon delivery truck empty-handed.
One of the suspects has been described by police as a 25-to-30-year-old Black male weighing between 180 to 190 pounds. The suspect has several tattoos on his face, including a cross tattoo next to his left eye.
The second suspect was also described as a 25-to-30-year-old Black male weighing between 180 to 190 pounds. Police said that the second suspect had "numerous tattoos throughout body."
Police released the video in hopes that the public will help with identifying the two suspects.
"Information leading to the charging and/or arrest of any felony suspects may result in a cash payment up to $5,000," police said in the press release.
Newsweek reached out to the Houston Police Department's Robbery Division for comment but did not receive a response in time for publication.