Oklahoma police found the remains of an ATM hanging from a forklift outside a credit union on Friday.
Thieves used a forklift to impale the ATM through its front screen and rip it from the ground outside a Tulsa Teachers Credit Union (TTCU) in Bixby, Oklahoma, police told local news outlets. Officers are not yet sure how many people were involved but said they had stolen the rented forklift from a worksite across the street.
Most of the ATM, along with the money inside, was loaded into a vehicle and driven away. Photos from the odd crime scene showed the forklift left behind with bits of the bank machine still dangling.
Police said they hoped that the credit union's security camera caught the thieves on camera.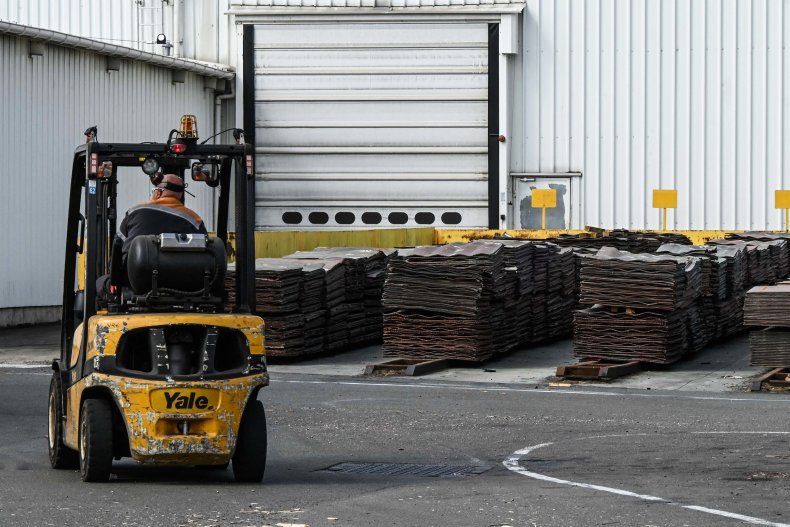 "We just need to get that footage so just have an idea of what we're looking for," Seth Adcock of the Bixby Police Department told KOKI-TV.
Adcock also asked the public to contact the department with "anything out of the ordinary" or "anything in the neighborhoods surrounding [caught] with their Rings or security camera."
ATM robberies can face a range of penalties, as accused thieves can be charged with both state and federal crimes. Depending on the circumstances, an ATM theft may be charged as a federal bank robbery with penalties of up to $250,000 in fines and up to 20 years in federal prison, according to the Reep Coleman & Stubbendorff firm.
Another Oklahoma burglar who bulldozed into a convenience store and stole its ATM in 2016 was charged with second-degree burglary, malicious injury of property, obstructing an officer and possession of stolen property, KOKH-TV reported.
Strangely enough, the Brixby theft is not even the first time an ATM was stolen with a forklift this year.
In March, three people allegedly used a stolen forklift to pry an ATM from a Seattle grocery store before loading it on a pickup truck and fleeing the scene. The store's owner estimated the theft to result in roughly $2,000 in damages.
Another forklift-assisted ATM theft took place last December when a person helped themselves to the heavy equipment at a construction site in Kentucky before driving over to a bank, stealing its ATM and driving it away in a U-Haul truck, according to WKYT-TV.
Meanwhile, a man in Las Vegas allegedly stole an ATM in November by tying it to the back of a pickup truck and driving away.
Newsweek reached out to the Bixby Police Department for comment.