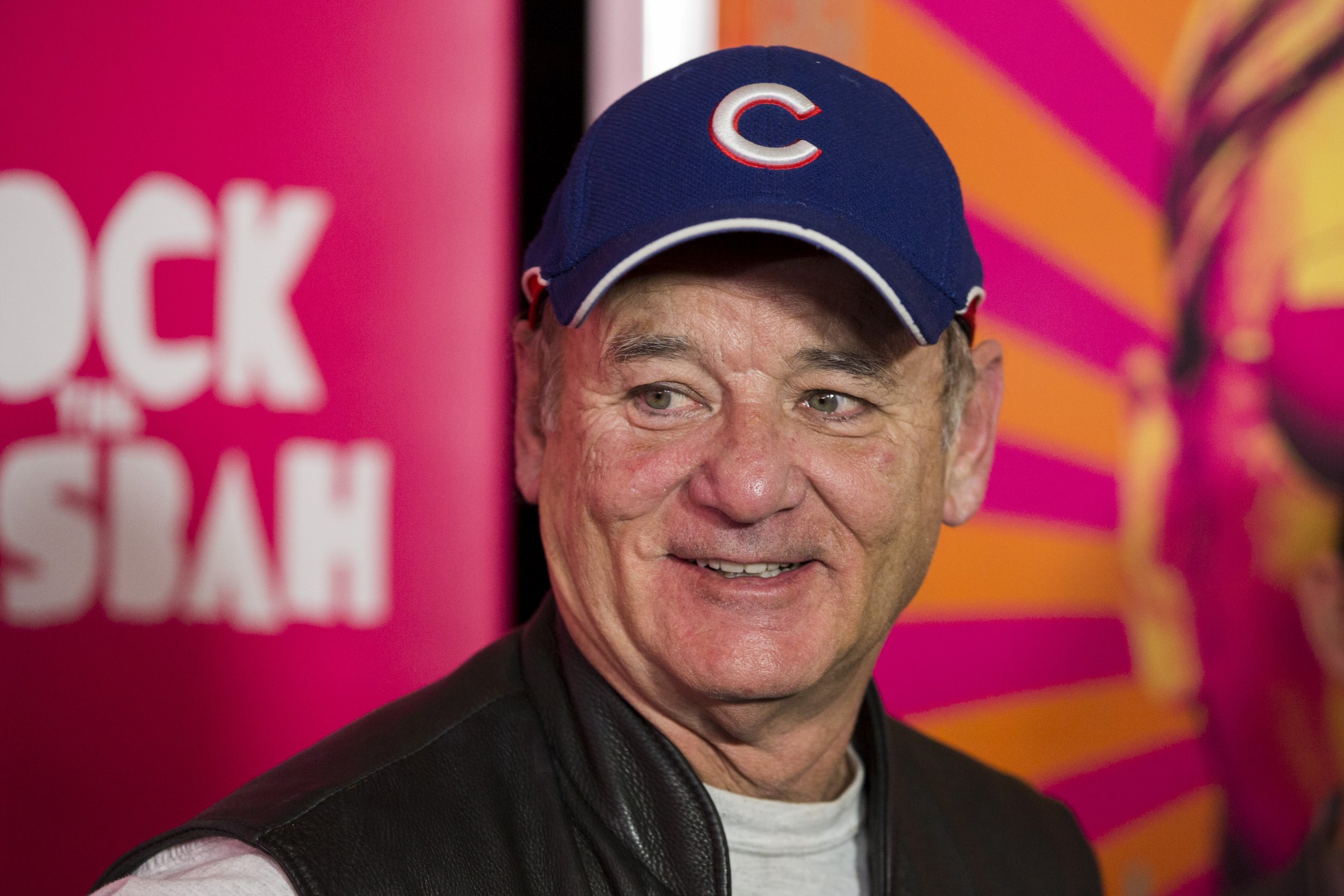 Updated | On Wednesday, Bill Murray participated in a Reddit "Ask Me Anything" session to promote his latest film, Rock the Kasbah, which opens nationwide on Friday. AMAs are hit-or-miss as far as providing any real insight into the lives of celebrities. But as Murray has proved in the past, he's not afraid to exercise a little candor when fielding questions from the Reddit community.
Thankfully, Murray got in his answers on Wednesday before his beloved Cubs were eliminated from the playoffs; otherwise, the session might have taken a grim tone. Instead, we were treated to one of the greatest party-crashing stories of all time. Here's everything we learned.
1. He once got shut down by Andy Warhol.
Murray, a notorious party crasher, writes that in 1975, some caterers snuck him and a group of Saturday Night Live castmates and their friends through the backdoor of an ultra-exclusive New York City premiere party for the movie Tommy. It was immediately apparent that they didn't belong, but that didn't keep Murray from walking up to Andy Warhol and saying, "I love the soup can." It didn't go well. "He looked at me like, 'You don't belong here,'" Murray writes. "What a time that was."
Reddit user LuisXGonzalez was able to dig up a Milwaukee Sentinel article about the event, which was held in an enclosed subway station. Unfortunately, there's no mention of Murray or his pals running amok.
2. He laments how his celebrity prevents him from "taking it in."
Murray guards his privacy more than most in Hollywood. He doesn't have an agent, and if directors want to cast him, they have to call a special line and leave a voicemail making their case. So when Murray was asked about the best and worst aspects of being Bill Murray, his answer wasn't surprising.
The worst thing about it, they're one in the same: You wish you could walk down the street and look at things and watch things uninterrupted. The shock of being recognized brings you out of this place where you're just trying to take it in. Its an obligation and you're reminded you have to show up. It's a coin with two sides. As much as I don't like the one side, the other side is what might save me.
2. If he could have any superpower, it would be invisibility.
See above for why.
3. He considers SNL's Jim Downey the best storyteller he's ever known.
Jim Downey may not be a household name—although you might recognize him from his brief but unforgettable turn in Billy Madison. But in comedy circles, he's considered a genius. A driving force in the Saturday Night Live writers room for decades, Downey, according to Murray, "is someone who can't and wouldn't shut up."
Here's Downey telling a story about Norm Macdonald to Dennis Miller, who calls Downey "the smartest cat he knew at SNL."
5. He's a fan of The Amazing Race.
He gave a surprisingly thoughtful answer to a question about which reality show he'd like to appear on.
Flavor Of Love. The idea that he had some of the most, would I consider maybe not the most desirable women in the world, they were really nutty. I mean really crazy. I'd think The Amazing Race. It was like a show I watched in Paris, similar to that. One episode I saw, they had to fight their way to the top of a hotel in Singapore, and answer impossible questions. I used to watch it just to see people completely fall apart. They would try to answer, and it would kill them. But The Amazing Race looks like a lot of fun. You get to go to a bunch of places. It calls on all your skills. I tell people, if you want to get married, travel around the world first. Cause then you get to know people better. Its a test of wills to travel. I think The Amazing Race would be fun.
*cue CBS scrambling to find the number to Murray's voicemail*
6. There was only one role he wanted but wasn't able to land.
Mel Gibson's role of Guy Hamilton in 1982's The Year of Living Dangerously. "I wasn't a big shot," writes Murray.
7. Murray's connection with Wes Anderson is nothing short of magical.
When asked about his relationship with his longtime collaborator:
You know, there's a lot of those guys who want those parts. There's a lot of bitter actors out there, we went to a SAG thing, during Oscar season you go to these things. They have the entire cast onstage and the director, you think someone will ask a question? Not one. These are people who are really pissed and auditioning for the director at the same time. I dont know what I bring to the movies, I bring to it, what he writes. What I got with him, when he had money to spend like in Rushmore? I think I gave him confidence and I fought the people who were ugly on set. I said don't worry about this thing, I'll make sure this shot happens. I'm like a uncle, I don;t know what I'm like. We have a lot of fun. We go to shoot in Newport and a Newport mansion just to have the experience of it while we work, the actors are there, the editing is there and we just slouch down and have breakfast and go to work. He loves to live well and he loves to eat. He hires a cook, but basically means you can work 18 hours, somewhere around 7:30 and then he wants 3 more scenes and youre doing the math, then you eat dinner at midnight and its great but you gotta work til 10 and then you are waiting to shower, you're woozy. Then you go to sleep. I give nothing to the movie but I'm good company. We've had great success together, the people who work for him are slavishly devoted to getting it done and making sure his vision gets done in that way, there's sort of some guys who get a special pass and sometimes suggestions are great. He doesn't like fly he prefers ground travel. I'm telling you guys this and he came through and we worked in Santa Fe, we gotta get down to this train, so we met these Mariachi band, 8 violins and a couple big guitars, they were striking! I said OH COME ON, they had a layover, lets get something to eat, we got great Mexican food, we ate outdoors. Wes said "I felt something funny, when you opened the door" and the whole train station just got filled with their music. They played to them as the train pulled away. We had someone else on the film get married, and we got this same bland all women band to blast them with music.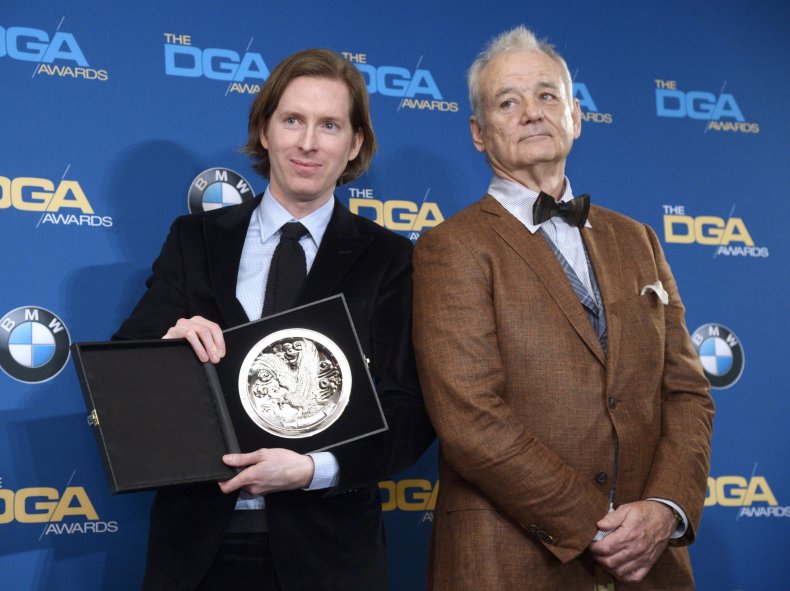 Correction: This article originally misspelled Rock the Kasbah.