Think Finding a Job Out of College is Hard? Try Doing It in a Pandemic
With COVID-19 running rampant, and employers across the country cutting the size of their workforce, many recent college grads are finding it difficult, if not impossible, to put their newly minted degrees to work.
But some grads aren't waiting for the market to come to them.
Steven Schwartz, a finance and computer science student at New York University planning to graduate in May, took a different approach. He figured that since job prospects were dismal due to the pandemic, he'd just start his own company.
He and Cameron Zoub, a longtime friend, founded Varfaj Partners, a technology and consulting company that builds websites for startups that enable them to display their goods or services in an engaging manner.
"Many people are so cocky in this city, and it's so competitive that I've learned not to tell people what I'm working on until I've got something tangible," Schwartz told Newsweek. "I'm studying finance in school and my skill is computer programing. In high school, I wrote an app to help people buy limited release sneakers before they sell out. The production run is small – sometimes as little as 500 pairs – and everyone wants them. Now, Varfaj helps launch other startups."
College Recruiting at a Standstill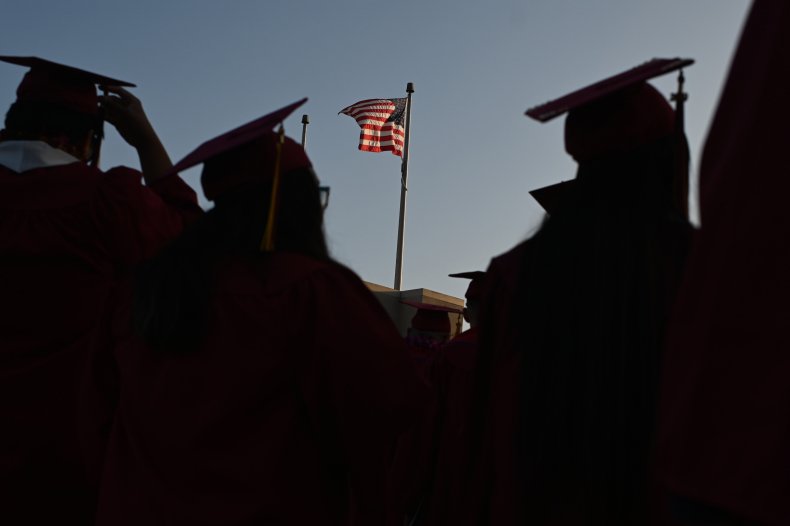 June 2020 graduates, and a fair number from the class of 2021, face a job market pummeled by the coronavirus pandemic. Unemployment peaked at 14.7% in April and declined to a still high 6.7% in November, the U.S. Labor Department reported.
The unemployment rate was 3.5% in February, near a historic low. Then COVID-19 hit, and governors ordered some businesses to close as part of the effort to curb the spread of the virus. The economy ground to a standstill, and millions lost their jobs – either temporarily or permanently. Many major companies cut back on hiring.
The economic downturn greatly decreased the opportunities for college graduates newly on the market.
"After an impressive 10-year run of continuous expanding opportunities for new college graduates, the unforeseen COVID-19 brought college recruiting to a standstill," Michigan State University said in its 2020–2021 Annual Recruiting Trends Survey and Report. "This year's outlook is more subdued with the labor market in a swoon with only the associate's degree seeing growth in opportunities."
Associate's degrees tend to be awarded in skills programs, such as applied technology, engineering, computer science, health and fields tailored to the local economy, where demand often exceeds supply, even in lean times. However, job opportunities are expected to decline for those with masters and MBA degrees, the survey found.
"There's a lot of negative pressure on the college labor market," Phil Gardner, executive director of Michigan State University's Collegiate Employment Research Institute, said in a statement. "Employers prefer more experience to more degrees."
But the downbeat economy doesn't have to be Armageddon for new college graduates – if they're smart and diligent about their job search.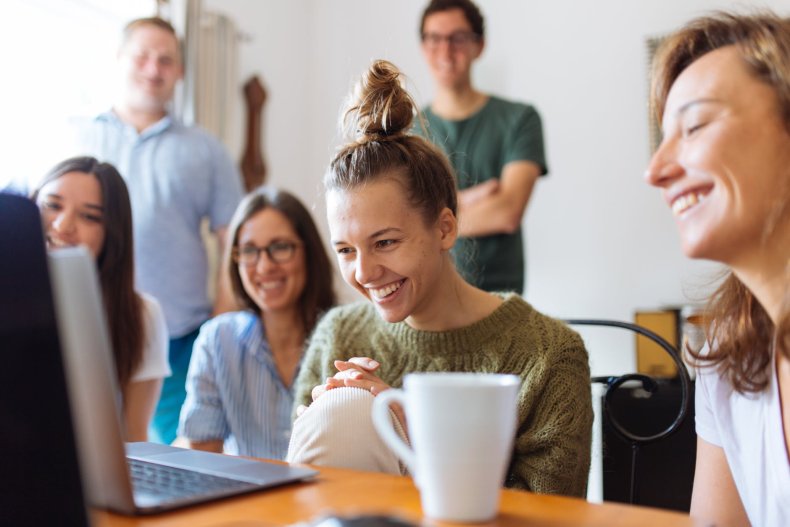 "It's certainly the most challenging year we're experienced since the end of the great recession (in 2009)," Jason Eckert, Executive Director of Career Services at the University of Dayton in Ohio, told Newsweek. "A job search takes a lot more effort now because the number of opportunities is much lower this year."
Eckert said the key to finding a job is networking and perseverance. Sending out resumes and responding to scads of online employment ads isn't enough. And trying to wait out the pandemic is a no-win strategy.
Also, studying for an advanced degree because the perfect job isn't available rather than entering the job market can be detrimental to future job searches, because many employers are reluctant to hire candidates without experience.
"The numbers almost never work in your favor," Eckert said. "Any given position posted on an employer website or Indeed.com may receive hundreds of applications, and it's hard to stand out without having talked to people in the organization."
The key to a successful job hunt starts with networking through alumni or contacts made during internships completed long before graduation, Eckert said.
Additionally, many of the supporting events that colleges typically host to help students find employment have not been possible due to COVID-19. Most job fairs have been cancelled, and gyms filled with tables and recruiters from top companies are a thing of the past – at least for now. Teleconferences can help, but can't substitute for months of spadework prior to graduation, Eckert said.
One thing that the pandemic has not changed is the most important ingredient in finding the right job.
"I always tell anyone who comes to me for advice to find the thing you love to do and we can help you go after that passion," Eckert said. "There may not be as many jobs for poets as for engineers, but poets will find a way to express themselves. I try to not to extinguish dreams – even when I'm giving data on job positions."
One student with a passion for baseball built on his math skills and landed a job in Major League Baseball's analytics department in New York, he said.
The University of Dayton's survey of 2018–2019 graduates found that 67% had landed jobs, 26% were continuing their education, 2% were in volunteer or service programs, 2% were seeking employment and about 1% each had joined the military or entered a post-graduate intern program. A total of 1,766 graduates responded to the survey.
University of Dayton graduates landed jobs with major companies including Accenture, BP, Cleveland Clinic, GE, IBM, Johnson & Johnson, JPMorgan Chase, Morgan Stanley, Morningstar, Northrup Grumman, Oracle, PriceWaterhouseCoopers and Salesforce. Other graduates joined school districts in Cincinnati or Chicago.
Development of effective COVID-19 vaccines by Pfizer, Moderna and others will help the economic recovery – if enough people receive the shots to build herd immunity and the pandemic abates.
Getting the pandemic under control is sure to boost the prospects for recent grads, Eckert told Newsweek.
"We hope the virtual experience will shift back to face-to-face interviews," he said. "As things now stand, we're not sure what to do for summer internships. But through hard work, graduates can find success in their field – it just won't be as easy as it was in the past."
Students Chart Their Future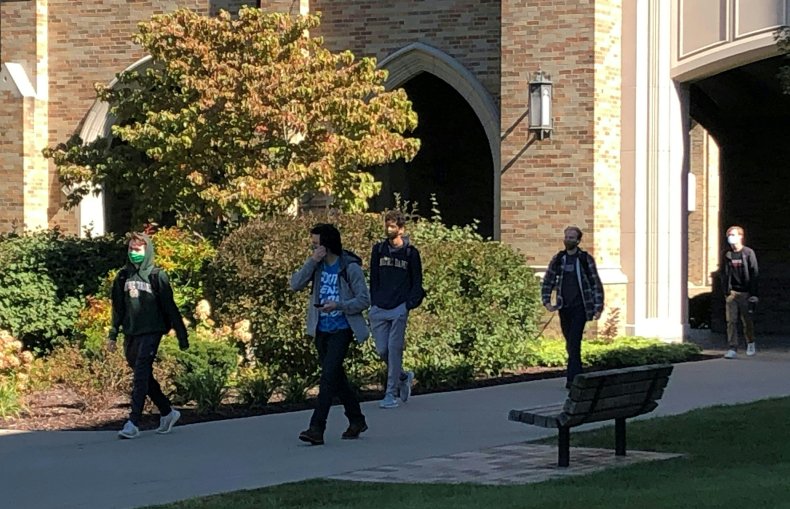 Eve La Puma, a June 2020 graduate of Stanford University graduate with a major in theater and a minor in music, said the coronavirus pandemic forced the closure of theaters and delayed her efforts to become a stage actor.
"Like a lot of my friends, I feel like I'm in limbo," she told Newsweek. "I don't know when to start planning my next step because it's unclear when theaters will reopen."
LaPuma now works with kids in Washington, D.C.'s public schools and introduces them to classical music. The job is engaging, but she is intent on pursuing her passion – the theater. She said she's energized by the connection a stage actor can establish with a live audience, and therefore has no interest in movie or TV work.
"My original plan was to start auditioning after graduation and find an agent, but theaters shut down," La Puma told Newsweek. "I was in panic mode and found nothing. I reached out to a family friend who works for a nonprofit in Washington and helped with an after-school program. I now develop virtual music programs and write grants. It allows me to use my degree in some small way."
La Puma has no illusions about what's needed to succeed as a stage actor and knows how difficult it is for an unknown to be cast. But her hope has not faded.
"I hope some productions will resume by late summer," she said. "I'm just starting out. I'm in a Zoom production of a musical and I'm auditioning for other online performances."
Abbey Fisk plans to pursue a professional degree in physical therapy after graduating in June from California Polytechnic State University in San Luis Obispo.
"My Mom is a physical therapist and I grew up observing her," she told Newsweek. "I knew for a while I wanted to do physical therapy and I made sure to take all the classes in Kinesiology I needed so I could."
The COVID-19 pandemic made it impossible to work in a physical therapy clinic last spring, but she got a research position through Cal Poly to strengthen her professional school application. She has been accepted at the Rocky Mountain University of Healthcare Professions in Provo, Utah. The school has a solid reputation and the region offers another advantage to this avid skier – world-class slopes nearby.
"I like California and I'm visiting Utah to see if it's a fit – so far, so good," Fisk said.
Noah Howard studied political science and philosophy at Stanford University and hopes to go directly to law school after graduating in June.
"It's all such a crapshoot," he told Newsweek. "It's atypical to go straight to law school after graduating."
Last spring, Howard talked to friends who graduated into an economy crushed by the pandemic lockdown. Many ended up in unexpected fields, and some didn't find jobs despite earning a degree at a top school.
"I got a lot of advice from other lawyers to work between graduation and law school to narrow down the field I'm interested in," he said. "I hadn't made the decision to apply to law school until COVID-19 made it for me. If admitted, I'll compete with those with experience."
Howard said he plans to pursue a career in public interest law. But he has to get into law school first
"As much as I love some of the schools on the East Coast, I don't hold up too well in the cold or high humidity," he said. "But weather won't be the decisive factor in selecting a school. I'll take advantage of the opportunities offered to me."
Lauren Collette felt like her job applications had fallen into a black hole. After graduating from the University of Southern California in May 2020, she sent out 20 or more feelers a week and . . . nothing. Nevertheless, she doggedly pursued her dream of being part of the production team for a TV network or major studio – just as the economy shut down.
"The common response to my applications was radio silence," Collette told Newsweek. "I had good grades, good internships, good contacts – and I didn't even get initial phone screen interviews. It was discouraging – not even a 'We'll get back to you.' It was a blow to my confidence."
Starting in high school and throughout college she had painted for relaxation. An acquaintance who sells high-end watches suggested she try commercial art featuring upscale watch logos in the foreground with dazzling colors as the background.
She sold the paintings to jewelers and individuals who had commissioned them. She found that she could complete a painting in about 90 minutes and make $200.
"It was so random," she said.
Then Collette began to make TikTok videos for fun. Her work caught the eye of major advertisers who asked her to make videos promoting their products.
"It was a little closer to production – and I made some money," she said.
She hopes effective COVID-19 vaccines developed by Pfizer, Moderna and others will change everything. For the first time in months, she's getting a few callbacks. She'd like to be part of the production team for an hour-long TV drama or a top director whose work is shown on HBO, Hulu or Apple.
She hasn't landed a job yet, but noted, "I can feel things changing."
No Cash Crunch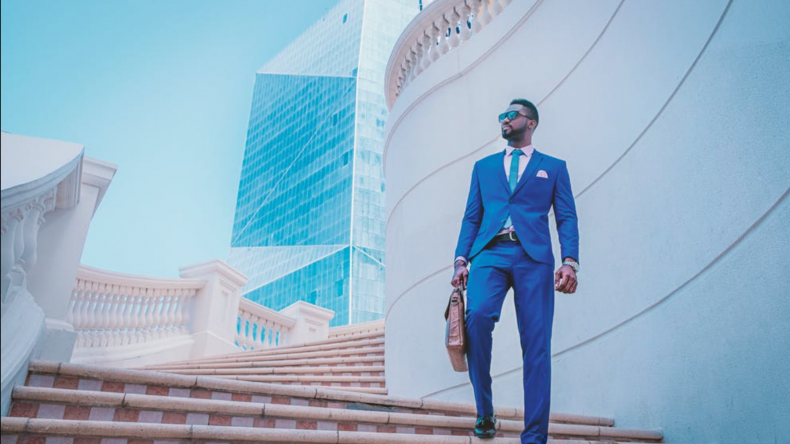 Revenue at Varfaj Partners currently exceeds $1 million a year. If a startup lacks cash, NYU students Schwartz and Zoub take a small equity stake.
Schwartz said his company has a lawyer on retainer to handle contracts and an accountant to keep an eye on the books while he and Zoub build the business. A key decision is coming up – whether to continue to develop websites, follow his passion for finance and move into venture capital for small enterprises, or split the company in two and pursue parallel services.
Schwartz had an internship with a multi-billion dollar consulting firm, and he quickly discovered there was little the international company could do that he couldn't from his laptop. The difference was scale. That quickly led to launching Varfaj Partners with Zoub.