Thinking Bigger: Reimagined Alliances for the U.S. and Japan | Opinion
Former ambassador Mike Mansfield used to say, "The U.S.-Japan relationship is the most important bilateral relationship in the world, bar none." We agree. In our view, there is no bilateral relationship that can do more for the world, right now, than this one. As Washington soon heads into the inaugural Summit for Democracy, followed by a U.S.-Japan summit in the near future which will be the first for Prime Minister Fumio Kishida, the timing and circumstances have never been better aligned to reimagine how we think about geopolitical alliances.
These summits pose a unique window of opportunity for President Joe Biden and Prime Minister Kishida to define a new era of U.S.-Japan ties in a way that doesn't just meet the domestic mandates of both administrations, but also helps provide answers to many existential crises we are facing as a global society.
Clearly, both countries are eager to engage with like-minded partners to get things done. The best chance for the greatest gain lies in our ability to expand our horizons even further, to include key, cross-regional allies in this effort.
The U.S. and Japan are able to face today's global challenges together because of an alliance grounded in the bedrock of shared values, common interests, aligned aspirations and the trust that comes from 80 years of collaboration. But we haven't come close yet to fully capturing the alliance's potential. An overarching framework focused on the U.S.-Japan relationship's multi-dimensional role as a catalyst in critical areas of unmet need could transform global outcomes.
Leveraging convergence of information technologies with life sciences to radically improve tools for policy makers in confronting global health and health security challenges, optimizing next generation nuclear and fusion breakthroughs to scale energy baseload solutions for developing economies and deploying connected society cyber solutions that can better ensure safe, open and robust democratic systems are just a few examples.
These and other collaborative efforts would further raise the resonance of our relationship at this historic moment. Kishida's visit to Washington presents a unique chance to adjust this trajectory by introducing a new growth paradigm.
Our alliance has matured to a point where expanding it to include direct partnerships with other countries could have a multiplier effect on progress in the areas mentioned above and others. One such partner could be Israel.
Israel, like Japan, has an ancient culture with a robust democracy—a country with few natural resources surrounded by an unstable neighborhood. Its alliance with the U.S. is central to its security, and it is a technology superpower. All three nations share an iron-clad commitment to freedom, the rule of law, free and open markets and a strong, global intellectual property protection. Over the past several years, Japan's relationship with Israel has blossomed, in large part due to symmetries between Israel's innovation and Japan's technology needs and shifting geopolitics in the Middle East.
Expanding the interconnectedness of our core alliances would advance central aspects of the Biden administration's agenda. America's economic and national security depend on the maintenance of free and open markets, intellectual property protections and the deepening of cooperation in ways that maximize resources to combat vexing, cross-border challenges. Addressing global health in a pandemic era, fighting climate change, space exploration and maintenance, implementing sustainable infrastructure development and realizing equitable natural resource allocation each call for an "all hands-on deck" approach for Washington. Deepening cross-collaboration with our two closest allies in these two vital parts of the world represents a natural progression of alliance commitments and interests, as well as a powerful set of synergies.
The cornerstone of Japan's foreign policy remains its alliance and relationship with the U.S. As such, Prime Minister Kishida's foreign policy priority is to continue to strengthen this tie in the face of deepening tensions in Asia.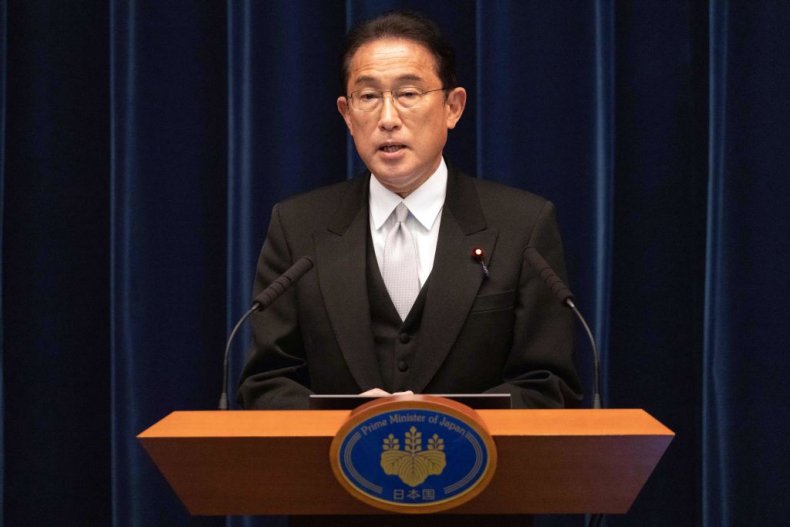 China's recent aggressive behavior in the region, coupled with ongoing instability on the Korean Peninsula, translates into Japan's need to further bolster its friendships. Building on the alliance to create new partnerships accretive to its underlying goals helps achieve this objective. In addition, recent developments in the Middle East, such as the 2020 Abraham Accords, are presenting openings for Japan to extend its investments and participation in the region's economic development. Long a source of energy, the Middle East is also a potential key export market. There are significant opportunities for Japan to work together with the U.S. and Israel across the region, such as in smart city and connected infrastructure developments. Trilateral defense technology and cybersecurity capacity are growth areas for Japan that could yield potent returns for the economy as well as national security.
Israel's strength in early-stage technology developments has made it a world-leading innovator. Its innovation ecosystem has produced 74 unicorns in 2021 alone. Prime Minister Naftali Bennett's main challenge is to translate this success into enhanced security and sustained economic growth. To accomplish this, Israel must work with partners in the Middle East as well as globally, and the Indo-Pacific region represents a major market. Japan is an ideal partner in this context. Its multinational firms have tremendous strength in mid- to late-stage process innovation and the experience and reach to provide stable and scalable business models and commercialization. This creates opportunities for Israel to work with a vital U.S. ally in ways that advance the interests of all three nations.
The respective strengths of the three countries are synchronous. In industrial manufacturing and services, Israel is extremely comfortable taking risks and trying new approaches, the U.S. has unparalleled capacity to surge innovation forward into new product development and Japan has honed processes to ensure scalability, safety and reliability at global scale.
Thinking bigger will not result in action without the right structures in place to execute initiatives and programs. There is currently no such nexus point within the three governments to bring these relationships together. For the past year, Japan Society in New York has convened a group of U.S., Japanese and Israeli thinkers and practitioners, the K3 "Kizuna" Council, with deep experience in industry, academia and policy making to explore new trilateral relationships, beginning with the U.S., Japan and Israel. Built on the Japanese word kizuna, a bond or connection that goes beyond mere friendship, the K3 Council's objective is to explore synergistic potential in strategic fields. The group convened three task forces to formulate a set of recommendations focused on connected health, infrastructure development and protection and far-reaching disruptive technologies.
Partnerships hold the key to meeting the challenges of our time. New collaborations that are grounded in the foundations of existing cooperative programs are bound to be even stronger. They can leverage and build upon existing assets. Nowhere is this truer than with our closest friends and alliances. For the U.S., Japan and Israel, it is time to think even bigger.
Joshua W. Walker is president and CEO of Japan Society.
Andrew M Saidel is president and CEO of Dynamic Strategies Asia.
The views expressed in this article are the writers' own.