One-Third of Americans Think News Media Is the Enemy of the People, Poll Shows
Almost a third of Americans believe the news media is "the enemy of the American people," according to a survey of over 1,000 people with various political affiliations.
A poll by Ipsos, a survey-based research organization, asked 323 Democrats, 363 Republicans and 207 Independents over the age of 18 what they thought of news media. Twenty-nine percent of respondents said they agreed with President Donald Trump that media is the "enemy of the people," while 13 percent of respondents said they strongly agreed that the president should have the authority to shut down news outlets engaged in "bad behavior." Eighty-five percent of respondents, however, said they believed freedom of the press was "essential for American democracy."
"There's an interesting juxtaposition of values," Clifford Young, president of Ipsos public affairs told Newsweek onWednesday. "Independent of political persuasion, we found that the freedom of the press was a core American value. But if you peel away the onion and dive down deep, there's a lot of criticism, especially from Republicans in terms of honesty, and a weak plurality for extreme measures."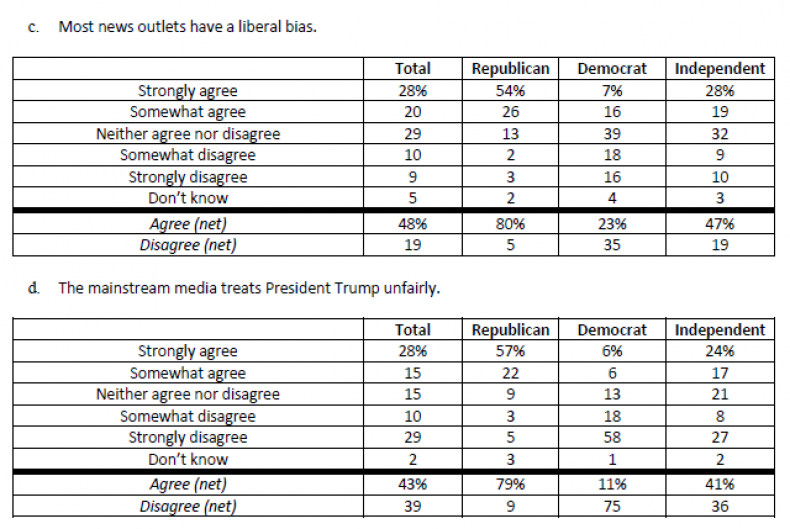 Two public figures and 24 news sources including The New York Times and BuzzFeed were selected to be evaluated for favorability. Fox News and CNN were ruled most unfavorable, while The Weather Channel had the largest amount of approval. Trump was deemed 17 percent less trustworthy than former President Barack Obama.
The survey also talked specifically about reporter behavior with regard to honesty, which is where a large portion of unanimity broke down across party lines. Only 29 percent of Republicanrespondents, for example, said they believed news outlets "try their best to produce honest reporting."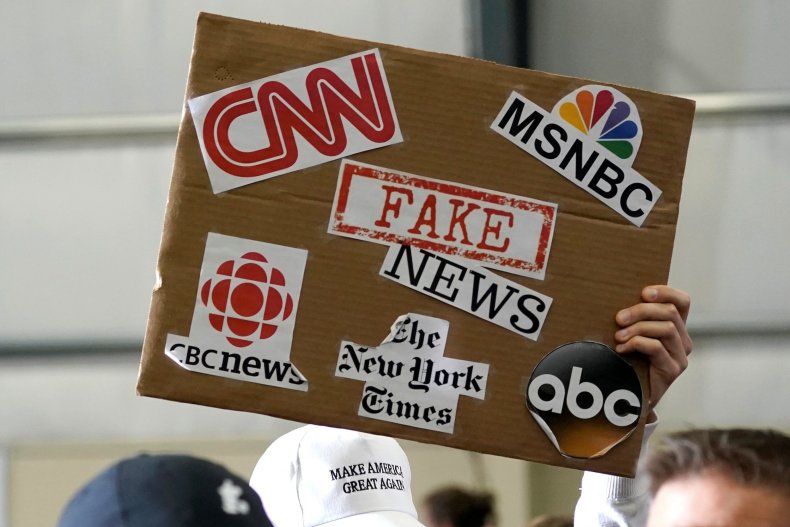 More than half of those surveyed from each party agreed reporters should be protected from pressure by the government or big business, and agreed freedom of speech was a value that "makes America great." Seventy-two percent of respondents said reporters who publish false information should be easier to sue in court.
Young said the study was inspired by a "heightened focus and criticism for the media, and we wanted to see to what extent people agreed with it."Young also said the findings did not necessarily surprise him. The majority of survey takers also said they got their news online. Almost half of the viewers who got their news online said the sources they read were found on social media outlets including Twitter and Facebook. The poll had a margin of error plus or minus 6.2 percentage points for Democrats, plus or minus 5.9 percentage points for Republicans and plus or minus 7.8 percentage points for Independents.