Democratic Debate Live Stream: What to Know As Joe Biden, Elizabeth Warren Face Off For First Time in Houston
The third Democratic presidential debate takes place Thursday night in Houston with a narrowed field of 10 candidates who qualified based on heightened polling and fundraising benchmarks, meaning some top tier candidates will face off on stage for the first time this election cycle.
Hosted by ABC News and Univision, the debate will start at 8 p.m. ET and run for three hours. It is taking place on just one night, unlike the first two presidential debates that spanned two nights each.
The debate can be live streamed starting at 7 p.m. ET on its site ABC News Live, ABC.com and the television network's app. It can also be streamed through Univison's social media pages including YouTube, Facebook and Periscope. It will be broadcast exclusively on ABC News and Univision.
The candidates who qualified are as follows, from left to right:
Amy Klobuchar (senator from Minnesota)
Cory Booker (senator from New Jersey)
Pete Buttigieg (mayor of South Bend, Indiana)
Bernie Sanders (senator from Vermont)
Joe Biden (former vice president)
Elizabeth Warren (senator from Massachusetts)
Kamala Harris (senator from California)
Andrew Yang (entrepreneur)
Beto O'Rourke (former congressman from Texas)
Julián Castro (former housing secretary)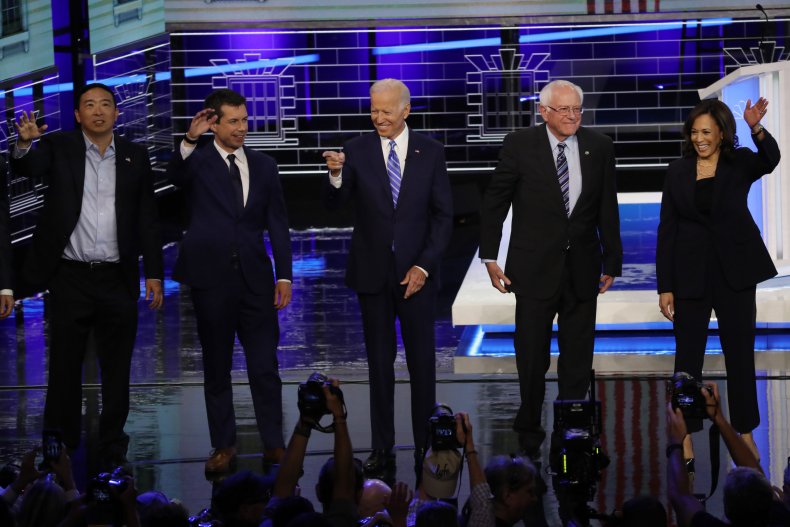 At the center of the stage will be former Vice President Joe Biden, who is still in the lead, and Senator Elizabeth Warren, who has made the greatest gains in recent polls of any candidate. Their positioning next to each other will be particularly interesting because the two, by draw, appeared on different nights in the first two debates. It will also be their first face off since 2005, when they clashed in a Senate hearing room. Their views have continued to grow apart as Biden represents moderate policies and Warren pushes progressive ideas.
Also next to Biden will be Senator Bernie Sanders, still in the top tier since breaking out in the 2016 election cycle, and Senator Kamala Harris, who has fared well but been criticized for her record as a prosecutor. Entrepreneur and political newcome Andrew Yang earned a spot next to Harris and South Bend Mayor Pete Buttigieg will stand next to Sanders.
Candidates will have 60 seconds for opening statements and 60 seconds to answer questions from the moderators. They will not have closing statements.
Foreign policy is expected to feature prominently in the debate, after President Donald Trump scrapped plans to meet Taliban leaders at Camp David this week, and fired his national security adviser John Bolton. The candidates have key disagreements on health care and immigration policies.
The moderators are ABC News's chief anchor George Stephanopoulos, World News Tonight anchor David Muir, ABC News correspondent Linsey Davis and Univision anchor Jorge Ramos.